A couple months ago I asked @ToddFrench and John Liotta if they wanted to come dine at Hayato with me. The new forum software was launched at the same time so we could celebrate the perfect website overhaul that went off without a single complaint! Such success deserves fine food and finer wine.
Hayato is the only high end traditional Japanese Kaiseki I can think of in America. Seven seats at the counter and one seating per night. Two star Michelin rating. Their reservations open up at 10am the first of the month (for the following month) and are fully booked within seconds. So it was a real treat to be able to do the dinner with the guys.
2010 Raveneau Clos
nose is all wax, mint, saline, pear. fucking delicious. Perfect spot. Elegant and rich. Honeyed rich deep fruit. Savory long saline driven finish.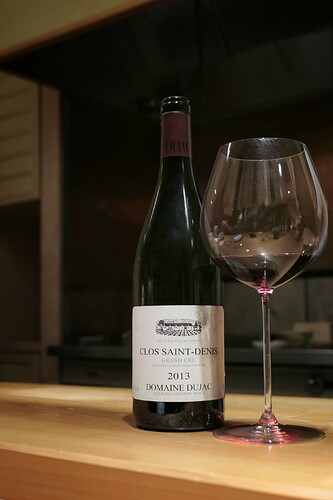 2013 Dujac Clos st Denis
sappy deep cherry fruit with essence of soil. Mineral laden soil driven palate. Clean acid creates a seamless silk mouthfeel. Really well put together right now.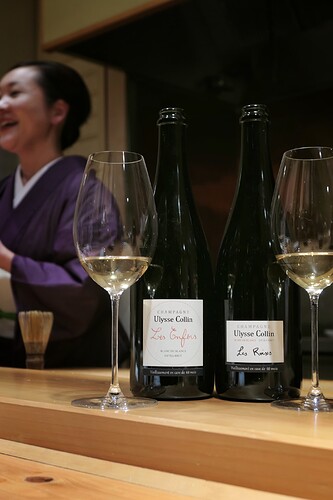 Both wines were really tight so we hit em with the decanter
2015 Ulysse Collin 60 months Les Enfers
smoky apple , white pepper and the wood gets more prominent with air on the nose. Palate is fairly exuberant energy as I think of Collin. Very acid driven and mouthfeel is intense from the acid and strong bubbles. Very youthful. Even a decant barely softened it. A bit of wood on the back end with some tannin. . It's mostly all the youthful austere structure and fruit is still fairly subdued though. It's just all acid. All grower champagne.
2015 Ulysse Collin Les Roises
Bit of reduction on the nose. Round sweet subtle apple and Asian pear. What's interesting and brings complexity is the savoriness it pulls. It screams of oyster brine. Broad fruit on the palate. It's rounder and more elegant mouthfeel than the enfers. The wine keeps changing significantly with each pour. Decanter really did this wine well. Much more vinous and less of the template high acid and powerful bubbles.