(Sorry, I don't know how to transfer a note from CT iOS app to WB)
Bedrock 2012 Kamen Vineyard Cabernet Sauvignon
Opened a few hours before eating with leg of lamb.
This is a delicious old-school CA cab. Understated if your idea of Cabernet is viscous fruit. Medium bodied, complex, with cassis, mint, and green Cabernet notes, with a touch of oak and graphite. Medium finish.
This is a food wine, in the most positive way. I can't think of a better match with the lamb. It complimented the food rather than dominating it, or being overwhelmed.
This wine has the structure to last a decade or three. Excellent! A
2009 Bedrock Wine Co, Pinot Noir Rebecca's Vineyard, Russian River Valley. This is actually my first time with this wine as i believe they only made it 07 - 09. Full disclosure, i was kinda expecting a 'pinot that tastes like it was made by a zin producer', but i was pleasantly surprised! Medium bodied with nice CA pinot characteristics - violets, black cherries, and baking spice. Pretty fresh and still juicy with ample acidity. Maybe just the SMALLEST hint of heat on the finish makes me think that this is a drink in the near-term kinda wine, which is what I intend to do with my last bottle. Good stuff @bedrockmorgan and @underthewirewine !
Wow. I finished by six pack in 2017 and made me want more Pinot from Morgan
I really like that Pinot, wish I had more.
2013 Monte Rosso Zinfandel
At 10 years, I thought it was time to pop the cork and see how it's aging. Beautiful black and blue fruits upon opening with hints of earth, smoke, and cocoa powder. Not brambly fruit, but pure and fresh. The pure fruit continues on the palate with blackberry, black cherry, and plum along with typical Zin pepper. Good weight with acids and tannins in balance. This is another gorgeous Zinfandel from Morgan and team that really wowed me by the intensity and purity of the mountain fruit!!****
Always wondered how a Bedrock Pinot would do. Kinda wish they still did them. Sounds like the antithesis to the Ridge Pinot (which I have a bottle of the 2018 left and a bunch of the 2019 to see where it goes)
My Dad opened a 19 Enz the other day. For the most part, this was wide open and with such a unique fruit profile, very hard to articulate. If you have more than 3 - open one for sure soon.
I was digging through old I'll drink to that episodes and was listening to the one with Morgan last night. The whole story about is experience making Pinot is pretty cool. Really curious how they tasted.
Popped open another Ode to Denise over the weekend. It's rounded out a lot and thinned out compared to when it arrived. There is still an astringency to the palate that I just don't like. Overall I'd say it's drinking better.
Tastes like a Bedrock wine. It could be Zin, Cab, Syrah or Mourvèdre. Mostly just tastes like Bedrock.
Great scores from Vinous (shown on Morgan's instagram)
Old Hill 98
Sky 95-97
Buffalo 96
Oakville 96
Teldeschi 97
On that note, I have a '21 Old Hill on deck to check in young. Has anyone opened one yet? How much air did you give it?
I'd say 3 days should do it

On a serious note, it will be awesome to get an early look at this one!
2013 Bedrock Belle de Jour Vineyard Zinfandel, Russian River Valley. This was awesome. Probably the best 2013 Bedrock that I've had! I was in the mood for a Bedrock and this one was in my line of vision so I grabbed it. Hadn't had one in a while so wasn't sure what to expect but this was wide open and smack dab in it's prime. Pure blue fruits, some baking spice, and a slight savory note on the finish. Perfectly balanced and absolutely delicious. Too bad this was a one-off as Montafi is one of my favorite Zinfandel Vineyards and Morgan worked magic with the fruit. Great stuff!
Absolutely agree. Wish I had some left.
Damn, I'm with you buddy! I thought i had one more but i was wrong. Oh well…at least i went out on a high-note, ha!
Schneider's of Capital Hill (DC) just dropped a BIG batch of back vintage stuff at decent pricing. Grabbed:
2014 Oakville at $60 per
2011 Monte Rosso at $55 per
2012 Mag Bedrock Heritage $80
Whole bunch of stuff all over their range left
2012 Bedrock Syrah Hudson, still lot's of primary black fruit but with some smoked meat, bacon fat and olive coming through. Delicious with a huge rack of extra meaty baby back ribs but still a baby.
Very nice balance of fruit and acid ensuring this will continue to age beautifully! Decanted 90 minutes.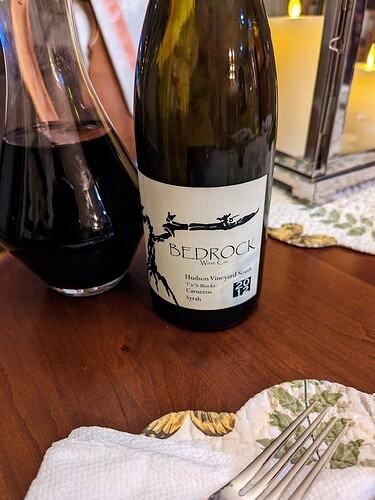 Decanting 2021 Old Hill Ranch, will post notes later.