Hi All, on Friday 1/13/23 6:30pm, we held the Domaine de la Cote and Burgundy blind tasting dinner at Noreetuh in NYC. The evening turned out exactly as I had hoped and I believe everyone had a great time. We had the honor of two special guests. Darren Palace, the representative for the DDLC winery was great. After each flight, as we revealed the wines he spoke at length about the terroir, the vintage, and the winemaking techniques used to create that particular wine. We also had Dustin Wilson, master sommelier, and star of the three Somm documentaries join us. He spoke about pinot noir and how great pinot can be found all over the world and socialized with everyone. It was a learning experience watching him taste and evaluate the wine, a true professional!
Here are my tasting notes for the evening. I am definitely missing some notes from the afterparty as there were so many bottles and I don't think I tried them all. Plus, at that point in the evening I definitely had some palette fatigue, so I you were a participant in the dinner, please feel free to add on your tasting notes to this thread.
Pre-party Aperitif Wines
1992 Dopff au Moulin Gewurztraminer
Golden yellow, clear and bright. Intense with fragrant aromas revealing lychee and white flowers. Great acidity and relative freshness. Delicious.
1996 Zind-Humbrecht Pinot Gris Heimbourg Turckheim
No notes, flawed, spoiled.
2014 Weingut Emmerich Knoll Ried Pfaffenberg Riesling
Starbright and clear. Aromas of stone fruit and crushed rocks. Hints of white and yellow fruit on the nose. Refreshing and razor-sharp acidity, but well balanced. The perfect wine to start the night off.
Main Event – Every wine was double decanted for 4 hours prior to the dinner
Flight 1:
2020 Domaine de la Cote DDLC Estate Pinot Noir
Bright red fruit notes bursting from the glass. Aromas that immediately remind you of classic central coast California pinot noir. Fresh and vibrant with a hint of earthiness. On the palette, a deluge of strawberry, cherry, hints of rose petal, with a silky mouthfeel. Fine tannins and acidity in harmony. Excellent length. I am curious to see how this wine would age. I would like to try this again in 10 years' time.
2020 Dominique Lafon Beaune 1er Cru "Eponettes"
Bright and high-toned fruit. Reminds me of red fruit skins, ripe strawberry, raspberry, and a pinch of sour cherry. Well balanced acidity and tannins with a medium to light weight mouthfeel. Exciting wine to revisit. WOTF
Flight 2:
2015 Domaine de la Cote Memorious
Lifted and stemmy, with aromas of wild strawberry, red licorice, cherry and a hint of earthiness. On the palette, I experienced intense red fruit, mineral, refined tannin, with balanced acidity. The length was a little shorter than I was expecting but nonetheless this was a delicious wine. This is the kind of California pinot I like to drink. WOTF
2018 Domaine de Villaine Rully 1er Cru Rouge "Les Champs Cloux"
Too young to fully enjoy. Even after 4 hours double decant, this wine felt closed off to me. Hints of velvety redcurrant and dark cherry. Structurally it was well balanced. The acid and tannins were in harmony. This wine should mature very well. I hope to have this in a few years to see how it develops and give it another try.
Flight 3: Up until this point, it was quite obvious which wines were the DDLC and which were the Burgundy. This flight was by far the most interesting and difficult.
2018 Domaine de la Cote La Cote
On the nose this wine had aromas of dark red fruit, red currants, strawberry, undergrowth, and a pinch of spice. The palette was rich and creamy with lush red fruit. By far the earthiest of all the DDLC wines we had this evening which made this wine difficult to decipher when sitting alongside the Burgundy listed below. A savoriness that was totally unexpected for such a young California pinot noir. Complex and interesting, by far the most exciting DDLC wine we had this evening.
2018 La Combe Grisard Gevrey-Chambertin 'Champ Franc'
Easily the most complex and difficult wine featured in the blind tasting to figure out. I was sitting across from Dustin Wilson, so I told him I am stealing some of his tasting notes on this wine as he articulated it perfectly. Steak, savory, salt, and brine. This wine was bursting with mushroom and dark red fruit. Dried raspberry and red plum. This wine had a complexity that made it almost impossible to figure out. Bright and balanced acidity with tannins to match. This wine kept changing each time I smelt it, it was kaleidoscopic. WOTF and probably the most memorable wine of the evening.
Champagne Intermezzo – NV Bollinger, brut, special reserve
Refreshing and bright. Pear, ripe apple, and stone fruit. Zippy with a fun mouthfeel.
Flight 4:
2013 Domaine de la Cote Bloom's Field
The 2014 vintage of this wine was the wine featured in the Somm 3 documentary that started the entire concept of this dinner. I was most excited to try this wine as I have a half case of the 2019 and the 2020 in my cellar, and this wine happens to be my wife's favorite. Sweet fruit, bright and bursting with elegance. Strawberry, cherry, pinches of leather, spice, and dried flowers. High acid with gentle tannin. Broad on the palette with a richer mouthfeel than some of the other DDLC wines of the evening. Complex and nuanced. Very long finish. As enjoyable as this wine was, I was disappointed with the lack of uniqueness as it tasted so similar to the 2019 and 2020 vintage I have at home. I was hoping to experience something different. Nonetheless, this is still a delicious wine.
2020 Domaine Arlaud Morey-St-Denis 1er Cru 'Aux Cheseaux'
Dark, deep, and brooding. This wine was by far the biggest of the night. If it wasn't for the fact that I was hosting this evening, having this totally blind I am not sure I would've said this was pinot noir on first taste, especially considering the dark purple hue of this wine. Deep with lots of dark red and black fruit. Lifted and ripe with obvious use of oak. Tannins felt a bit intense and out of balance with the acidity for me. Despite a few of these flaws, I still felt like this wine was the WOTF because it was more interesting to me than the 2013 Bloom's Field.
Flight 5:
2014 Domaine de la Cote Siren's Call
Of all the DDLC wines, this was probably the most Burgundian in style. Bright red fruit, cherry and fresh green notes. Slightly stemmy. Herby and a pinch of spice. Raspberry, strawberry, violets and roses. Savory notes with silky tannins and bright acidity. At around $180 per bottle, this is the most expensive DDLC wine featured and its complexity confirms the price. Very atypical for a California pinot noir.
2020 Domaine de l'Arlot Nuits-St-Georges Rouge 1er Cru 'Mont des Oiseaux'
Inky and dark with ripe red fruit. Cherry, cranberry, a pinch of spice and quite lifted. The structure of this wine was well balanced, but the fruit was a little overwhelming. This wine definitely needs a lot more time to fully enjoy. Excellent length. WOTF
Afterparty Wines
2009 R. López de Heredia Rioja Reserva Viña Tondonia
Full bodied, with dark fruit and cherry. Great acidity but the tannins were still a bit overwhelming. Lots of oak and spice.
2010 Coche-Dury Monthélie
Velvet is how I would describe this wine in a word. Smooth, crushed red fruit, earth, funk, and pinch of mushroom. Pure and elegant, a spectacular wine.
1986 Fattoria dei Barbi Brunello di Montalcino
Dark fruit, raisen, leather, a bit of tar. Perfectly balanced. The fruit was still very much intact. I want to drink this again when my palette isn't as fatigued.
2003 Chateau de Beaucastel
Lush and ripe fruit and tertiary notes starting to show. Hints of spice, liquorice, and sweaty leather.
2014 Château Carbonnieux
Red fruit, gravel and stone. Dark with intense fruit aromas and an herbaceous finish. Balanced and should age well.
2007 Los Aljibes Selectus Vino de la Tierra da Castilla
Excellent qpr once Joseph G told me the price. Tobacco, blackberry and dark fruit. Hints of oak, spice, and soil.
1985 Domaine Pierre Gelin Gevrey-Chambertin
No notes, flawed, spoiled
Wines of the Night (WOTN)
I had two wines as WOTN. I know that's cheating, but I couldn't pick just one because both were so exciting and enjoyable.
2017 Jean-Claude Ramonet Chassagne-Montrachet 1er Cru Les Ruchottes
Andrew_K already wrote the perfect tasting notes for this, and I couldn't agree more with his evaluation, so I am coping his notes here "Decanted for an hour. Absolutely stunning. Bursting from the glass with white fruit and a hint of mushroom. Perfectly balanced bright fruit and acid. Added even more weight and depth over time. Grand Cru weight and density and finish. Spectacular." WOTN
1967 Antoniolo Gattinara
Aged perfectly. Despite the age, fruit was still very present. Rustic red fruit, leather, earth, and tar. Tannins were perfectly integrated. Very elegant and interesting. The wine begs to be drunk. WOTN
These are my notes, there were many more wines served that night, I hope other people have more notes for the wines I did not get to try.
Here are some photos.
The attendees + afterparty

Wine table, there were even more bottles on the dining tables!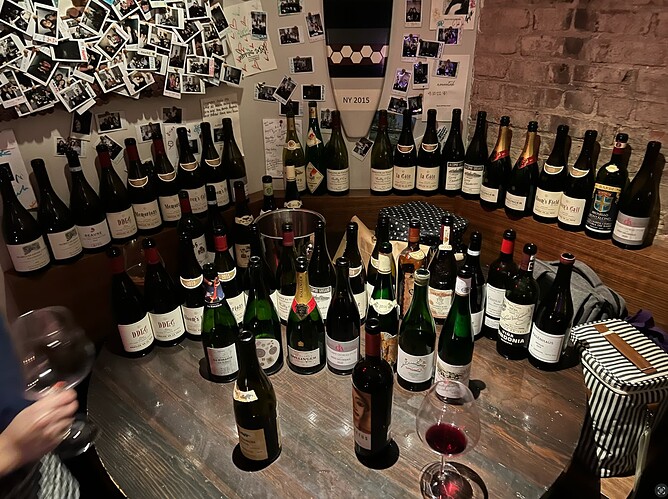 Me and Dustin Wilson