Vegetables can be so delicious.
https://www.wineberserkers.com/content/?p=5659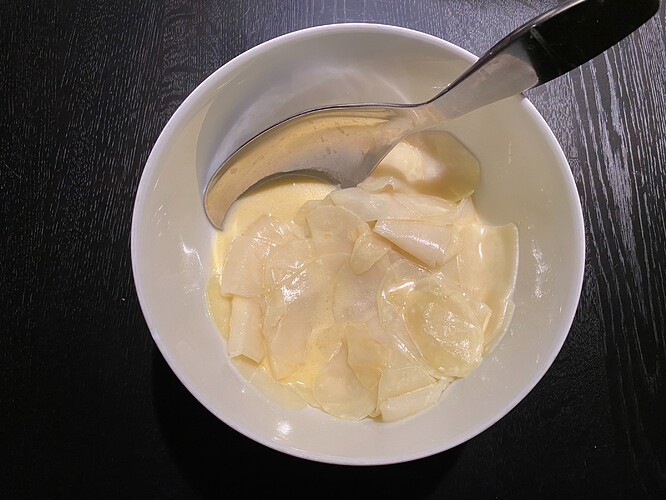 Gin Gin
Martin
I could eat that!
Our summer farm shares regularly include kohlrabi, or as we call it "Sputnik."
I've never eaten kohlrabi that I can remember. As I mentioned in a separate post, I've been going through my grandfather's memoirs. And there's this:
My mother's father was Alexander Prinz. Born 1828 died 1891. My mother's mother was Elizabeth Stark s-t-a-r-k she came from Germany. When she was 16 she married Alexander who was 40 – he was a school teacher. My mother, my grandmother's people had threatened to put her in a convent and they married and fled to America. They had two children, my mother Louise and my uncle Alexander.

My grandmother was an avid gardener and did organic gardening long before it was recognized as such. I can still remember her having a compost heap and burying leaves in the garden amongst the flowers. She had a vegetable garden every summer and raised tomatoes and kohlrabi. I still remember the kohlrabis. Every Sunday, we would go to my grandmother's house for dinner. And it was always a chicken dinner. And I can remember the way she prepared the kohlrabi. She had a unique way of flavoring foods, such as I've never tasted since. I was born in 1910. So [this was] the first six years of my life.
Of course I cannot ask him what the flavors were like but I have to guess. She would have come to America about 1879. So I need to find a kohrabi recipe that was common in Germany 150 years ago. I have found some recipes for kohlrabi that are seasoned with nutmeg. That's a very unique flavor, relatively uncommon in the US and it's my first guess at what he's talking about.
I saw kohlrabi at the farmers market on Thursday so I bought one. I made this recipe tonight. I was surprised how much water the initial salting threw off. I sliced it as thinly as possible on the mandolin. After the directed cooking time the kohlrabi was still crunchy. I was extremely skeptical of the recipe at this point and wasn't sure it would be very pleasant. My instincts told me to cook it longer. I probably cooked it an additional 10 or 15 minutes until it was fork tender. I finished it with a couple generous doses of fresh grated nutmeg and a pinch more salt.
My wife was even more skeptical than me. Neither of us had ever eaten kohlrabi before. I must say that the resulting dish was excellent. Extremely excellent. I had three helpings and my wife had two. The dish felt very German. Thanks so much for posting it.
I ate all my leftovers at lunch yesterday and now I am sad…