I spent a relaxing 3-½ days and 3 nights in Bilbao at the modern Silken Gran Hotel Domine situated literally a stone's throw away from the Guggenheim Bilbao Museum.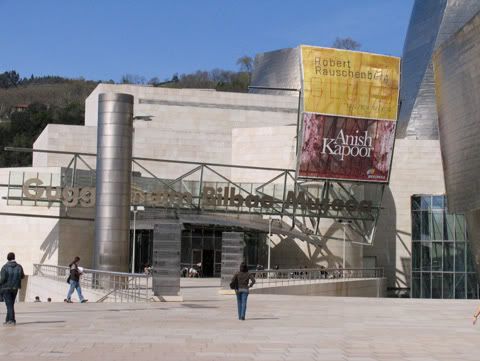 It really is barely 150 meters across the street from the hotel.
My wife had flown in from Barcelona early that morning and was already checked in - saving me the trouble. The next morning was the official end of the MITYC-ICEX sponsored leg of my trip. From the 27th March 2010, onward to the 7th April, Catha and I would continue on our own.
After a quick freshening-up, we all hit the streets together one last night - in search of pintxos and drinks in various bars (the next 4 photos were taken with my phone camera so please excuse the poor quality).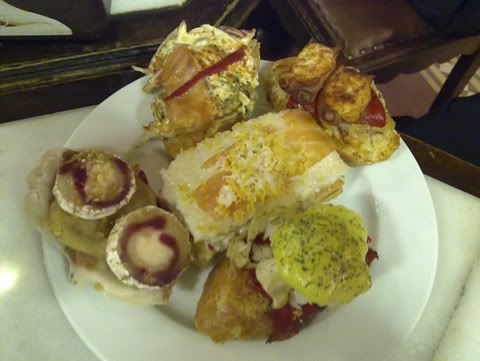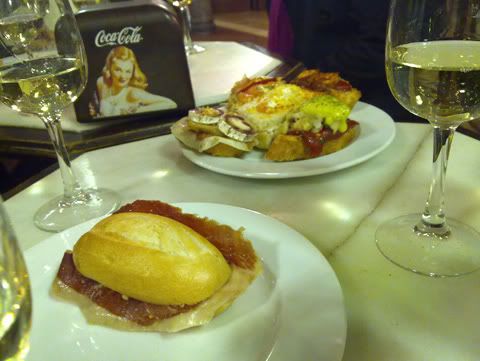 Of course, we had to have a couple of bottles of txakoli as well…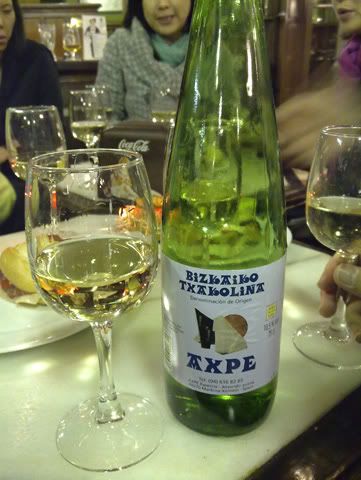 Axpe Sagardotegia Txakoli - From the town of Markina-Xemein in D.O. Bizkaiko Txakolina (since 1994) , east of Bilbao, halfway to San Sebastian. No year indicated, so this is a basic txakoli meant to be consumed young and fresh, within a year or so from release. Very dry, light, tartish citrus notes, lime, slight minerality, faint spritz. Simple but refreshing, it cleansed the palate well enough between bites. Real cheap - couldn't have cost more than 7-8€/bottle at the bar.
Not long after, the others decided to continue bar-hopping and pintxos-scarfing, but my wife and I opted to stay for more txakoli, maybe another pintxo or two, and just turn in. It had been a very long day. I don't remember the name of the bar we were at, but it's no big deal at all - you're not missing anything.
Breakfast at the Silken Gran Hotel Domine is on the 7th floor, a quick see-through elevator ride away from one's room.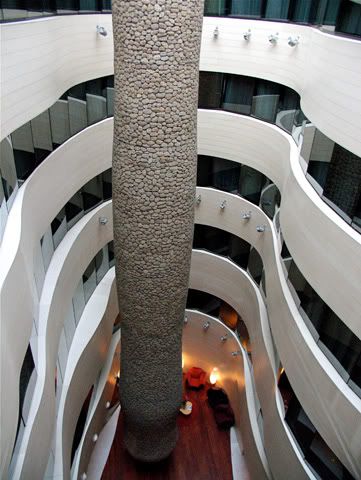 The cost of breakfast is a bit steep for Spain at 20€/person/day but you get good service, a lavish daily buffet…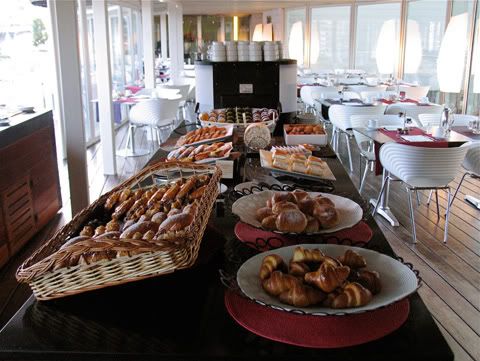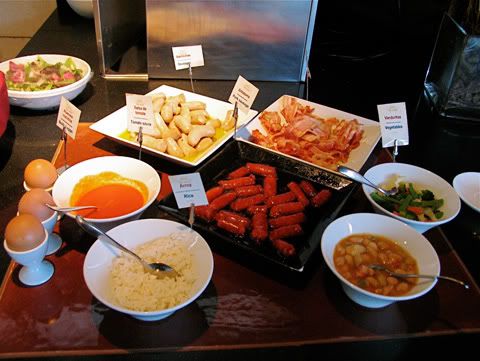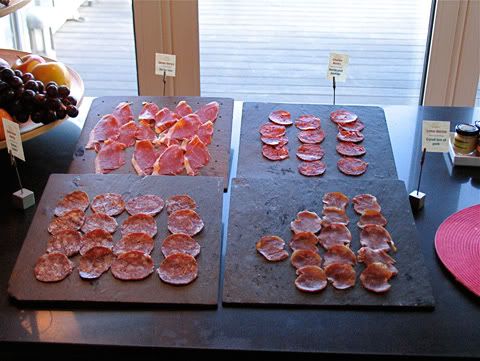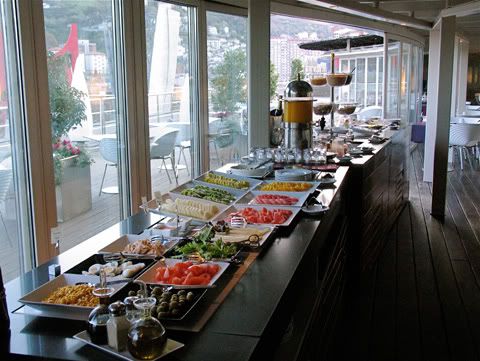 …and these great views. We had breakfast here every single morning.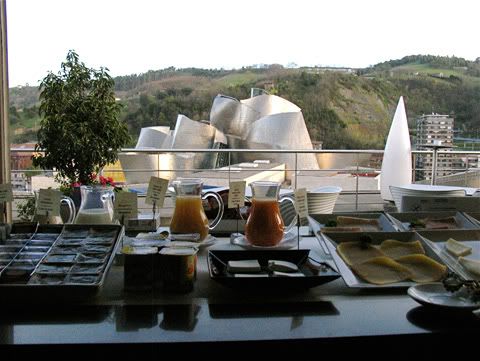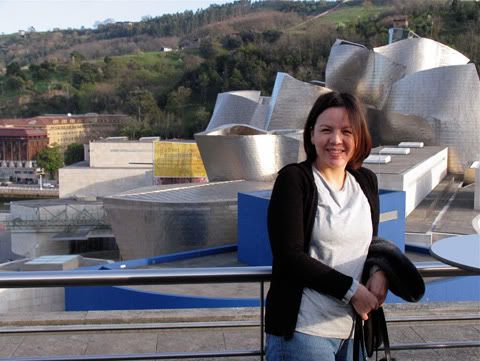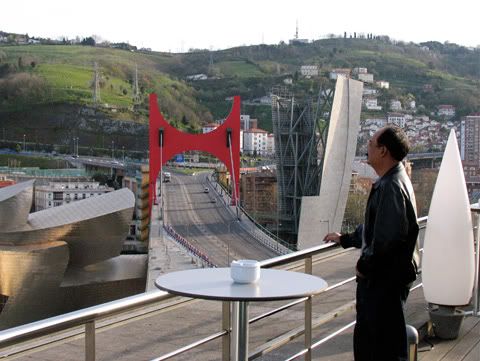 ¿Porque aqui son rojos los arcos de McDonalds?
By noontime, all the my new friends from Hong Kong, Manila, Singapore and South Korea were on their respective flights home. We continued staying at the same hotel and spent the next couple of days relaxing, catching up on sleep and exploring Bilbao.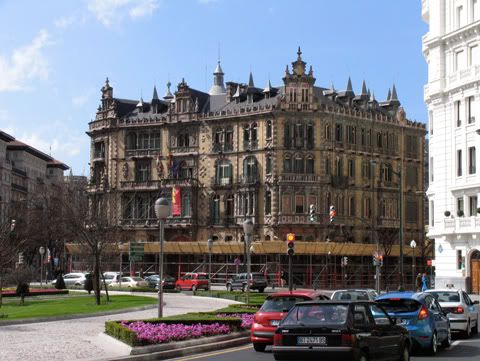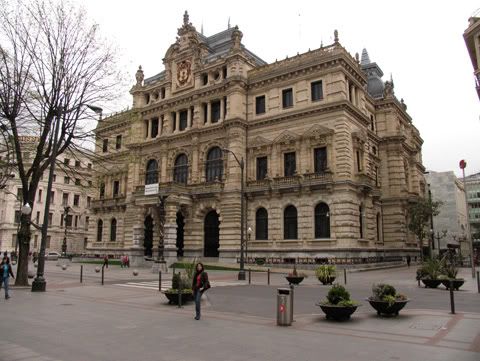 I did visit the Guggenheim Bilbao Museum of course, the then on-going exhibit of Anish Kapoor was quite interesting - his plays on darkness, color and depth the most. In true Wolfgang Puck style, Martín Berasategui lends his name and fame to the museum's basic, but decent enough bistro where my wife and I had a casual lunch (I wouldn't bother eating at his cafeteria there - the pintxos and cakes on the counter looked quite tired and worn by lunchtime).
The set lunch is inexpensive (I recall it being around or just under 30€/person) and the portions decent.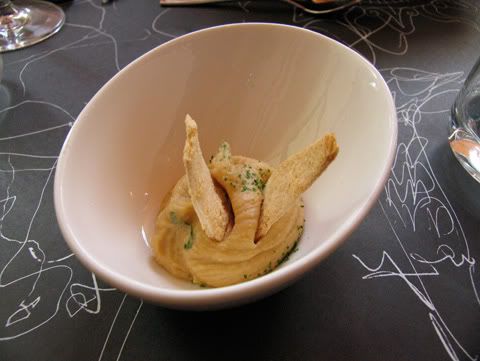 A Hummus-like starter.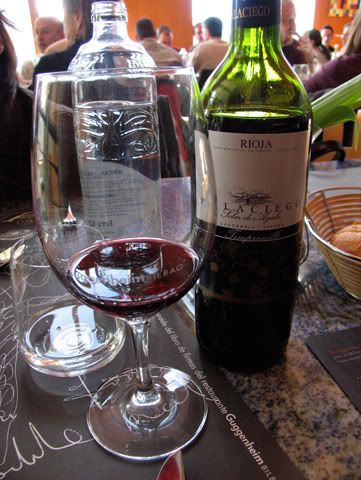 A shared bottle of basic tinto Riojano.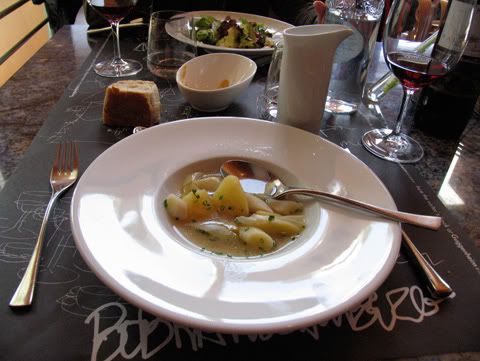 My leek and potato dish was pretty good though. Catha's salad looked very ordinary.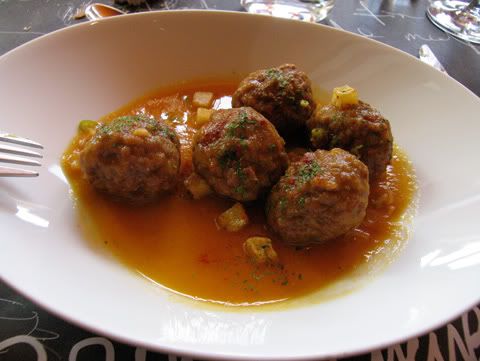 My Joselíto brand albondigas were nicely soft and juicy, but, hey, they're just albondigas.
Everybody there seemed to be having this dessert, so we followed suit. It was just ok, but certainly nothing worth discussing. From Berasategui's 2-star Michelin Lasarte in Barcelona to his inexpensive bistro in the Guggenheim Bilbao, I have not been impressed by the Berasategui cuisine. I guess I'll really have to try his 3-star restaurant (where he actually spends his time) to see what all the buzz is about with this fellow.
What I can recommend in Bilbao, though, is the old Cafe IRVÑA (corner Kaleas Colon de Larreategui and Berastegui).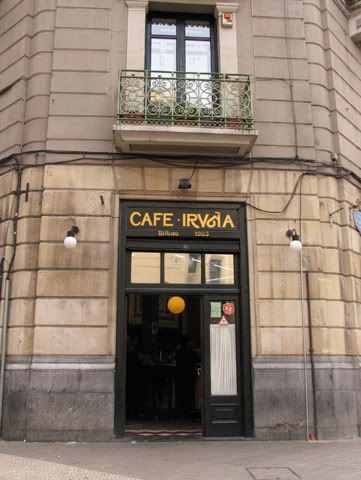 It's been in business since 1903, so it is surely doing something right - I found that out myself. Cafe IRVÑA is divided into two salas: a stand-up bar area where the younger, noisier crowd goes for quick bites and sips…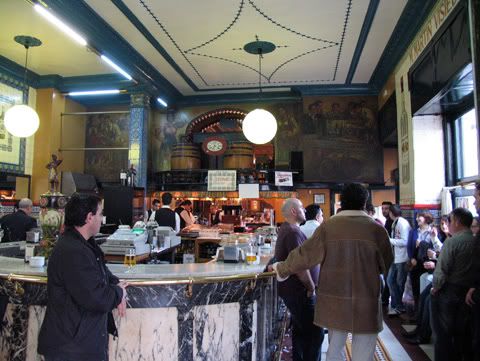 …and a seated, genteel café area.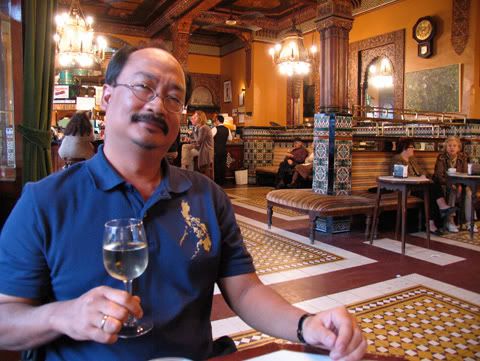 We chose the latter.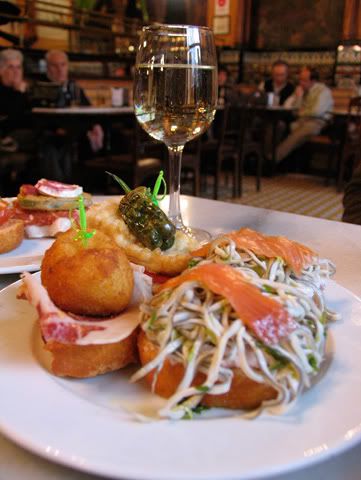 Hands-down, the best pintxos we had in Bilbao. The gulas topped with smoked salmon were particularly good, we ordered 2 more after these.
Can't have pintxos without large glasses of txakoli!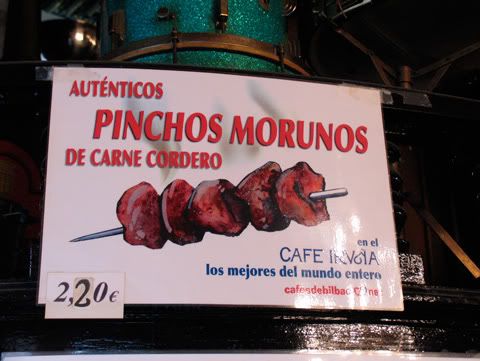 I noticed the above sign at the bar and was told that these Moorish lamb skewers were available only from 6pm onward and are grilled-as-ordered. I waited around 10 minutes, and ordered 3 skewers at first just to try.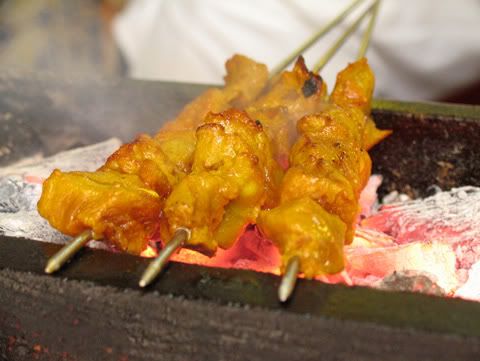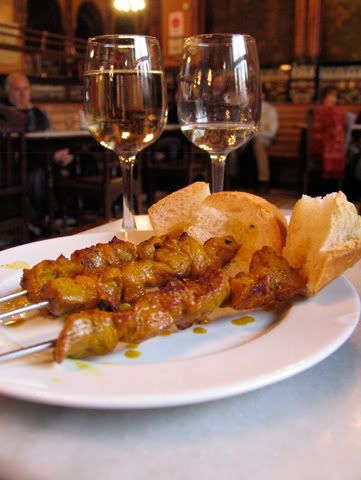 They were delicious, so we ordered more.
The place is packed with locals, elderly and some young families. Service is polite and efficient. The food and drinks are good and cheap. I highly recommend having some pintxos and drinks here when in town. The old side of town across the bridge is most charming…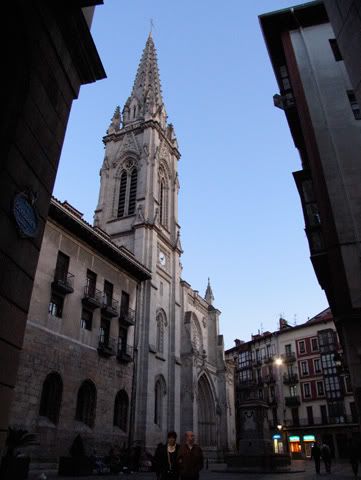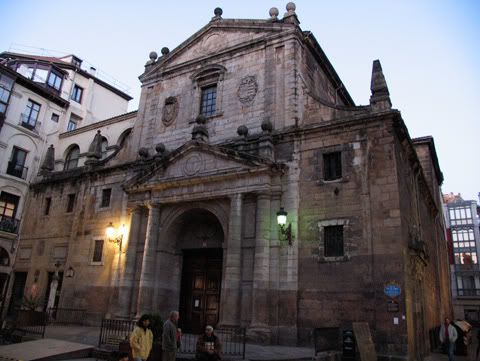 …and even lovelier by night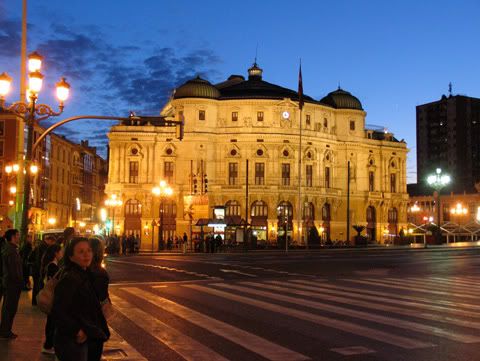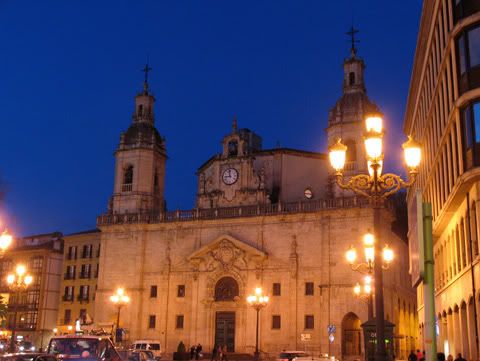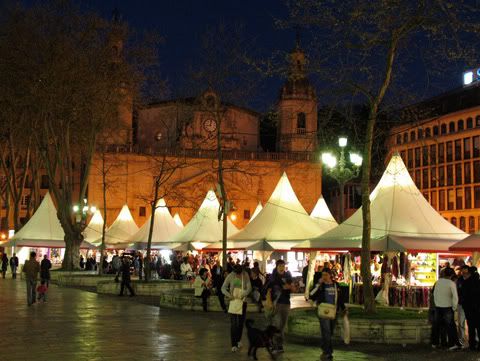 There was a flea market at the park.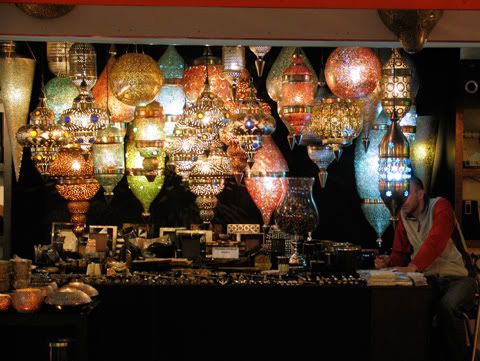 I saw this stall selling ornate, moorish-looking lamps. I wanted to buy one or two, but considering we'd still be going to Bordeaux, back to Basque country, the Rioja, then back to Barcelona, I figured there's just too much chance of them getting broken if I lug them around so much.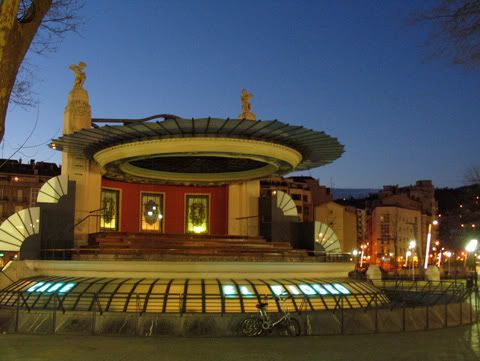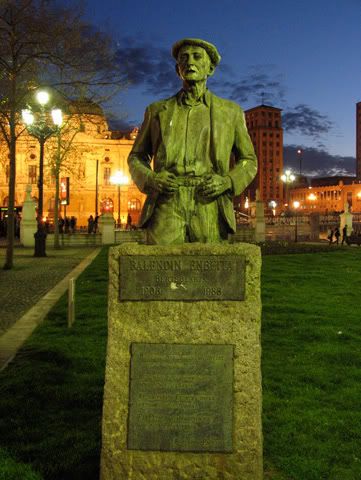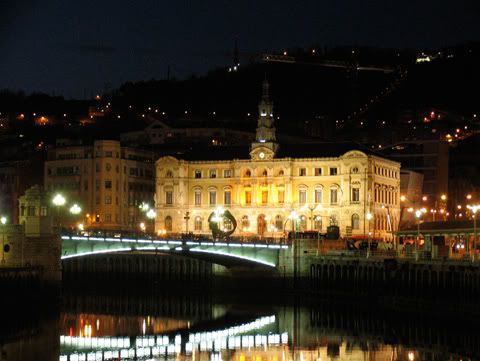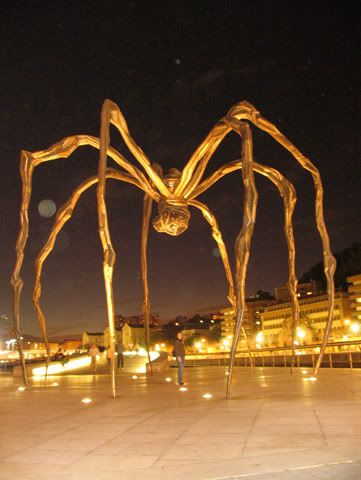 Even Louise Bourgeois' mother spider sculpture seems to love the night. Adios, Bilbao.