Hella hot outside. I just can't even exist with that. Speaking of the scorching weather, it's crucial for people to consider their supply chain forecast, especially concerning the potential loss of grown fruits. Extreme temperatures can seriously impact the availability of fresh produce. By incorporating accurate supply chain forecasts, we can better prepare and implement strategies to mitigate these effects, ensuring a stable food supply even in challenging climatic conditions.
Any "Hillary Rain" hitting anyone?
Did anyone have 5.0 earthquake during a hurricane in Southern California on their 2023 bingo card?
Driving thru CA 10 days ago I saw hundreds of tons of tomatoes going up and down I-5 let alone at the table grapes being picked. Indio CA and Rancho Cucamonga come to mind of having so many field crops and vegies. Now add 2"+ of rain with warm weather behind it. Potential disaster.
Posted in another thread, but this Walla Walla today, aqi around 300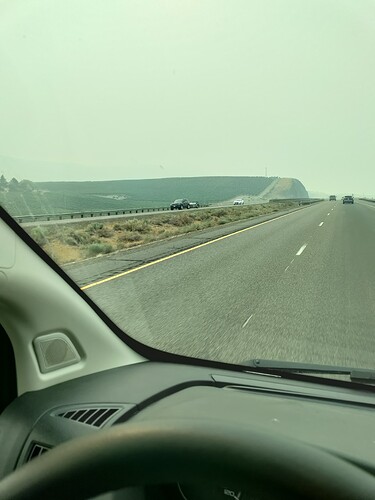 Willamette valley looks like around 150, hope the winds pick up quickly…
In our part of Ventura county there was about 3.4" of rain over the past 24 hours. The vineyard is about 3/4 through veraison, and as of this morning there was no noticeable damage. That said the risk going forward is mildew - powdery as well as botrytis - and we could lose some or all of the '23 vintage. That would be a big shame because everything up to this weekend had been perfect (seems like every season starts out right and then something unexpected comes up).
Later today I will try blowing off some of the water with a rented leaf blower, and later this week we'll do another mildew spray. Then keep my fingers crossed…
Looks like the north coast of California mostly missed the rain, nothing in my area and minor amounts here and there in nearby areas. The bulk of the storm went to the east of us as expected.
-Al
There is still a chance of rain this evening. Seems like it is going to be limited to stray thunderclouds
Yes, looks like localized and brief areas of rain. Also looks like it will miss the Willamette Valley by an even wider margin.
-Al
No rain here in the south east bay, but reports of light rain on the peninsula. Weather is definitely unusual, overcast, high humidity, but not particularly warm (mid-70s).
Really windy right now in Napa. Cloudy but no rain.
It's been quite a moderate summer so far, at least from my perspective in the south bay. I keep an eye on Santa Rosa temps as an indicator for wine country, and that's also been moderate. September can do weird things (most record highs have occurred in early September), but right now projections through mid-September show no major heat on the horizon. Given the late start of this growing season, and I assume later picking dates for most growers, a lot can still happen, but it looks promising right now.
We are picking tomorrow in the RRV for our sparkling brute rose. One month to the day later than last year.
Little over 4 t/a. Not bad considering it's the coldest part of the vineyard with lots of shatter! We put out a 3rd cane last year in an attempt to increase yield as we only do sparkling and rose from this block.