Its 40 degrees colder here than it was last year. This vintage my leave us wishing for 2011!
Checked brix for sparkling today – 17.0 in the chard and 18.5 in the pinot. Syrah is still going through veraison.
All is copacetic – canopy is healthy; pond is in good shape; crop is moderate; the dreaded Labor Day heat spike has taken a year off; and the two week forecast is pretty mild. I'm straining to find something to complain about. I don't see any reason this shouldn't be an outstanding vintage. [No Jinx]
I did, I hope, my last spray of the year last week – probably a month later than I've had to do before. Maybe my November plans are in peril, but I'll still take a bunch more years like this.
We've had 3.4" late summer rain recently, thanks to Hillary and another 0.03" storm. Can we say mildew conditions?
Here is a Hibiscus
Bonus if you know what this is, growing on a picnic bench below the vines*:
Vines OK so far, two sprays since Hillary
*Chocolate tube slime mold! Can't verify the chocolate part since I didn't taste it, but this is a first for us here
Harvest starts for us on friday - our sauv blanc from Dalla Gasperina Vineyard in Rutherford will be coming in.
Started taking readings for our reds - our malbec (Melrose Vnyd in Rutherford) has moved a bit in the last week but at 19.5 it's still about 4 weeks out.
I have a feeling the winery is going to get slammed in about a month.
I also see getting slammed soon, so I want to start filling tanks ASAP. We're starting our first big delivery today. 24 tons of PN from Mendo today and tomorrow, then 150 tons of SB from Lodi on Friday. Game on!
Curious where/what the Mendo fruit is?
Cannot believe how time flies. Today marks a major milestone for us - the start of our 20th harvest. I was not at the winery today so Kian sent me this video. Cannot wait to taste this juice.
I read in the Ciatti newsletter that my prediction of damage from hurricane Hilary had some merit. They're saying there's a fair amount of mildew and sour rot in the southern central valley.
Thanks Steve - been an interesting journey.
We are bringing in our first fruit today. A block of our pinot for Rosé. Should be done with harvest by end of next week save the Gamay that may need a little more time.
Picking sauv blanc in lake county. Not far off from normal as we usually make a go of it second week of sept
As of today, we have picked 25% of the 2023 crop!
Where would you be during a "typical" year?
Good question, as there no longer seems to be a "typical" year. Last year we were at 81%.
Absolutely perfect numbers for us this year. Picked out our Swan clone yesterday. Got Albariño coming in tomorrow then the rest of our Pinot. Going to run Gamay numbers today.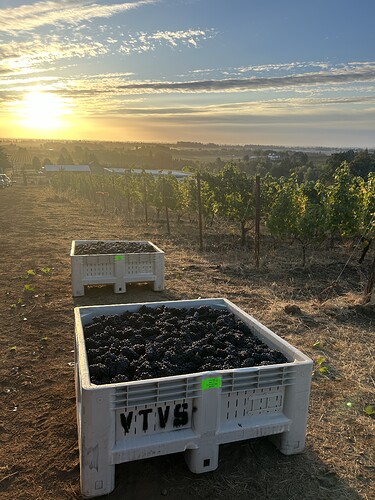 Very atypical season for us in Ventura County. Heavy winter rain, abnormally cool spring/summer, late summer tropical storm (3.4" rain), and now a cool September - a month usually 90s-100s and dry. We're picking on 9/30 due to logistics, but based on taste and seeds it could have gone another week. Normally we don't leaf the West of the fruiting zone due to risk of heat spikes, but spend this week leafing to help push things along a bit