I agree, always consistent, tasty and a relative bargain.
Hey Jon. I was really happy to see this '90 DP not so advanced as it's been a long time since I had one that was drinkable= all of the oxidative notes to the extreme plus almonds, Sherry like.
I am with you. I had quite a few good bottles in the early '00's up till about '12, then they started to show either advanced or "shroomy." The last 2 times I have had it was from magnums and both times more advanced than I would like.
I like this iteration a lot. Has tons of red orchard fruit, minerality and acidity. Does come off a bit rich at the moment, but I think in time that will mellow over time. It is a very unique wine and does not remind me of any other big house Champagne, it has a style all its own.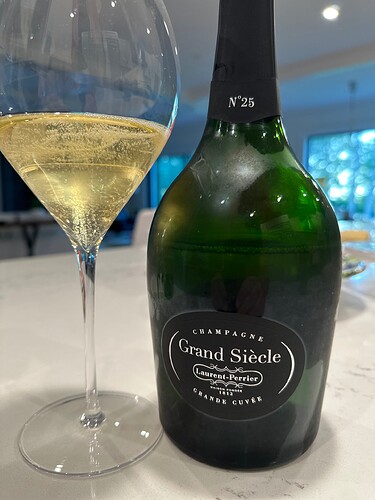 Had this as a pre-dinner drink at the beach over the weekend. Always good QPR with Clouet. This showed fresher than the one other time I've had this bottling. I didn't get as many oxidation notes. Fruit profile was still bruised/baked in a balance that Clouet often finds.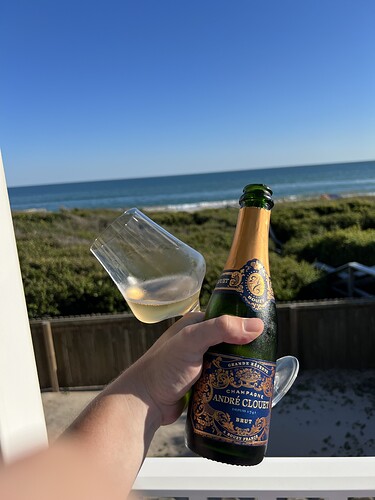 Enjoy the anise, licorice and white pepper notes Jon.
Just thought I'd add that I left a glass in the (stoppered) bottle in the fridge, and on day 2 it had lost a lot of the weight and interest of the yeast notes it had when first opened. It was still very drinkable, but was a very light and dry (without being overly acidic) wine - fine on its own as an aperitif, but only that.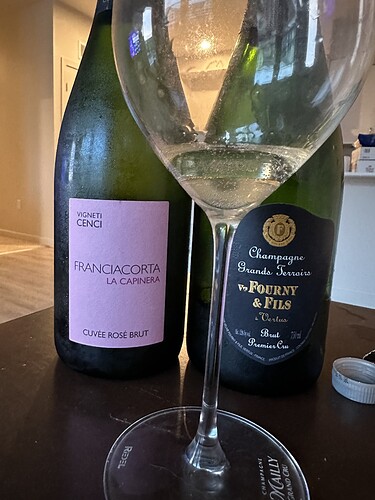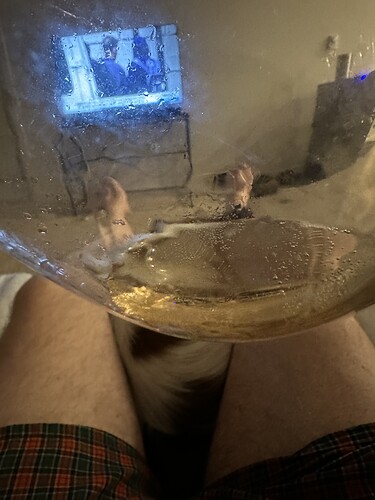 Veuve Fourny Grands Terroirs:
Had a glass left in the bottle overnight. Consistent impression on day two: transparent wine with good complexity, elegance, and roundness. The finish lengthened overnight, and the chalk notes gained in intensity. Really lovely for the price. I appear to be more enthusiastic about this bottle than the CT community. It is a 2019 base and I wonder if the extra ripeness didn't give it more sex appeal than usual. I'll be buying more of this and look forward to trying more of their champagne.
Vigneti Cenci Franciacorta La Capinera Brut Rose:
Really yellow color on this purported rose. I can't even see a pink tint. It certainly tastes like a rose - a full bodied, very fruity rose. It lacks complexity but is bursting with cherry and berry fruit, cream, and toast. It is a bit tannic, has a very smoky aroma that reminds me of salami, which also comes through on the palate.
I bought this for $30, hoping maybe I would get more from Franciacorta at this price point than I do from Champagne and could start balancing out a few splurges with better value options. It's not horrible, but If this is what Franciacorta is all about, I am not excited about further exploration. I was expecting a cooler climate wine. This is riper and more fruit driven than anything I have ever had from California. It lacks elegance, acidity, and mineral interest, in comparison to it's more famous French counterpart. I also found it lacking in soul. If there is Franciacorta anyone recommends between $30-$40, feel free to lay some suggestions on me. I found this inferior, by a large margin, to Raventos, which really does offer me a Champagne substitute I get excited about.
I'm not a Franciacorta expert but the one that convinced me about the region was this:
I'm pushing the border here with a 43.50 euro wine but it's just freaking amazing. Last vintage I had was 2008. Not sure of availability in the US.
And… are we doing boxer shorts pics, now?? Is this what Wine Berserkers is turning into?? Geez Louise…
Don't be a prude! The Sears Catalog (is that still a thing?) is racier than that picture. I can't believe it has taken this long for me to post an incidental boxer pic. Pants are tyranny. They come off as soon as I get home.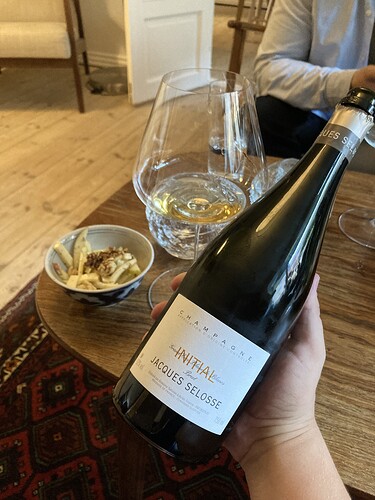 NV Jacques Selosse Initial - France, Champagne, Champagne Grand Cru (09-09-2023)
Disgorged in 2022.

The style of Selosse is something that can really split people due to the very oxidized characters that it brings, but I just have to say that no one masters this fine balance between oxidation, freshness, complexity, mouthfeel and minerality like Selosse does. The market prices also really show this.

Insane golden color and it fills up the room completely with aromas right from opening.

Candied apple, red apple and bruised apple together with fresh citrus fruits, pickled lemon and lemon zest. A touch of peach/apricot, roasted nuts, brioche, toffee, coffee, gunpowder, ginger and crushed rocks.
As stated, the balance between acidity, freshness and minerality against the oxidation, creamy mouthfeel, power and richness creates the most insane complexity. Stunning champagne!!! (95 points)
Posted from CellarTracker
Thje first wine of 4 tasted blind at dinner- just posted in full:
2010 BILLECART-SALMON BRUT ROSE- blind; the color was a mild amber with a pink rim and mindful of NV Laurant-Perrier Rose and B-C; the nose and some strawberry and rose petals which moved into a serious dollop of red cherry on the palate; in time, it gained more power, body and complexity with similar notes, but more expressed, especially the red cherry fruit; it went from being nice and easy and elegant to something much more serious with depth and length; loved it. I also threw NV Ruinart Rose into the possibilities, but usually that is bigger through from the outset, but definitely red cherry laden.
This is the Billecart-Salmon's first ever vintage Brut Rosé release and consists of barrels of declassified Cuvée Elisabeth Salmon from the outstanding 2010 vintage; it is comprised of 55% Chardonnay from the grands crus Chouilly, Mesnil and Cramant and 45% Pinot Noir from Verzenay, Mareuil and Ludes; the red wine comes from ancient vines in the Valleofois vineyard just next to the Clos des Goisses in Mareuil; our bottle was disgorged 6/22.
Cheers,
Blake
With thanks to @D_Pennet for the recommendation, this evening I have been enjoying an excellent J-M Sélèque Solessence Nature Élevage Prolongé.
Click here to read my TN (surprisingly the first on CT for this wine)

NV J-M Seleque Champagne Solessence Nature Élevage Prolongé - France, Champagne (21/09/2023)
50/40/10 C/PM/PN; 50% from reserve wines. Base vintage unclear, but possibly 2015 from the L102015SN code. Disgorgement October 2020; zero dosage.

This is a very nice wine indeed. It needs at least 15 minutes air to lose an initial slightly agressive mousse and sharp attack. But then it is a complex and interesting wine. As recommended on the back label I'm drinking this is quite a large glass.

The nose is perhaps a little reticent, but there are notes of fresh green fruit with slightly creamy overtones.

The palate is quite complex - unripe/tart apple, overtones of brioche, minerality that is somehow both rocky and saline, a long crisp finish that envelops the mouth.

Overall this is an excellent champagne to be savoured not chugged, and quite OK QPR, even at the ~US$55 that I paid; even better at the CAV of ~US$48. (93 points)


Thank you for the note! I have just gotten one of these as well and really look forward to trying it out.
Went to a presentation/tasting of Eric Rodez's wines last night. Laura and I first tried the wines maybe 6 years ago and really liked them. We had been buying bits and pieces of various cuvees, especially the Grands Vintages. The wines last night were on an entirely new level. We loved them across the board, but especially the Rosé and the 2010 Empriente Noire (yes, 2010!). We both even really liked the zero dosage wine, which is a rarity for us. The single parcel wines were also excellent. Bought an entirely inappropriate amount of wine!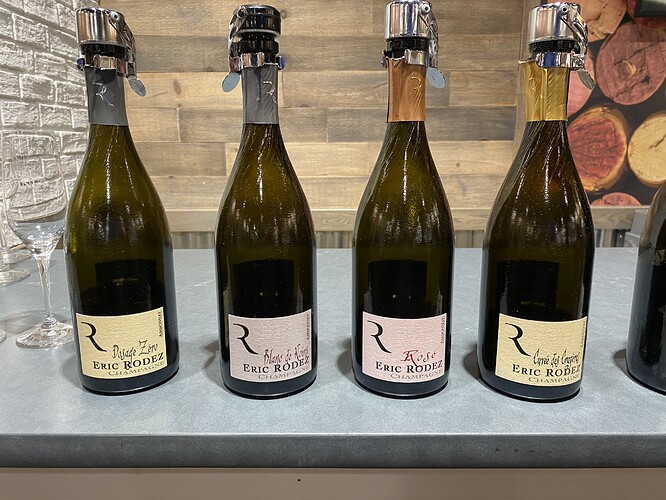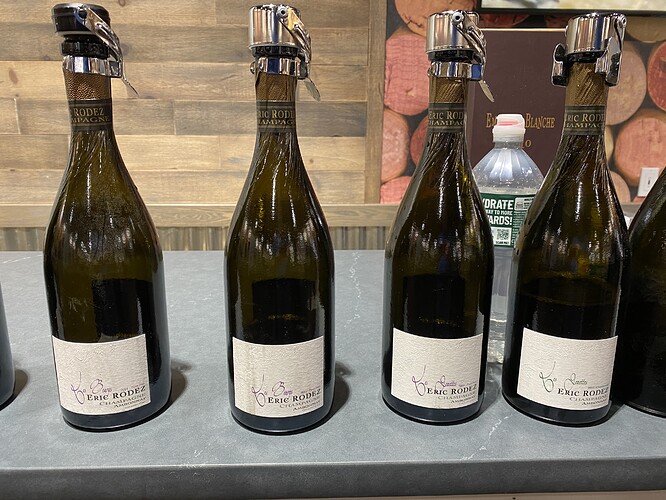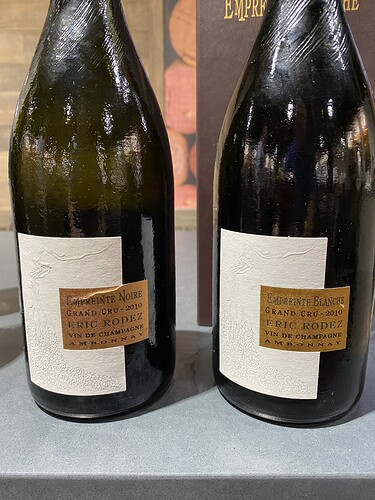 Big fan of Rodez. @Sarah_Kirschbaum turned me on to him.

A cut and paste from a weekend with some great Wineberserker pals. There are some truly wonderful people on these boards. Our group has greatly differing backgrounds, politics, religion, etc., but we all love wine, kindness, generosity. Folks of a kindred spirit. We had so much fun and drank some incredible wines. theh Mountain Jamboree thread has a couple other notes on some old (66 and 64 Dom Perignon), but these are the notes from the proper bottles, though the 96 Cristal was a bit faded and oxidized.
2013 A. Margaine BdB Special Club - slamming well balanced lovely BdB with good lemon curd, apple, white toast. Really tasty wine, with lees sneaking in on the finish showing good acid, but also nice richness. A very nice wine.
2002 Bollinger Grand Anne – I was a bit let down by this wine. I like Bollinger's champagnes young where they show a flashy, fleshy, rich style balanced by good acidity. This wine was sensational young, and I was very excited to drink it. While it was showing hallmark richness, I found the oxidative note pushing into oxidation. Rich shortbread, apple tart, and lemon curd, but maybe a little more cider than I prefer and maybe the first touches of sherry.
2004 Cristal This was a beautiful wine showing white peach, a hint of apricot, beautiful creme pat notes, and some candied ginger. So complete. A really beautiful, fresh, complete champagne.
2004 Salon A kaleidoscope of creamy deliciousness with pear, white flowers, vanilla cream, cool citrus, pastry dough. A wonderful rendition of chardonnay, and a glorious and immensely complex wine.
2004 Krug Clos de Mesnil BdB another mind blowing and immensely complex wine in a very different style. Darker in color than the salon, showing its oxidative roots on the palate as well. This is both rich with spicy jazz apple, fresh roll, hint of wood, and a touch of nuttiness but with crisp clean citrus leading to a racy finish. Where the Salon is subtle but immense complexity, this is flashier and a bit more in your face. Equals, but different.
2004 Dom Perignon P2 This was a really exceptional, and accessible, bottle of champagne in classic Dom style, with a flinty entry, followed by pure cool pear, white cherry, almond, and vanilla cream notes. Good minerality, but still plush. Great stuff.
2017 Cedric Bouchard Roses de Jeanne Les Ursules - A sensational expression of pinot noir. With zero dosage, this is a departure from the other champagnes, but the pinot noir character is so pure. It's white cherry, hint of vanilla, lemon, and then this massive, stunning floral note that had me thinking jasmine or honeysuckle (but not a sweet note), finishing with good clean fruit-based richness. Acid is not insignificant, and this should hold up really well.
1996 Cristal This was a bit faded and oxidative, which is too bad. It was showing a bit more english toffee, a hint of butterscotch, some nuttiness, a little apple cider. But it also had apricot and some mandarin, some spice, and good remaining acidity. It was just a bit tired and oxidative for what it should have been. Showing much more than 8 years older than the 2004, which was bright and inviting with no oxidative characteristics.
1996 Bollinger R.D. - This is rich and flashy with orange marmalade, honeycomb, lemon curd, and spiced bread notes. Oxidative in style, but in great shape. Bombastic, finishing with very crisp acidity, offsetting the oxidative rich fruit profile, which is beginning to develop some pecan nuttiness. While there is a tremendous amount there, I just don't think the oxidative style, at nearly 30, is my preference. Is the acid a little too high here? It's kind of a lot of everything.
1996 Dom Perignon Oenotheque Simply sensational. A glorious wine in perfect condition with beautiful pear and cherry notes, a nice pop of almond tart, lovely florals, and a hint of cool mint. Color is pale and light, and this shows the youngest of the 1996s by a mile. I was fairly sure this would be the let down given some notes I've seen on here about this wine, but this was, to me, the hands down winner of the 96s. It was incredibly youthful, fitting better with the 2004s than the 1996s. Just a gorgeous wine, and worthy of a place among the best champagnes of the weekend.
1996 Philipponnat Clos de Goisses L.V. (late disgorged) - An interesting wine showing tangerine and apricot notes, with creme brulee, spice, and oak. Very high perceived acidity. Fresh, but also showing some age as the profile matures. Faint bitter note, and showing a touch of pecan nuttiness. Really intense crispness on the finish. Hallmark of 96? This was a good wine.