I've been getting wines directly from John Thomas since the 2002's were released and hope to do so for as long as he makes them. On a bit of a lark, I decided to drop him a note to see if I could visit the next time I was in Portland. We've all heard the rumors about him enjoying his privacy so I didn't think my chances were particularly good but I figured there was nothing to lose. We had corresponded in the past over changes in address, broken wax seals on magnums, etc… so I thought there was a chance. Much to my delight, the day I was flying out I got an apologetic email inviting me to visit if I still had time with the understanding he is a 1 man show so its hard to plan in advance. Needless to say, I made the time.
Beautiful drive out to Carlton and with a few wrong turns eventually we arrived at the winery. Not surprisingly, it is off a dirt road and without a sign. There is one identifying feature though that clued us in.


We met up with John outside his winery where he was doing some daily chores. If you look carefully you can see the vines in front that he was planning on planting in the coming day. He explained he had built the winery to be gravity feed and easy for one person to manage except for harvest and a few other busy days. The interesting thing was he explained how hard it was to find someone to help with this type of business model but eventually he met a winemaker in Santa Cruz that set him on his way.
We walked through the 4 acres of grapes. He showed us the row of nebbiolo that he planted for fun. He told he has never bottled it separately because it never ripens enough. He told us how one year he had expected it to be all picked apart by the birds when he had left it on the vine after picking the pinot and much to his surprise it was still there. Apparently, it was too acidic and unripe for even the local birds who had gotten a taste for sweeter, riper grapes.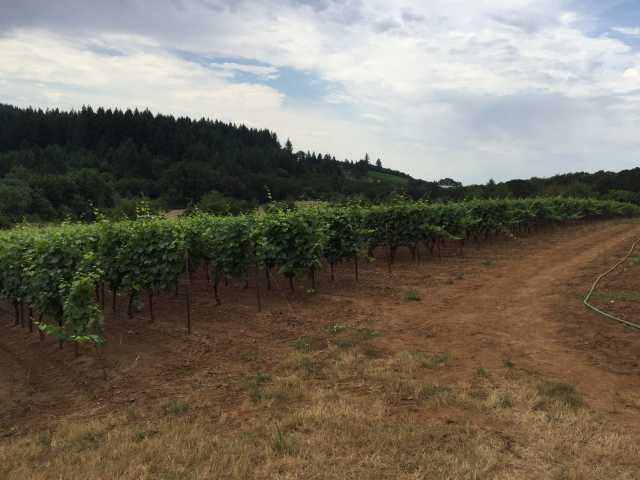 We showed us where the phylloxera was slowing killing the vines and explained the need to replace them over time. He keeps his rows all dirt so as to help in times like now when it is so dry. All in all an amazingly neat and well kept vineyard. Fascinating stuff.
We then moved to the winery where he showed us around. Very compact space with one part of the cave for barrels. Everything is kept in barrel for 2 years before bottling. We tasted both 2013 and 2014 from barrel which were quite similar to my palate. The whole time we had an easy flowing conversation about how he came to making wine from being a geologist, family, politics, the history of Oregon wine, his one-time interest in making a sparkling wine (too expensive), succession plans, etc… It was striking to me how it felt like we were talking to an old friend. Just a fascinating and yet exceedingly normal guy. He explained how he only kept a few cases for himself and that is was important to him to have the ability to move his wine out in the month or so after bottling because he needs the space for the next harvest.
The longer he explained why he did it the way he does, the more it made me wonder why people would do it differently. By having such a hands on approach and doing it all himself, he is able to make decisions based on ideal timing rather than be driving by competing interests such as multiple crops, picking schedules, space, etc… I think that is why he seems to always excel in years that other winemakers find troubling.
We said our good byes and headed out. All in all, one of the coolest days I've had chasing this hobby. Oh, and he did tell us his cellar landline phone isn't currently working. He explained he had planned on fixing it and then got distracted. Over time he realized he kind of liked not being interrupted with his work in the cellar. His final explanation was that his friends know how to find him, people can email and folks can always write a letter if all else fails. After spending time at the winery, it made a ton of sense to me.