Lunch on Friday, 19th June 2010, was hosted by Aaron at Café Ysabel in belated vinous celebration of his birthday featuring a menu designed by Chef Gene Gonzalez. We were 7 in all including Aaron, the Stockbroker, J-Lab, Miguel, Rene, Greg and myself. As usual, everyone brought good bottles to share, with a notable step up in celebration of Aaron's birthday.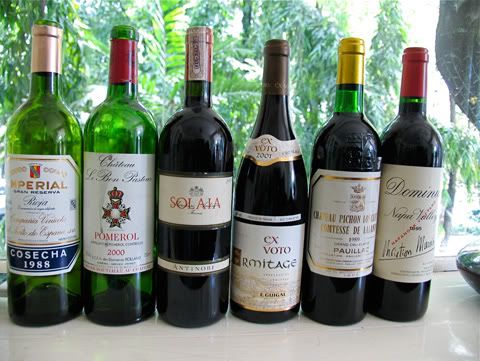 J-Lab was there by the time Miguel, Rene and I arrived; the rest followed within a few minutes. As the first of us waited, J-Lab requested a change of stemware and a couple of decanters. I asked Rene to take charge of opening the older bottles, which he did with impeccable results.
We then started off with some bubblies:
Miguel pours.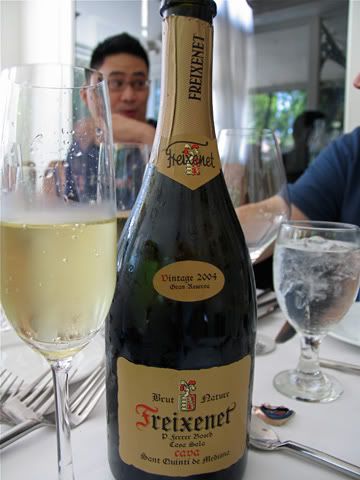 2004 Freixenet Casa Sala Gran Reserva Cava - Aaron's bottle of course, a bottling named after and in honor of the producer's very first brut nature cava: frothy, brightly dry, toasty, yeasty white fruit, white grapefruit, citrus (including slight lime at the finish). A bit tight since this shipment just recently arrived from Spain. Will probably unwind and even put on weight with a few weeks' rest. Very lively and energetic on the palate.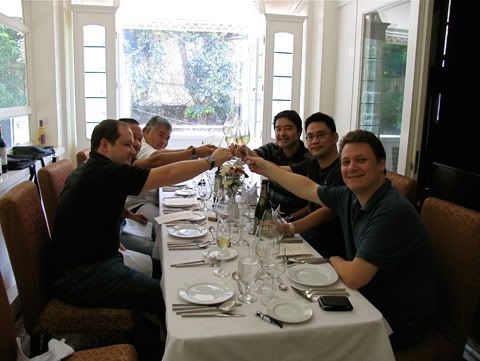 A birthday toast to Aaron.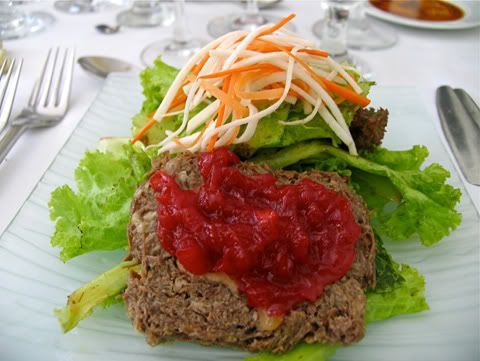 With a Salad with Rillettes & Cheese was poured…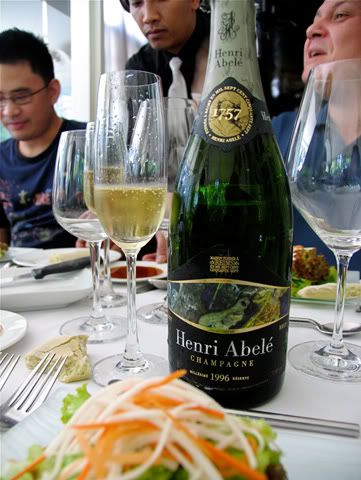 1996 Henri Abelé Champagne - Aaron's bottle. Rounded, ripe, slightly creamy flavors of pear, yellow apricot, Japanese plum, bit of lemon, brioche with slight cinnamon and vanilla notes. Vibrant, fresh, quite pleasant and nice with the pork rillette and cheese portions of the salad.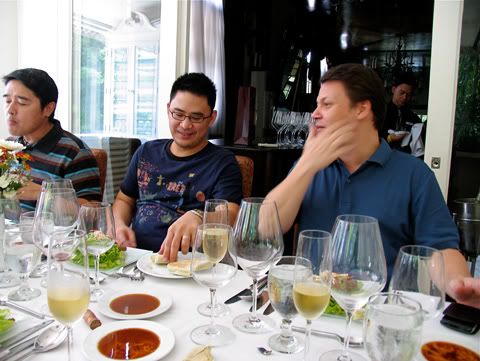 Miguel, Aaron & Greg.
Next was French Onion Soup with which I had no wine.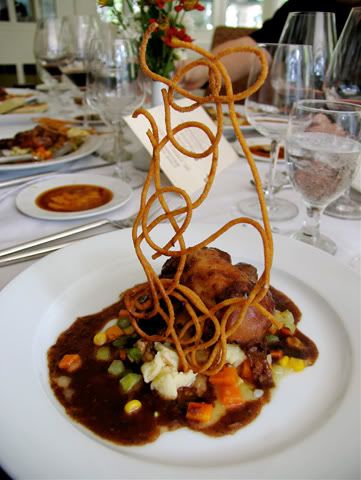 This was followed by a Roast Chicken atop Mashed Potatoes and Vegetables. Two aged Pauillacs were poured with this: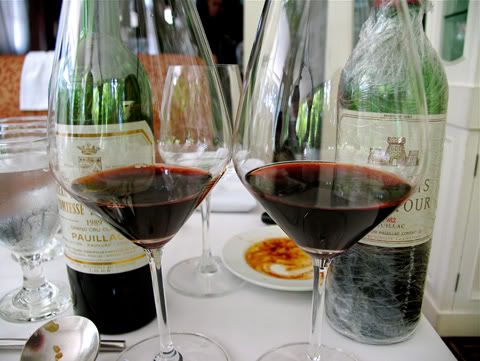 1982 Les Forts de Latour - Aaron's bottle. On the lighter side of full-bodied, this showed well with cassis, black cherry, minor dark plum, violets, cedar, slight licorice, underlying ceps and leather, notes of asphalt and graphite. Strong structure with piercing acidity, a masculine, challenging wine. A fitting "little brother" of the 1982 grand vin.
1989 Château Pichon Longueville Comtesse de Lalande - The Stockbroker's bottle. I've always enjoyed this vintage of Pichon Lalande and always thought of it as one of the more masculine vintages thereof (the 1985 is another). Fain truffle laces the sweetly cedared bouquet of earthy cassis, cherry, plum, raspberry, clean, well-worn leather, graphite and violets. Mirrored on the palate on a slightly lighter frame, this was comparatively softer and curvier than the preceding wine and came off as slightly feminine beside the 1982 Les Forts de Latour. This was an elegant wine.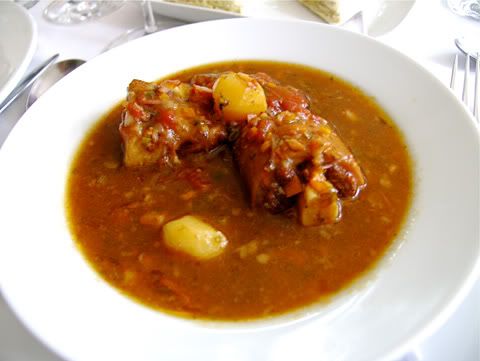 With the hearty main course of Rabo de Toro…
1988 C.V.N.E. Imperial Gran Reserva - My bottle. Austere in character with rigid structure and firm acidity, this displayed vegetal notes, sour cherry, raspberry, some darker berry underneath infused with notes of balsamico, leather, slight licorice, violets and cedar. This seemed to be Bordeaux-ish to me. Alone, it was a bit too severe for me, but, with the rich, flavorful, gelatinous rabo de toro, the wine came into its own - cutting the richness, cleansing the palate for the next bite and playing well with the main course. I thought it was the best pairing with the nicely earthy and comforting rabo de toro.
2000 Château Le Bon Pasteur - Rene's bottle. Lush, big, full, stylish, notably powerful but not over the top very ripe, mildly smoky plum, black cherry, hint of kirsch, crème de cassis, unsweetened chocolate, moderate vanilla/oak, licorice, leather, cedar and an underlying suggestion of loam. Violets emerge towards the back and into a confident, long finish. Still a bit young, but already nice.
1995 Dominus - Greg's bottle, purchased from Bacchus Int'l. Unfortunately and clearly corked. The TCA was unmistakable in the slightly musty cardboard and vaguely plastic-like scents that wrapped the wine. Too bad.
Dessert was a classic, flaming Baked Alaska, presented with a flourish at the table before being portioned out. With this was paired…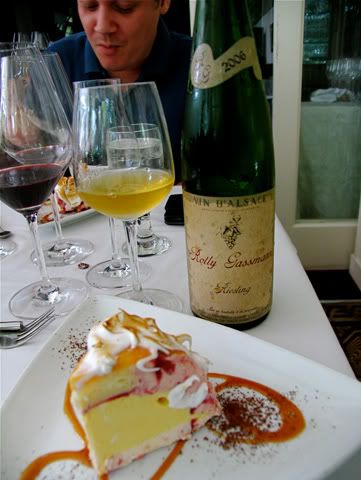 2006 Rolly Gassmann Riesling - The Stockbroker's bottle. Its svelte peach, ripe apricot, slight lemon drop and white minerally flavors over mild orange rind and very slight petrol notes seemed off-dry/sweetish enough to virtually be a vendanges tardives, though the label bore no indication as such. Bright acidity though. A little under medium-bodied. A rather simple wine, but easily pleasing.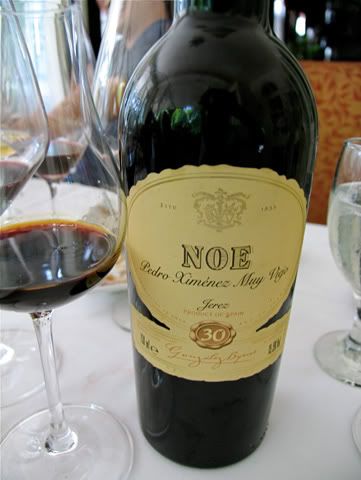 NOE Pedro Ximenez Muy Viejo Jerez (30 Años) - J-Lab's bottle. Very approachable, smooth, comfortingly warm molasses, raisins, hints of herbs, some underlying chocolate, vanilla, slight licorice candy. Not as thick, tongue coating and intensely dense as many PXs I've had - which is not a bad thing. Nice one. We enjoyed sipping this and pouring it over some vanilla ice cream.
Of course, the good-natured teasing began almost from the outset about Aaron's age in relation to Greg's…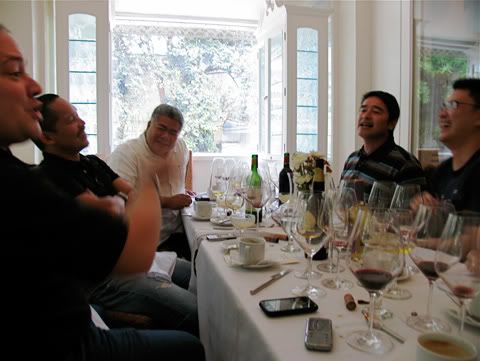 …to the recent, stunning loss of Spain to Switzerland at the World Cup…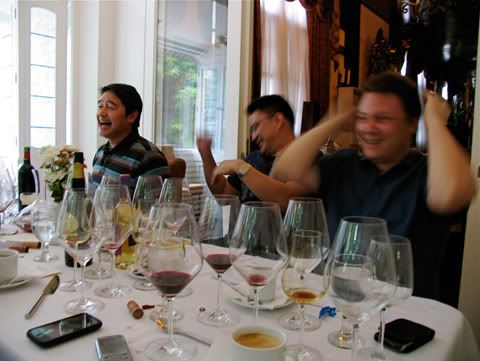 …which had us all in stitches until the Stockbroker, Miguel, Rene and I left for home at around 4:20pm as the others stayed on (for, surely, another bottle or two).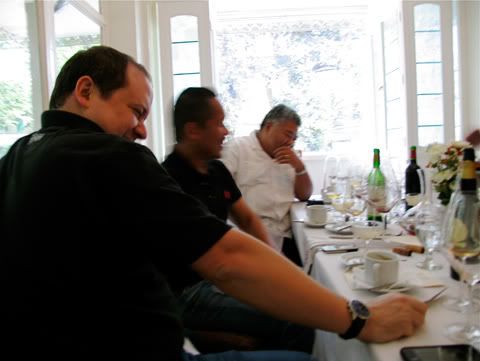 It was a very fun lunch. I hadn't laughed that hard in a very long time. Thanks, Aaron, for the lunch, wines and bringing us all together anew after quite a while - and, of course, happy birthday again. Many, many more to come!