Spent 5 days in HK this week to attend Vinexpo Asia-Pacific 2010 and spend some time with the family (my children were there for 2 weeks staying with Ron & Mich). Monday evening, the 24th May 2010, was at old favorite Yung Kee (4th Floor) for the Cru Exceptionnel Dinner of the venerable Mr. Lau Chi Sun, editor and owner of Hong Kong's premier monthly wine magazine, WINENOW.
NB: J-Lab texted me that they were at the 2nd floor having dinner too, so I visited his table briefly to greet him, Jocel, Gene, Gino, China, Arnie and Helen.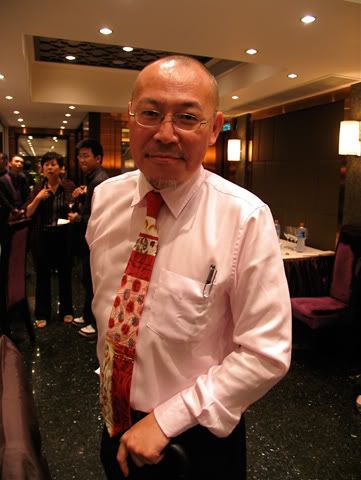 Mr. Lau Chi Sun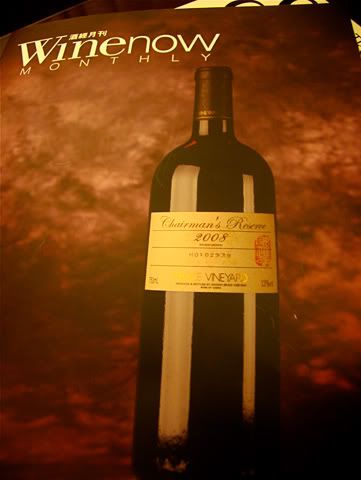 Catha and I were seated with the Vigneron and Team Grace Vineyard (China) at Judy Leissner's table. Judy herself was seated nearby at Mr. Lau's table beside us.
Judy Leissner and Mr. Lau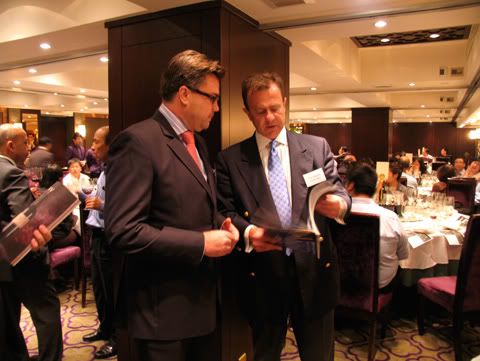 The Vigneron with Phélan Ségur proprietor Thierry Gardinier.
The Vigneron is currently head of the Cru Exceptionnel Group which includes Châteaux Siran, Poujeaux, Haut Marbuzet, de Pez, Ormes de Pez, Labégorce Zédé, Phélan Ségur, Potensac and Chasse-Spleen. Before dinner, there was a tasting of the Exceptionnels' 2006 & 2007 vintages.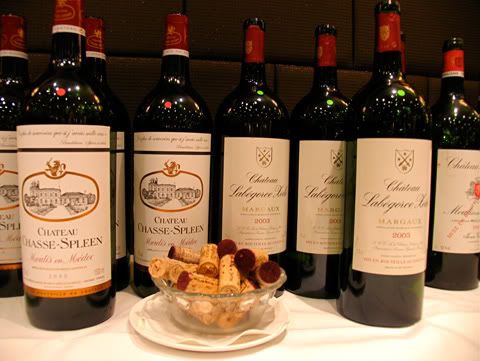 Catha and I, however, were running late and, unfortunately, to make us even later, got stuck in the elevator for about 10 minutes, so I had little time to taste through everything before dinner was served. Thus, I skipped the 2006s (which I had tasted through not too long ago) and had a run through the 2007s. The 2007s that stood out for me, though, were, in no particular order: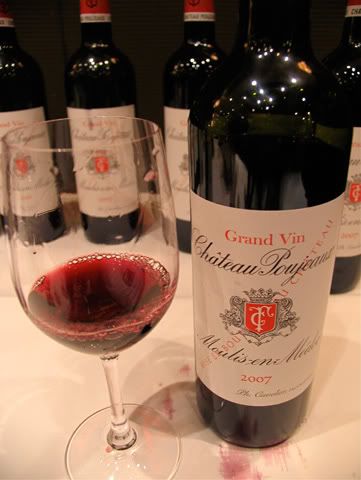 2007 Ch. Poujeaux - This came off to me as the ripest and most concentrated from Bordeaux's rather cold and rainy 2007 vintage (the last 2 or so weeks in August-September were good though). Black currant/moderately spiced/creamy cassis and a bit of kirsch dominate over black cherry and underlying loam. Slightly over medium-bodied, nicely soft/rounded fruit and tannins. Good show for the vintage. As far as I know, Derenoncourt is the consultant here.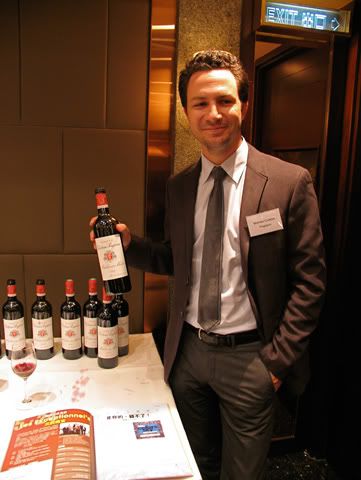 Mathieu Cuvelier of Poujeaux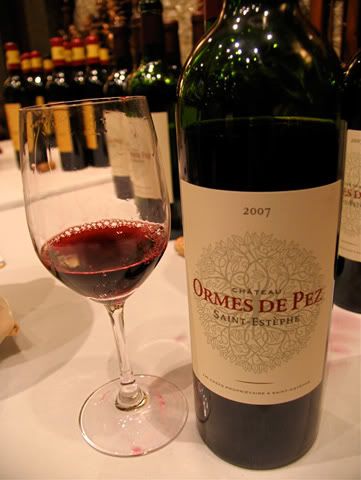 2007 Ch. Ormes de Pez - One of the comparatively more extracted and riper ones of the tasting (though not to the extent of Poujeaux). Crème de cassis, loam, kirsch, licorice and a very apparent dose of toasty/creamy oak. Probably the most modern styled of the 9.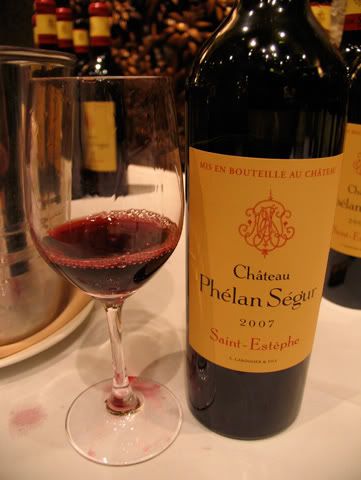 2007 C. Phélan Ségur - Shows the typical masculinity and "toughness" of St-Estèphe with cedary/sandalwood topnotes over earthy blackcurrant, black cherry, bit of dark raspberry and violets. Shows the vintage leanness, but a good, proper specimen of St-Estèphe all considered.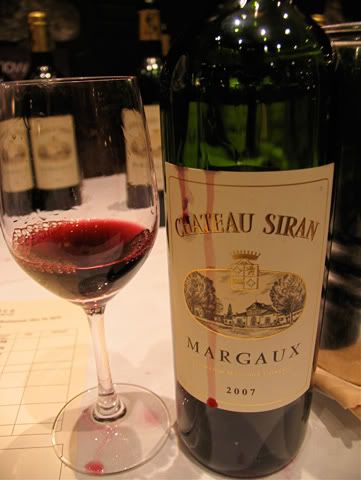 2007 Ch. Siran - Seems to have much more cabernet sauvignon in the blend than usual (probably because this ripens later than merlot so was able to take more advantage of the warmer/drier late August-September) and the hallmark spiciness from petit verdot is also quite apparent. Shows the vintage leanness, but comes off well after such challenges. Masculine, sturdy structure, blackcurrant, bit of cherry, more of raspberry, red spice, cedar and a bit of leather, violets and oak.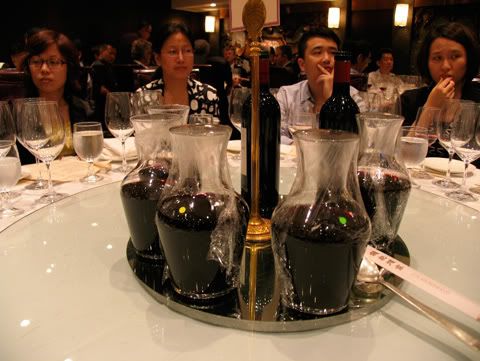 Not long after, we were seated for dinner; a bunch of color-coded decanters on the table, so I took it we were to drink the dinner wines half-blind. Mr. Lau then said a few words and formally introduced the Vigneron.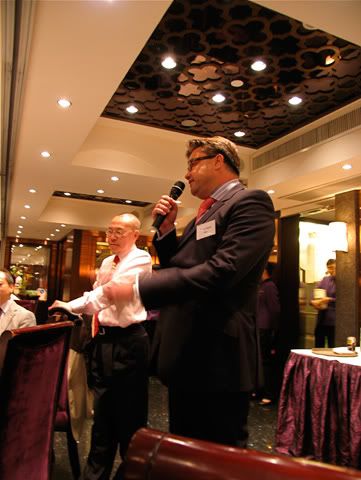 I suppose due to some requests from the guests and, wanting everyone to be totally at ease during dinner, Mr. Lau announced the identities of the color-coded wines…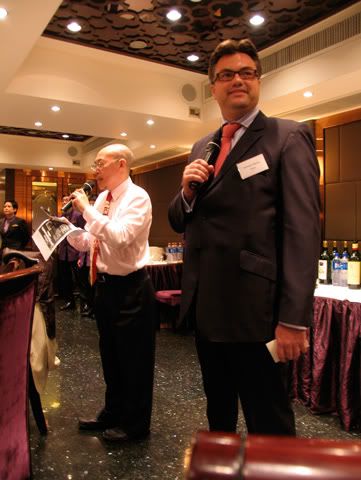 …and dinner was served.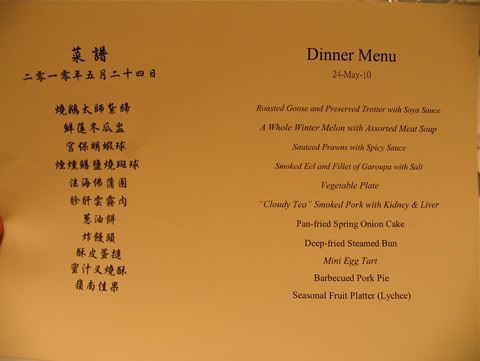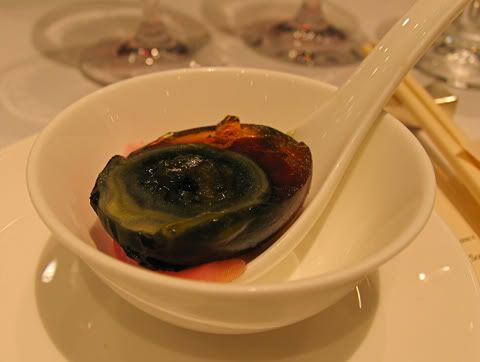 Though not listed on the menu, it is a sin to dine in Yung Kee without a bit of their famous 1000-Year-Old Egg with Preserved Ginger - for me and many others, it is the best in the world.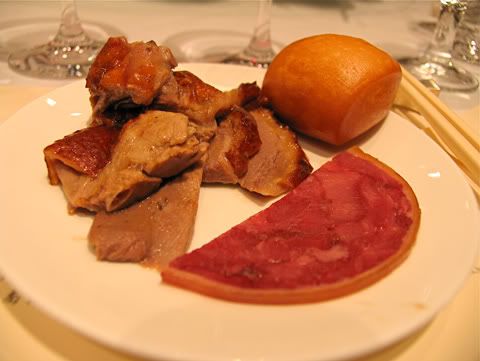 Roast Goose & Preserved Trotter with Soya Sauce - this was served with some deliciously coconut-creamy Deep-Fried Steamed Buns which Judy told me was specially prepared for the French guests who are happiest with bread during meals. Loved it.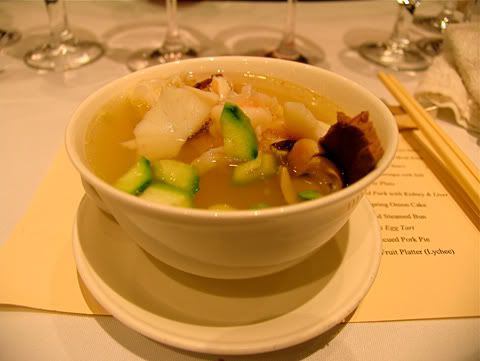 Whole Wintermelon with Assorted Meat Soup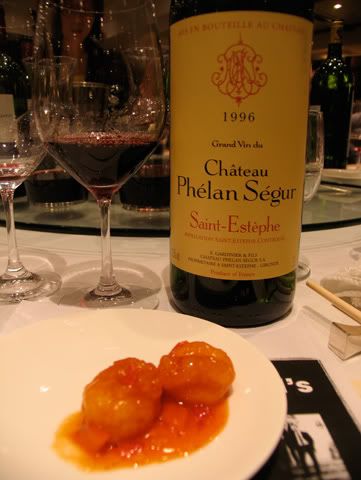 Sautéed Prawns with Spicy Sauce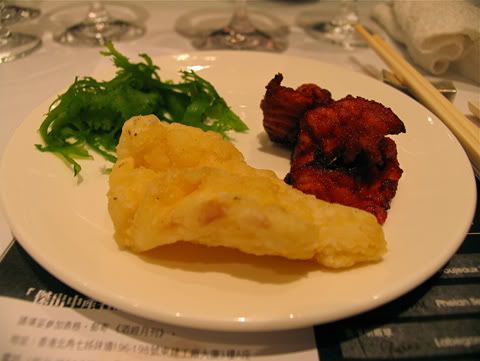 Smoked Eel and Filet of Garoupa with Salt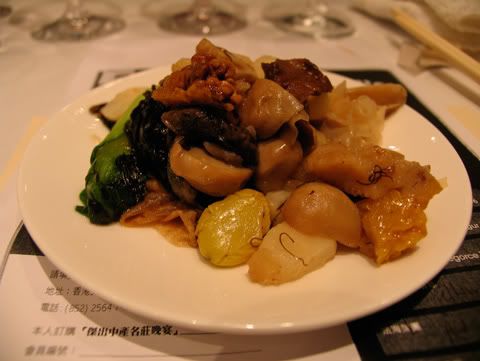 Vegetable Plate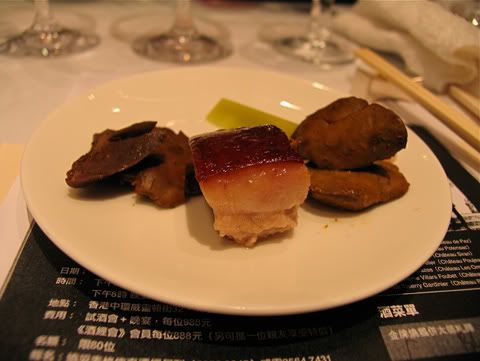 "Cloudy Tea" Smoked Pork with Kidney & Liver
More Deep-Fried Steamed Buns
Pan-Fried Spring Onion Cakes
There were Mini Egg Tarts, Barbecued Pork Pies and Fresh Chilled Lychees as well, but I forgot to take photos of them - a sure sign of my enjoying myself too much. The food was top-notch that night; and it is not surprising as no less than Mr. Kinsen Kam, Yung Kee owner/managing director, was at the dinner with his family, overseeing the entire event, ensuring all ran smoothly.
Now, as regards the wines: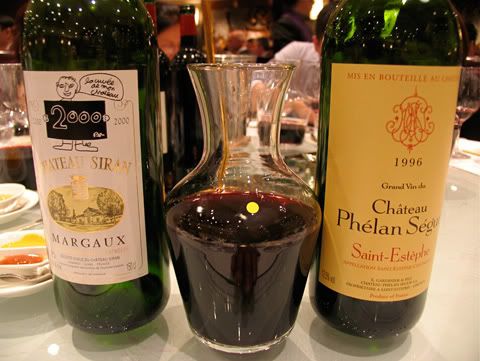 2000 Château Siran - This, for me and for several at our table, was the dinner wine of the night. I've written several times about this my favorite (Doc's too) of the recent vintages of Siran. My notes from a year ago at a Siran vertical still ring true:
Already drinking well, but with long life and great potential for even more improvement ahead of it, this suave, smooth/supple-muscled, agile light-heavyweight is just beginning to really strut its stuff. Naturally more open than the previous youngster, it already displays depth and complexity underneath the fruit. The distinctive spicy notes, some fennel, iron, leather, licorice are well in play, the wood quite already nicely integrated. I enjoyed this a lot, as I always have.
1996 Château Phélan-Ségur - Mellow, dusty, some ceps, old leather-bound books and moderately smoky cedar on a medium body. A bit backward and a touch too austere beside the 2000 Siran. It is a proper enough St-Estèphe but, honestly, I found it a bit too hard and unforgiving in comparison. Not bad at all though, if a bit simple for this estate in generally a good vintage for the left bank.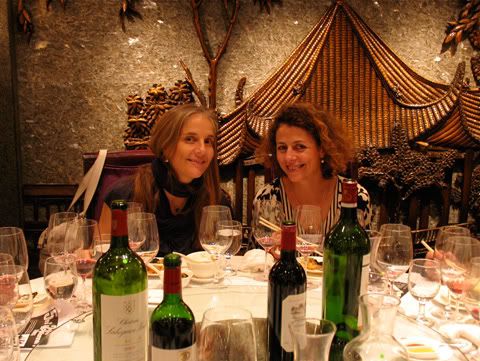 Mrs. Vigneron arrived halfway through dinner, straight from the airport. Here she is dining at Chasse-Spleen's table with the estate's owner-winemaker Claire Villars.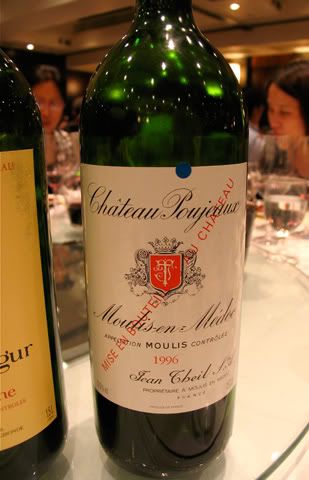 1996 Château Poujeaux - I immediately recalled an IWFS Blind Tasting of 1996 Cru Bourgeois and 2nd Wines from 1st/2nd Growths back in 2006 where the '96 Poujeaux won best wine by a land slide. At an identical re-tasting it did badly and I do recall pointing out that the bottle then was nothing like the one that won in the first tasting.
In any event, this bottle was good, already mature but could go nicely for around 5-7 years more I'd say. Warm, mellow, good depth in its cigar box laced, well-focused rounded dark fruit, cassis, cedar, loam, slight Cuban tobacco, faint chocolate and leather notes. Slightly over medium-bodied. Nice and proper.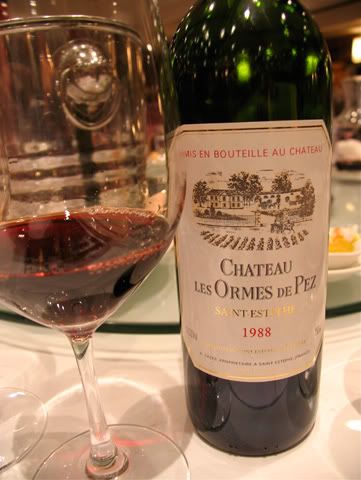 1988 Château Les Ormes de Pez - I don't know if my palate was quite on point by this time, but I recall there seemed to be a touch of stem/green in this wine. Firm/solid structure, blackcurrant, licorice, cedar, leather, violets - slightly over medium-bodied. Nicely integrated oak (probably not much new). Masculine wine. Tannins apparent but well resolved at this stage.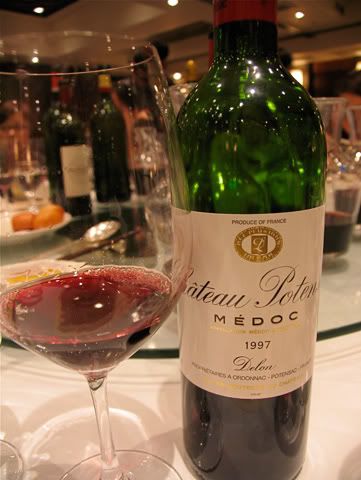 1997 Château Potensac - Actually, this was a pretty impressive wine given the general weakness of the vintage in Bordeaux. I commented that the owner is quite confident to pour this amongst such strong vintages as the 1996 and 2000. It did acquit itself quite well all things considered. Nicely clean, masculine, good concentration (for a '97), not overly extracted and very clean oak lines. This comes off as old-school, cabernet-dominated, well-structured, not so overtly fruity and (new) oaky like many are. As stated, quite impressive considering the vintage. Good show.
Judy pours for and explains each wine to Team Grace Vineyard.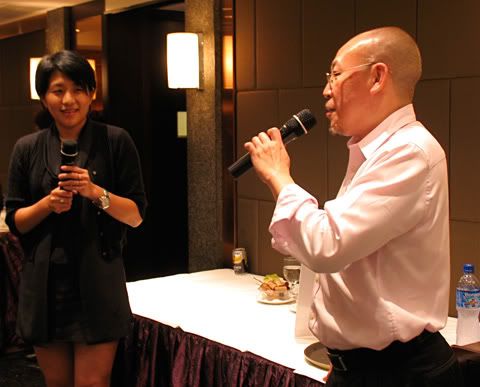 Judy, ever energetic, bubbly and vivacious, also took the floor with Mr. Lau to explain certain new dishes of Yung Kee and discuss the wines served with dinner. The Vigneron told me he has some bottles of her latest release 2008 Grace Vineyard Chairman's Reserve resting at home and that we will taste them together soon. I look forward to it as I've only ever tried her 2005 (back in May 2008) and playfully dubbed it "Screaming Dragon" because of certain similarities to a subtler type of Napa cabernet sauvignon (which is a good thing for me).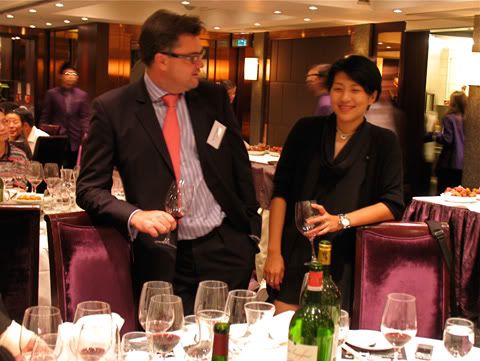 Great evening. Catha and I enjoyed ourselves a lot. Loved the food and the company - a great dinner paving the way for the official opening of Vinexpo Asia-Pacific 2010.
Catha with the Grace Vineyard Team