Berserkers,
We are having a beautiful hot July and August up here in Canada after an unusually cold June. Perfect weather for barbecuing. So with that in mind, the Toronto Wine Elitist Cabal ™ got together at our American expatriate member Tim Burnett's for an impromptu summer BBQ with the boyz. We got our food and our wine together but quick and headed on over:
CAMILLE SAVES GRAND CRU BRUT ROSE BOUZY – Jay brought this Champagne made from 60% Chardonnay Bouzy Grand Cru, 28% Pinot Noir Bouzy Grand Cru, and 12% Bouzy Rouge per their website. Not sure what they mean by that last one. Very nice with fresh cranberry, watermelon, and strawberry flavors. Lots of chalkiness and toasted lees. Nice and refreshing.

MALIVOIRE 2012 MOIRA CHARDONNAY – Mike picked this up in Niagara on a library release. I likened it to a Chablis but the guys disagreed due to the distinct buttery note from the oak. I therefore liken it to a Chablis with butter notes.

Creamy mouthfeel, bright acidity, a little salinity, and bright green apple. I agree there's a distinct butter note from oak but this is not an overdone Cali chard. 2012 is one of the better Ontario vintages and this was extremely well made. It's aged very well.

SPECIAL INTERMEZZE: THE GRANITE SAISON BEER – What makes this Saison beer so special? It was brewed by our very own Tim Burnett! As you can tell by the complete lack of head, I am not a beer drinker at all, but I really enjoyed this. It was light and refreshing, with a fruity and hoppy taste to it.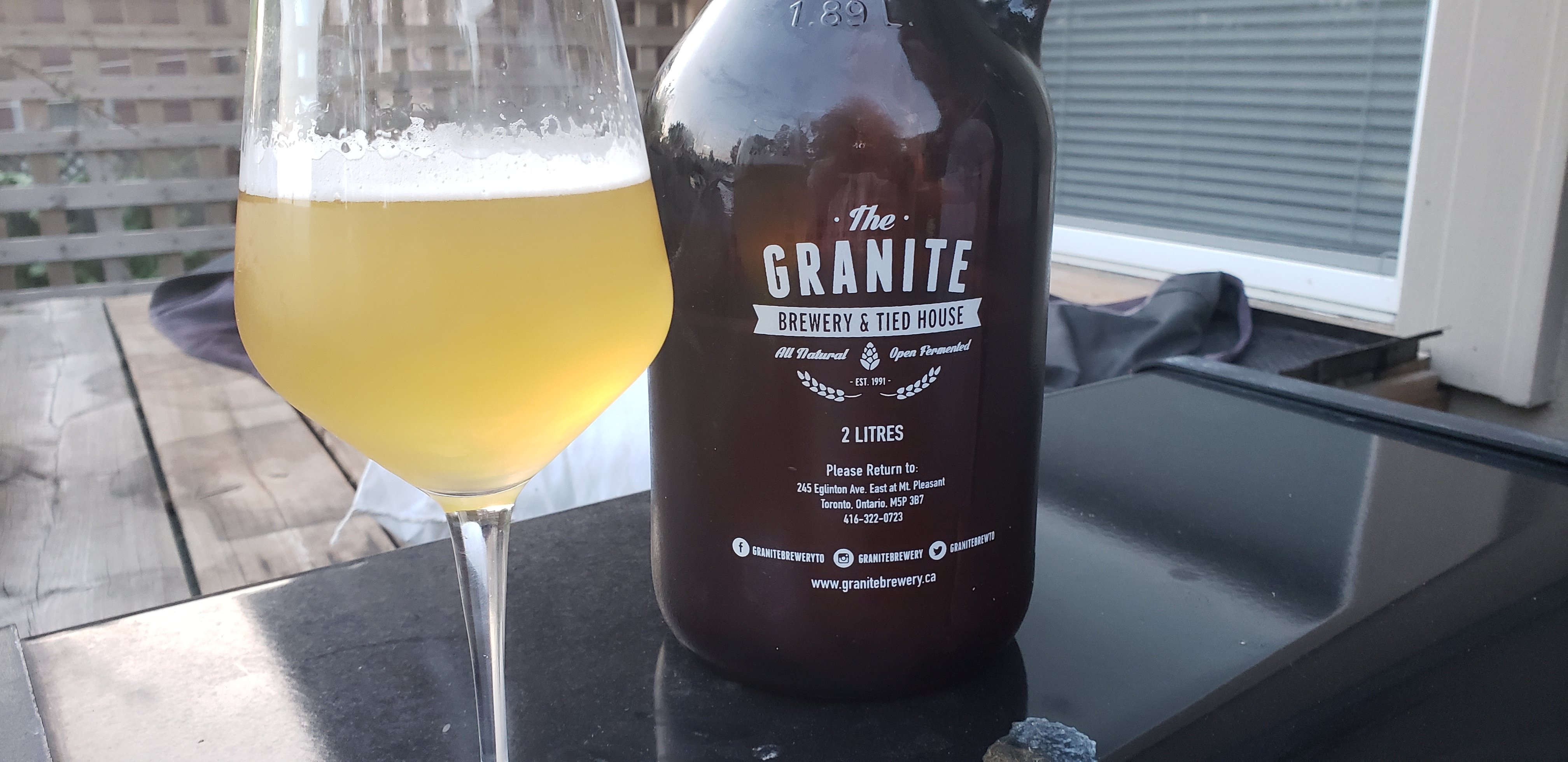 2000 CHATEAU DU PIN FINGEAC SAINT-EMILION GRAND CRU – Tim's first contrib. I looked up the history of this estate and man what a clusterfudge its history is. In regards to the wine itself, I always hesitate at Bordeaux due to the overwhelming tobacco flavors and not enough emphasis on fruit, though I always keep an open mind whenever Merlot and Cab Sauv are involved. This is from the Giraud-Bélivier vineyard per the label and is 75% Merlot and 25% Cabernet Franc. Rich deep color, smoke on the nose. Nice cherry and anise flavors with a hint of smoke and still tannic. This definitely needed the steaks to go with it but is more thank drinkable on its own. Saved by the high Merlot composition in my mind.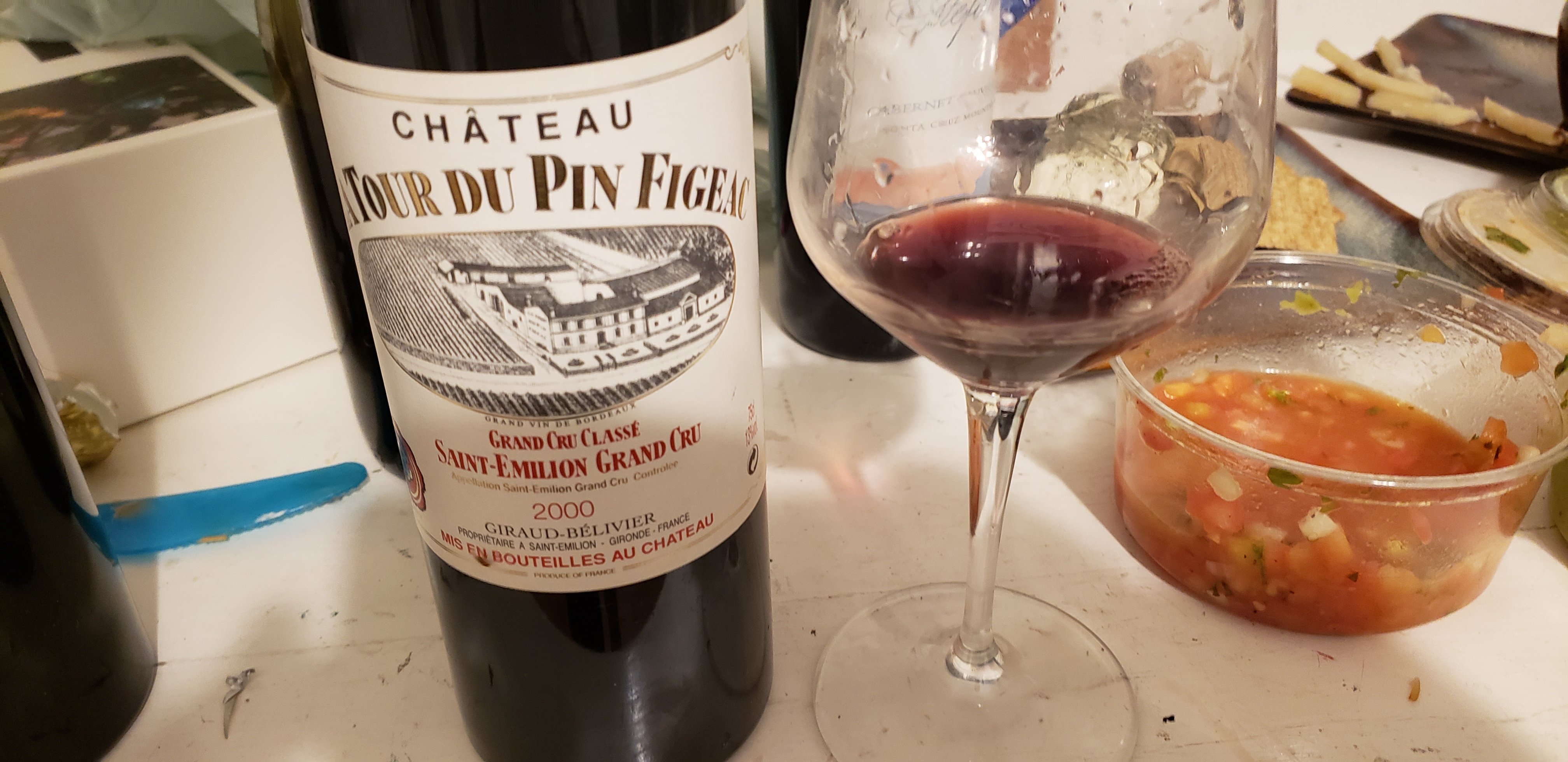 RHYS 2009 PINOT NOIR – Strawberry nose, pencil lead and dried strawberries on the palate, extremely smooth texture. The years have been good to this as it is not overwhelming big.

LOIMER 2007 RIESLING KAMPTAL – My first contrib. Gunpowder nose I would guess is a Meursault if blind and not a Riesling. Laser sharp acidity, bright lemon lime flavor, a rich fully body and a touch of black pepper spice and phenolic bitterness. Wow, was this good. Like Chenin Blanc and Chardonnay from France having an illicit affair and producing a Riesling as a child. This was superb with everything we ate from the cheese to all the grilled food, steaks included, and even my key lime pie. Nobody outright called in the WOTN but I'm willing to give it the title by the sheer number of extra glasses we each had of this.


KRACHER 2003 #1 NOUVELLE VAGUE – Mr. Shampur's very specific instructions to me for this get-together were to bring a white wine as well as, and I quote, "a dessert wine of some stature." Well then… ask and ye shall receive! There is absolutely no dessert wine IMHO that has as much stature as an original Kracher TBA made from the late great Alois Kracher, Sr. This TBA is a cuvée of 50% Welschriesling, 25% Pinot Gris, and 25% Scheurebe. As expected, this was phenomenal. Botrytis and caramel on the nose, ginger, orange and honeydew melon on the palate. Acidity seems to be fading as maderization is naturally setting in. In a perfect place to drink at this point, however. Phenomenal as always. Jay even asked to bring the leftovers home. I must've been tipsy, as I actually let him! That was foolish. Fortunately, I have a few more bottles of this liquid gold left. It would've been the WOTN but for the Loimer. As it is, I score the win thanks to the country of Austria and its winemaking!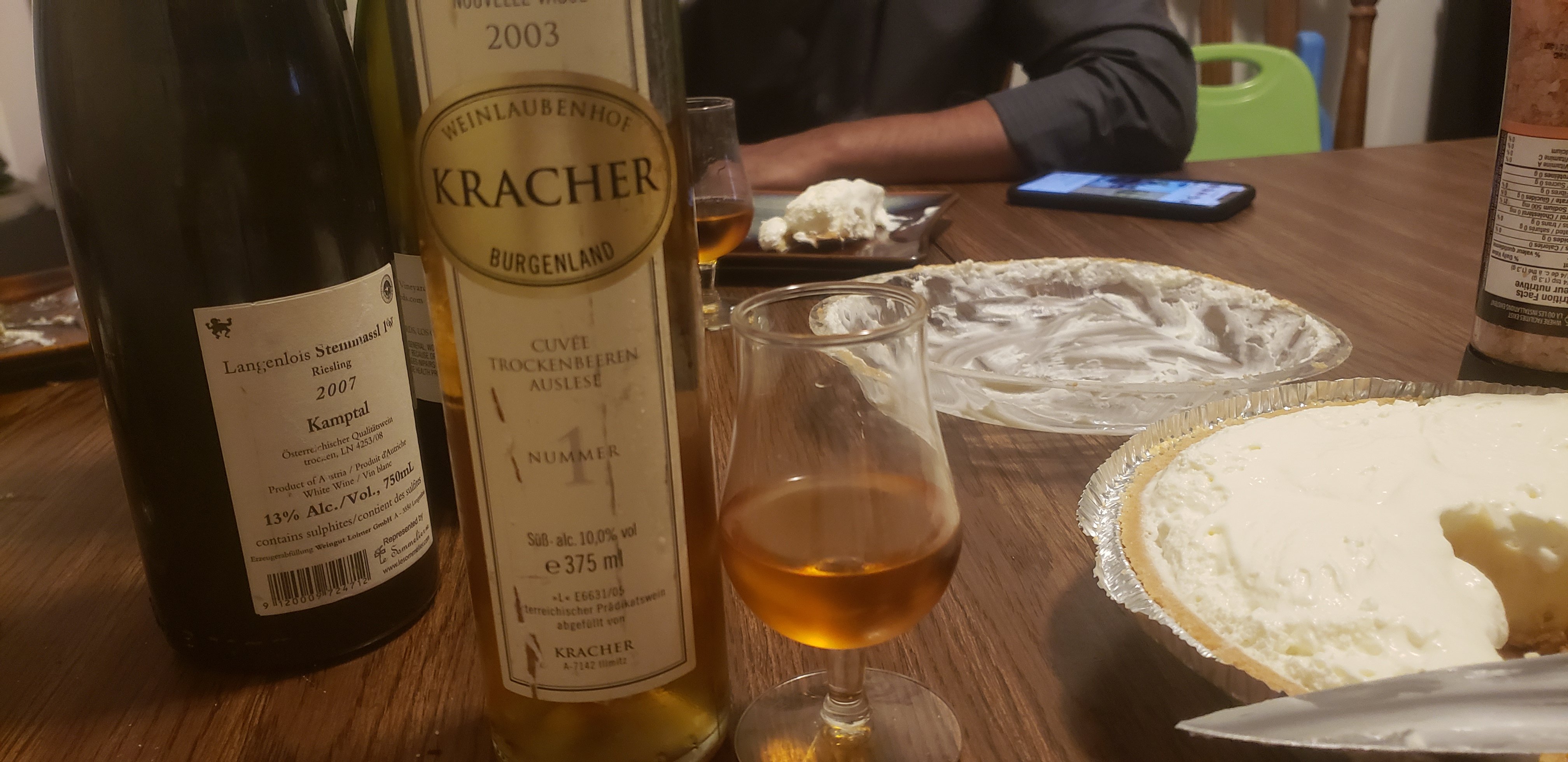 So what did we eat with all this liquid goodness? Well, Tim started us off with some cheese and fig jam as an appetizer as well as some fresh pico de gallo and guacamole from the Mad Mexican to go with some tortilla chips:

Then it was off to the grill. Jay brought some shrimp skewers and chicken brochettes he picked up from Whole Foods and Tim grilled some steaks.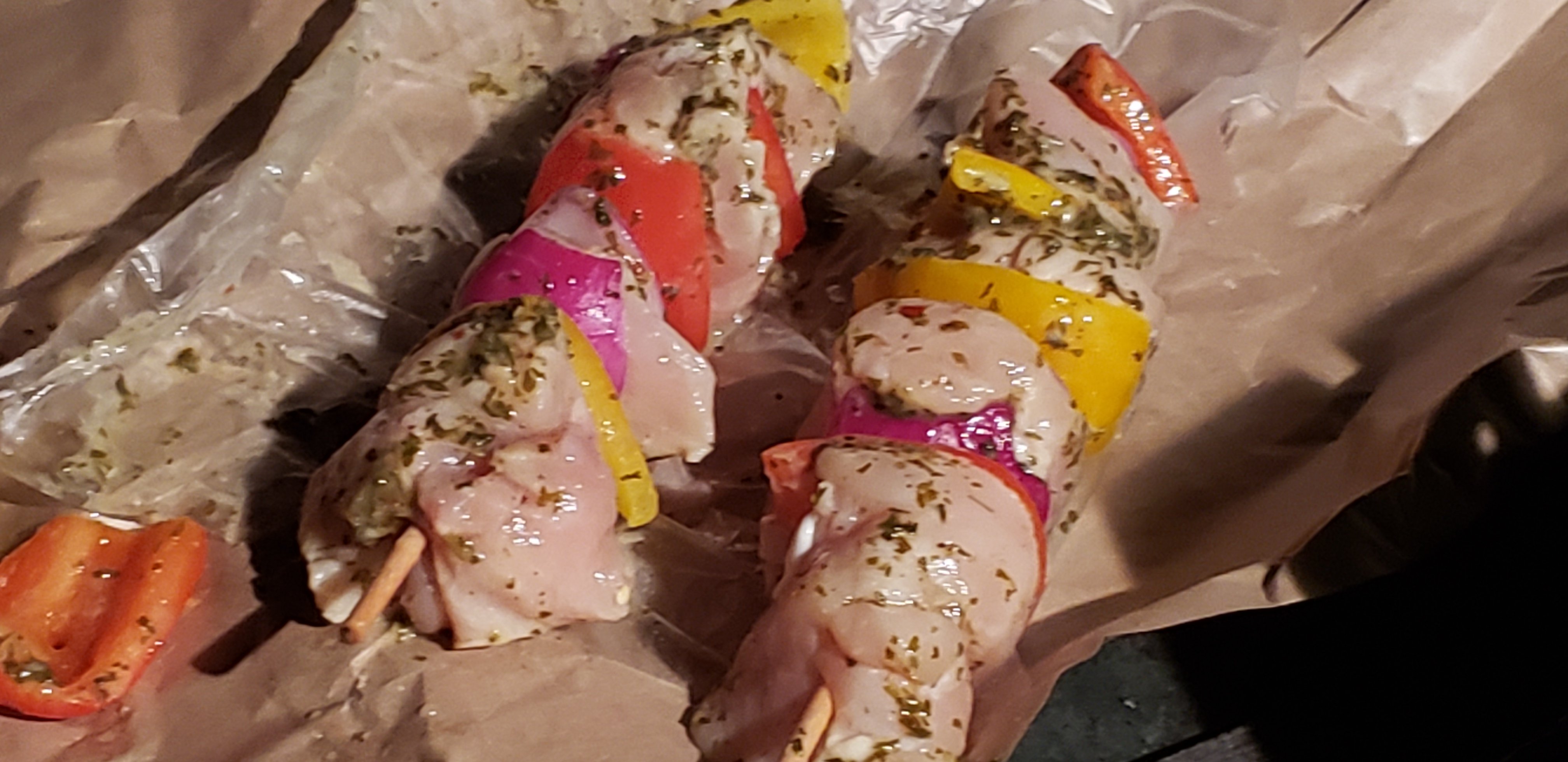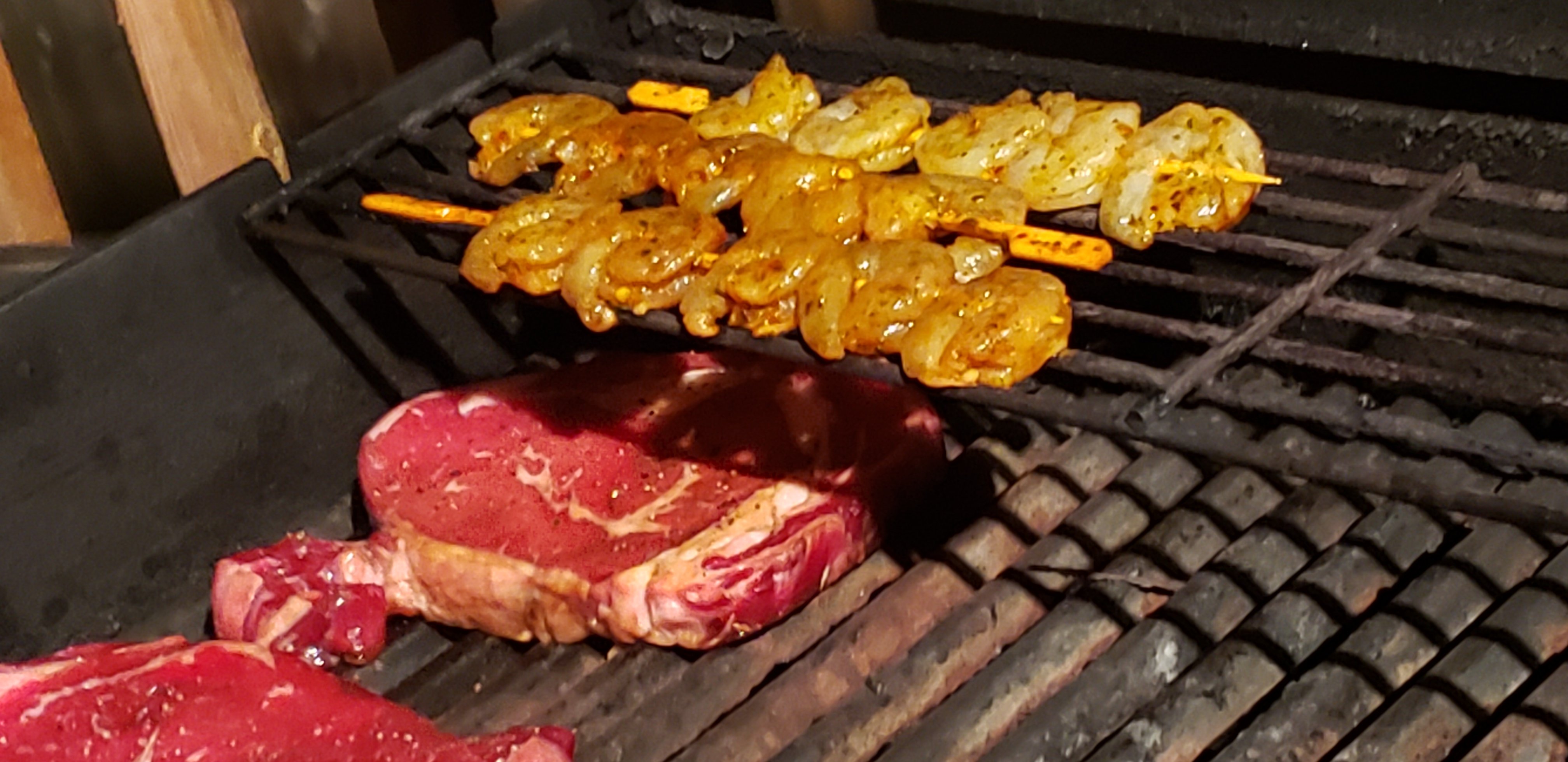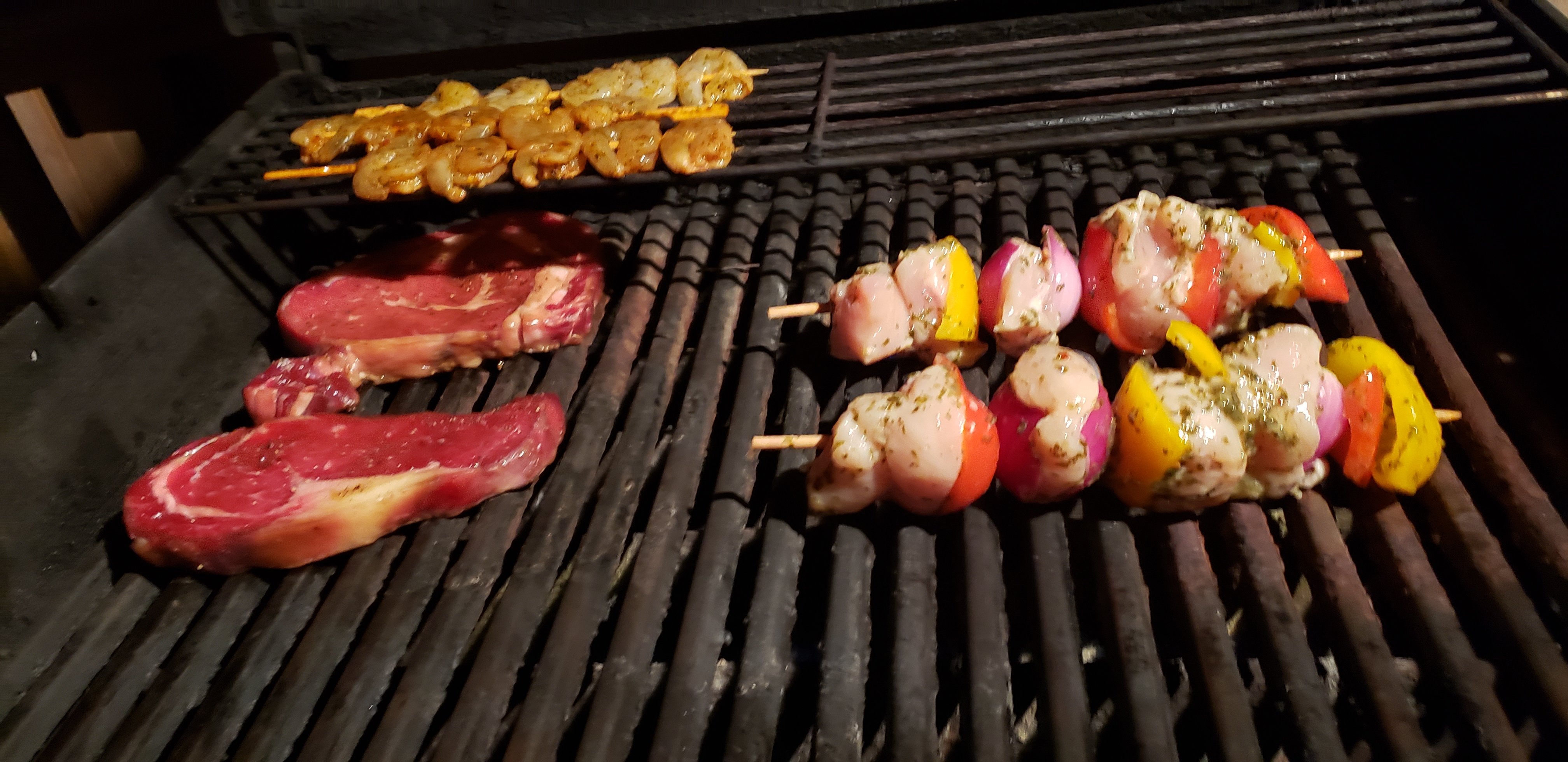 For dessert, I made a key lime pie. I first had this as a kid in Florida and have been making this dessert ever since. I literally have to make a number of these every time I go to Montreal to distribute to as many friends and family as possible. Of course we can't key limes up here in Canada so I make sure to select and use good quality regular limes instead.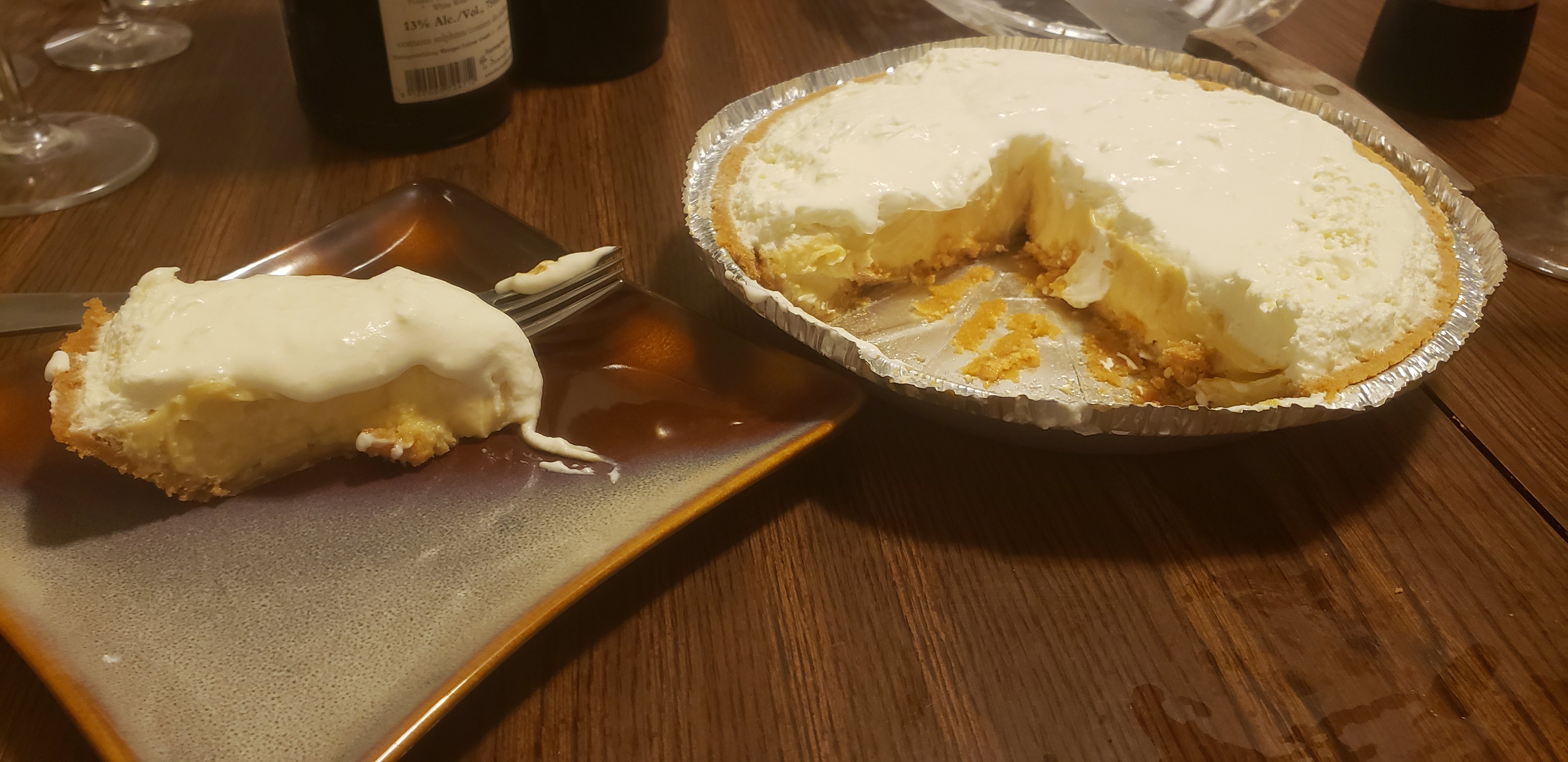 Well, that was both fun and tasty. Until our next summer gathering!