Berserkers,
It's been a good long while since I've attended a wine fair. When I first joined the board, I was posting fairly frequently on them as I was also the blogger for the iYellow Wine Club and would cover the major food and wine events. About 3 years ago, however, the club had some professional metrics done and found that it was going unread. The club's 20,000+ strong millenial membership was interested in drinking decent to very good wine and having a great time with wine… they just weren't much interested in learning about wine as a whole.
In no way is this a shot at the membership. I adore these people and love hanging with them. It's just clear that wine is a lifestyle and an experience for them, not a school subject. It's not that they didn't want to know about the local winemakers that I was interviewing, they wanted to go out on tour with iYellow and meet them in person. They want to associate wine with fun and not work. Realizing that the valuable info and my byline was essentially going to waste that could be put to a different use for the target audience, we essentially mutually agreed to end my blogging. Therefore, there was neither impetus for me to continue to cover wine fairs or to continue as a member of the wine media getting free attendance perks. In short, I was back to being a wine civilian.
This year, however, without having to spend time getting to know visiting winemakers and reps for their stories, I made a commitment to return to the wine event circuit for the best reason of all: myself. I was now free to go solely as a taster and consumer looking for some great wine to taste and eventually buy. It was in that spirit that I attended the first wine event of the season, the California Wine Fair. I'll talk about the event in my first post and then hit you up with my notes and wine porn:
2016 CALIFORNIA WINE FAIR
SUMMARY: A much improved, well-organized wine experience to open the annual wine event season in Toronto with generous amounts of food and wine.

PROS: Easily accessible location. Excellent organization. Plenty of high-end and affordable tier wines. Ample room to move. Minimal waits at tables. Amazing Cabernet Sauvignons, Merlots, Pinot Noirs, Zinfadels and Sauvignon Blancs. Steady generous supply of food throughout the night.

CONS: Still not enough time for attendees at just 2 1/2 hours alloted time. Not enough middle tier wines to bridge gap between high-end and affordable. Not enough emphasis on California sparkling wine or Zinfadels. No sweet wines.


This year's event again took place at the Fairmont Royal York in the heart of downtown Toronto which is connected to the subway station, the out of town commuter train station, and plenty of underground parking. I appreciate that they keep the same location every year and make it easy for everyone to get to no matter their choice of transportation.
Most of the hiccups from previous years that I have experienced including running out of glasses and food, slowness in getting people in and unfairly long lineups for certain wines were all resolved this year. Two lines were formed for entry and current ticket scanning technology allowed organizers to scan tickets and phone screens in the lineup itself. The room was extremely well organized in a layout composed of table "blocks" that made the rather large conference room seem a lot shorter than it actually was. The only real hitch was that the rinsing water pitchers at the tables were not refreshed quickly enough which meant that people had to go to the water fountains sometimes to properly rinse out their glasses.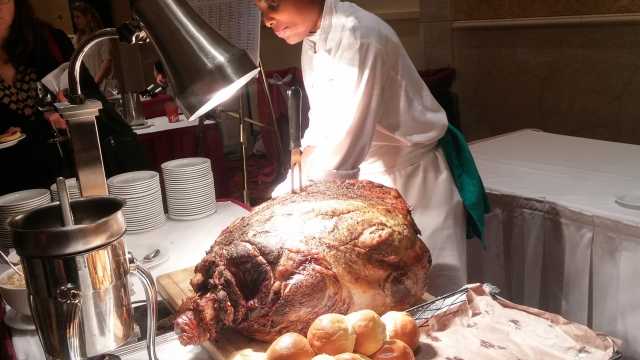 This year I did something I had never done before. I scanned the show's pamphlet book online beforehand to see all the wineries attending and actually chose whom I was going to tackle this year. I chose to go after all the high-end wineries and bypass the affordable tier wines which I had no interest in.
This proved to be a very valuable strategy as it allowed me to cover every single winery I wanted to visit in two hours. Others were not so fortunate and as I was leaving I could see people rushing to get to the tables they hadn't tried yet.
This brings me to the biggest issue I have with the event. I can't believe that it's still only 2.5 hours for the consumer portion. It is absolutely not possible for attendees to hit all the wineries present and get a fair sample, particularly of the better high-end wines. Even with my well-planned organization, I didn't make to the Palmaz Vineyards table before it sold out and supplies were rapidly dwindling. I felt sorry for people without plans who probably missed out on a lot more than I did. It really should be alloted at least 3 hours.
Despite this, it was still a very successful and fun event and I managed to scarf down some mighty fine, very tasty high-end wine. Easily the best time I have ever had at this show and I was very glad to return. On to the wines themselves next.