Don Rice sent out the call that a Dutch buddy of his that worked some harvests at Domaine Pinon was coming to town with some Vouvray in tow and that was enough to get a few intrepid souls to northernmost tip of Manhattan for an evening of great food, wine and company. Have Vouvray, will travel I say. Melissa Rice cooked up some delicious brisket and I brought along some duck rillettes, I mean you have to have some kind of rillettes with Chenin. It's a rule. With Cliff Rosenberg , Jay Miller and Don's friend Garrelt Verhoeven rounding out the crew, we settled in for a fun evening of vivid wines.
Cheers,
Brad
1996 Domaine des Aubuisières- Vouvray Sec "Le Marigny"
What a great way to start. After a schlep up to 217th Street and spending about 20 minutes searching for a parking spot, this was a revitalizer. This wine is just so alive. Brilliant, invigorating acidity with precision and purity in spades. Seems more sec tendre than sec with lovely honeyed notes to go along with the chalky mineral, quince and pear flavors and aromas. A good wake up slap. Low A-.
1996 Cazin- Cour-Cheverny "Cuvée Renaissance"
An old friend that keeps getting better. Benchmark Cour-Cheverny alert! Unless you try something like the '59 Cazin, which, unfortunately, I haven't had the pleasure to experience, though I hear it's wonderful, imo, there is no better Cour-Cheverny than this one. This wine is 10,000 volts of electricity. Youthful, but awfully flamboyant. The usual quince, yellow citrus, mineral and raspberry character is there with the razor-like acidity keeping the demi-sec sweetness in check. I just love this stuff. Solid A.
2002 Breton- Chinon "Les Picasses"
Another wine of precision. Crisp acidity backs up crunchy red fruit, earth, spice and leafy notes, but the wine is not green at all. Still quite young, but if you're holding more than a few there's no harm in popping and enjoying one now, though I'd recommend decanting. Beautiful. A-.
1991 Lopez de Heredia- Rioja Gran Reserva "Viña Bosconia"
Hmm seems like a typically maddening LdH showing. A bottle I tried last year was stellar. It had tons of fruit with plenty to back it up and a great character. This bottle is muted with much higher acidity and much less fruit than the last one. Tart red fruit, worn wood, tea, spice and citrus. Which is the right wine? Guess I'll need to try another one for a tie breaker. A disappointing B. Fwiw, the one I had a year ago I rated an A/A-.
1999 Texier- Hermitage
Open and effusive on the nose and palate with a strong garrigue character, plenty of sweet black fruit, violets, bacon fat and smoke. Integrated, balanced and just hitting all the right pleasure buttons. Seems like it's just hitting prime time. Solid A-.
1976 Foreau- Vouvray Moelleux
A real treat to try this as finding Foreau older than '89 in this country is pretty darn hard, but I was kind of hoping Don would save this for the Foreau-a-thon I've been talking about for at least the past 3 or so years. Shows the classic aged Vouvray character of marzipan, roasted nuts, apricot, mineral and earl grey tea, but retains freshness. Still sweet, but like the '76 Huets I've tried, there's a very strong acid backbone here. With air a little more of an orange citrus character establishes itself. Maybe a touch short on the finish, where the acidity asserts itself, but a lovely wine. A-.
1989 Pinon- Vouvray "Réserve Passerillée"
One of the special bottles Garrelt got while working a harvest at Pinon. Made from non-botrytisized grapes, this reminded me of how the '59 Pinon showed at Dressner's 50th birthday party some years ago in how primary, muscular and almost tannic it is. Yellow in color with youthful quince, chalk, acacia, honeysuckle and golden delicious apple flavors and aromas. The wine is massive and certainly Moelleux in sweetness, yet lithe thanks to it's brilliant structure. I think this wine captivated us more than any other. Solid A.
2005 Pinon- Vouvray "Cuvée Botrytis"
Another stunning wine from Pinon courtesy of Garrelt. I recall bugging Joe repeatedly about when this wine was coming into the States, but I never saw it here and that has me bummed as this is just sublime. Completely different in character than the '89 Réserve Passerillée. Where's that one had no botrytis, as the name suggests, this one is loaded with it, thus it delivers tons of honey. Plenty sweet, but nicely balanced with mineral and yellow tropical fruit with a bit of a pineapple dominance to it and yellow and white flowers. Not as intellectual as the Passerillée, but just about equally as good. A.
Some pics from the evening:
The lineup: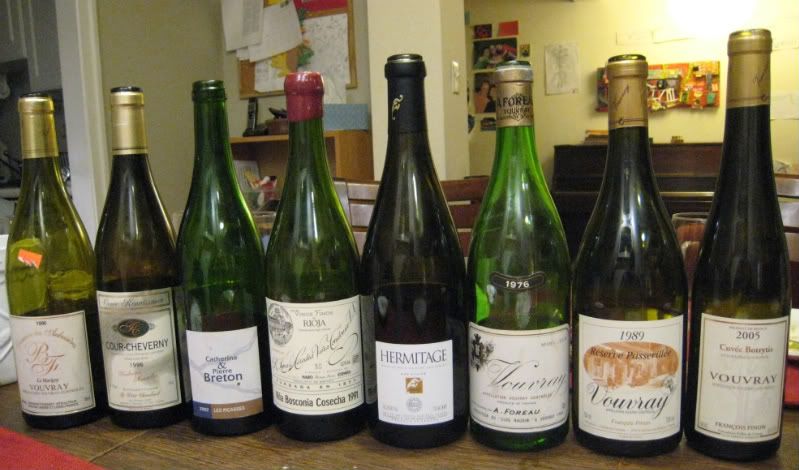 Don & Jay.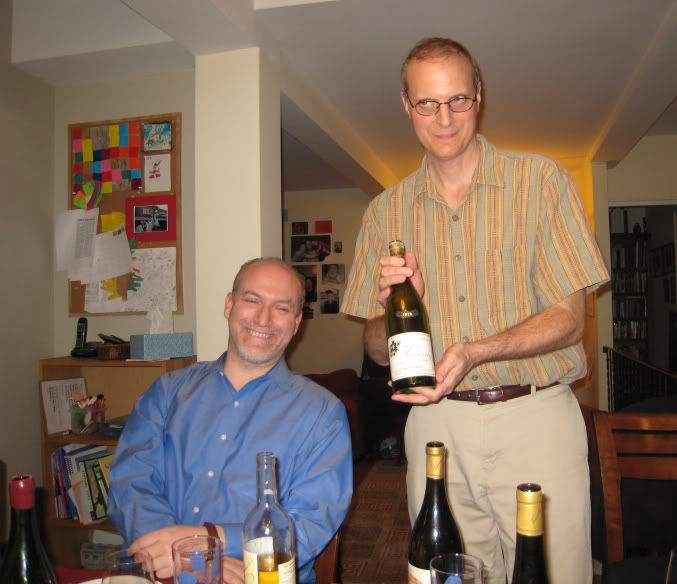 Jay stands guard over a trio of great Chenin.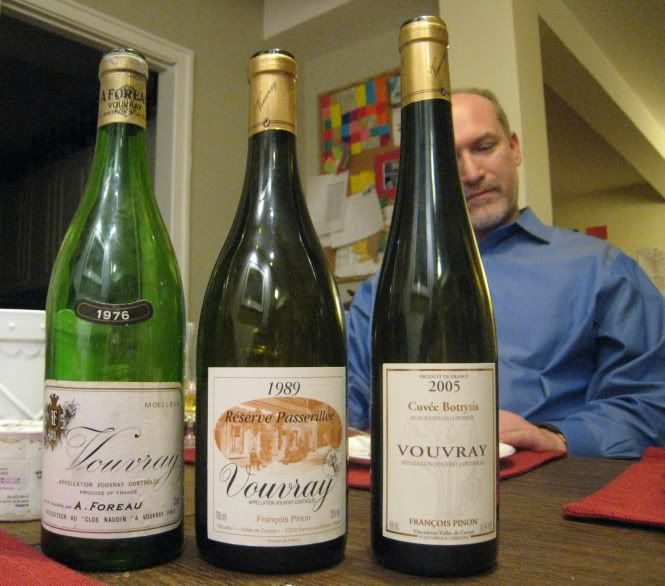 Three great Chenin in the glass.