Short and simple: we tasted through a bunch of Valentini's Trebbiano d'Abruzzos. As we didn't have that many bottles of Trebbiano, the person who arranged the tasting threw in a couple of bottles of Cerasuolo and a rare bottle of white Montevertine.
I don't know if there is a person here who doesn't know about Valentini, but they're a producer making some of the most esteemed and sought-after wines in Italy. Due to the very limited production, the wines tend to get quite pricey, too.
Valentini's range spans only three wines: the white Trebbiano d'Abruzzo, the rosé Cerasuolo d'Abruzzo and the red Montepulciano. What's very unique with the producer is that only less than half of the estate is under vines - the producer has opted to keep the rest of the land planted to olive and fruit trees instead. Furthermore, the rigorous selection of the fruit is in a class of its own: the producer uses only the best 5-10% of the fruit produced from the 60 hectares of vines they; the rest of the fruit is sold off in bulk and the wine that doesn't meet the strict criteria is also sold off to local wine bars and restaurants as unlabeled vino sfuso.
Due to Valentini's exceptionally meticulous fruit selection, the wines tend to be ridiculously concentrated and high in dry extract, resulting in very potent and ageworthy wines that have noticeably tactile, even slightly viscous mouthfeel. Yet they aren't one bit heavy, as the wines are also packed with acidity and minerality, making them feel very light on their feet.
The wines are made in a very traditionalist fashion: fermented spontaneously either in concrete tanks or large Slavonian oak botti. The wines are always bottled unfined, unfiltered and without any SO2. One without much experience with these wines might think that without SO2 they can't age that well, but usually Valentini wines opened in the first 8 years of their life tend to be so reductive and tightly-knit that they require copious amounts of air and still might come across as quite closed and unyielding in character. They really do need like 15-20 years before they really start to show their best and I have no idea how long they are capable of aging. And take note - this applies to all three of their wines!
The producer says the wines are made from Bombino Bianco, but I've understood that it's still a bit unclear which variety they are actually made from. This is because DOC Trebbiano d'Abruzzo white can be made from three varieties: the rather neutral, low-acid Trebbiano Toscano; the high-quality, high-acid Trebbiano d'Abruzzo the variety (aka. Trebbiano Abruzzese) not related to other Trebbianos; and Bombino Bianco. But here's the catch: Bombino Bianco can be both a synonym for Trebbiano d'Abruzzo AND a distinct variety altogether from more southern parts of Italy. I've read that most "Bombino Bianco" in Abruzzo is actually Trebbiano d'Abruzzo and there is very little of that true Bombino Bianco planted in Abruzzo - most of it is found much further south. So while there is no conclusive evidence one way or another, it's quite probable that Valentini Trebbiano is made with Trebbiano d'Abruzzo aka. "Bombino Bianco", not with true Bombino Bianco.
That Montevertine M was a curiosity by any standards; this producer based in the Chianti Classico zone, known exclusively for their remarkable reds, had also a little bit of white varieties planted back in the day and in exceptional vintages they made a small amount of white wine, labeled as Montevertine M. This 1999 we tasted was the last vintage of Montevertine M ever made.
We also had some extra wines before and after the tasting proper - although the ones we tasted after the Valentinis never made it to the picture. That L'Acadie was tasted blind and I brought the Sant Armettu, serving it blind to the others. The other three extras were not blinds.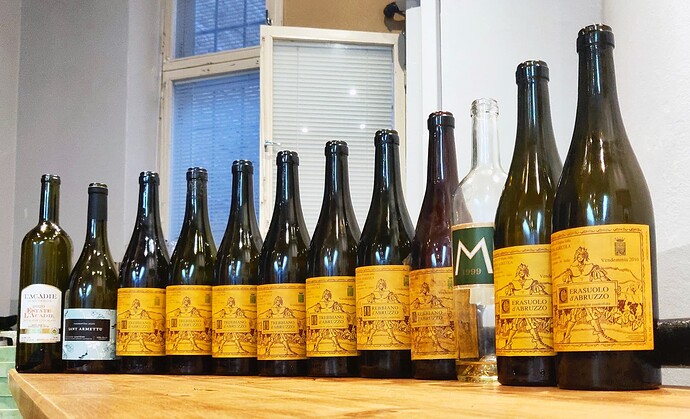 Then the final three extras:
2020 Cà Nova Colline Novaresi Rugiada - Italy, Piedmont, Northern Piedmont, Colline Novaresi (29.6.2022)
100% Erbaluce. The fruit is destemmed and cold-soaked for a day. Fermented and aged for 6 months in stainless steel. 12,5% alcohol.

Incredibly neutral and completely colorless appearance. The nose feels dull and even rather unpleasant with aromas of plastic, some fusel alcohol, a little bit of moonshine-y alcohol and a primary hint of pear or pear drops. The wine is neutral, underwhelming and light-to-medium-bodied on the palate with restrained, nondescript flavors of plastic, some ripe pear, a little bit of fusel alcohol and a hint of ripe white fruit. Medium-plus acidity. The finish is dull, unpleasant and quite short with flavors of plastic and paint thinner, some fusel alcohol tones, a little bit of fresh apple, light primary notes of pear drops and a sweet hint of ripe white fruits.

A disappointing white wine that is both underwhelming and unpleasant both at the same time. There is very little in the way of fruit and the overall feel is dominated by a somewhat chemical quality, thanks to the unpleasant notes of plastic and industrial alcohol. Steer clear of this wine.
(54 points)


2020 Monteleone Etna Bianco - Italy, Sicily, Etna DOC (29.6.2022)
100% Carricante sourced from multiple vineyards that are 12-13 years on average. Destemmed, crushed and fermented in stainless steel tanks. Aged for 6 months on the lees in stainless steel. Total production approx. 4000 bottles. 12% alcohol.

Pale, rather neutral whitish-green color. The nose feels ripe and quite primary with aromas of sweet red apples, some honeydew melon, a little bit of stony minerality, light salty notes of ocean air and a hint of ripe grapey fruit. The wine is fresh, firm and enjoyably structured on the palate with a light-to-medium body and crunchy flavors of lemony citrus fruits and tangy salinity, some fresh Granny Smith apple tones, a little bit of fresh white currants, light stony mineral notes and a hint of almost unripe grapey fruit. The high acidity makes the wine feel balanced and structured. The medium-long finish is crisp, clean and lively with palate-cleansing flavors of lemony citrus fruits and steely minerality, some saline notes, a little bit of tart Granny Smith apple, light crunchy white currant notes and a sweeter hint of ripe stone fruits.

A nice, fresh and drinkable Etna Bianco. Still very youthful and perhaps a bit on the simple side, but nevertheless showing good sense of focus and structure. Might be better in a few years if the wine loses some of that borderline primary character and develops some additional aged complexity.
(87 points)


2021 Giacomo Fenocchio Roero Arneis - Italy, Piedmont, Alba, Roero (29.6.2022)
100% Roero sourced from vineyards that are 10-15 years on average. First the fruit is cold-soaked for 24-36h, then fermented and aged in stainless steel. Total production approx. 12000 bottles. 13,5% alcohol.

Medium-deep yellow-green color. Youthful, somewhat sweetly-fruited and a bit primary nose with aromas of ripe pear, some chopped herbs, a little bit of fennel, light candied primary notes of fermentation esters, a hint of ripe greengage and a touch of pine soap. The wine feels dry, crunchy and youthful on the palate with a light-to-medium body and fresh flavors of ripe pear and fennel, some lemony citrus fruits, a little bit of pine needles and spruce resin, light saline mineral notes, almost Rhône-like hints of herby noble hops and lavender and a sweet touch of greengage. The high acidity lends great sense of freshness and structure to the wine. The finish is youthful, fresh and quite long with almost primary flavors of pear, chopped aromatic herbs, a little bit of spruce resin, light saline mineral notes, a hint of greengage and a touch of pine needles.

A nice, characterful and balanced Arneis that combines some obvious ripeness with good sense of freshness, acidity and distinctive, slightly green-toned nuances of pine and spruce. The wine is still super youthful - seeing how it must've been bottled only months ago - and it really calls for additional aging so it would lose its most obvious primary notes. All in all a nice and positive effort with some upside - this will be even better after another 2-3 years.
(89 points)


Posted from CellarTracker