Please bear with me as this is my second time typing all of this up, as the first time got deleted after the page refreshed when I attempted to upload a photo… Anyways, here goes my 2nd attempt (I don't know how to turn the images…):
I ordered a 6-pk of the 2016 La Pelle Sauvignon Blanc a couple of weeks ago; it arrived late last week, and I was able to taste it this past weekend, on 2 separate occasions, the first time paired with a raw Salmon poke bowl, and the second by itself to confirm my tasting notes. The wine was tasted at around 54 degrees F (my cellar temperature; forgot to chill it down) in a Gabriel-Glas "StandArt" glass.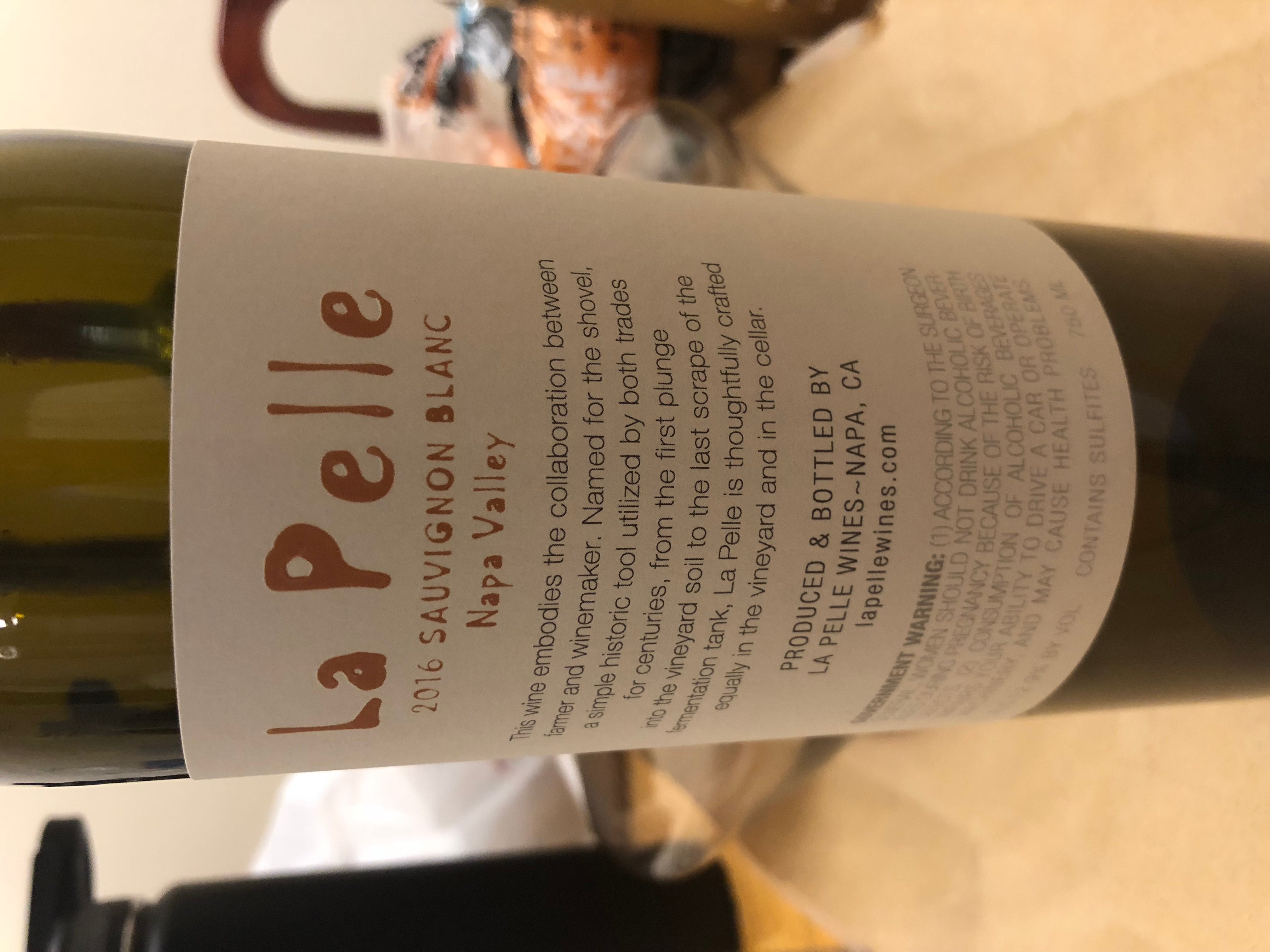 Visually, the wine is really pretty – shiny, bright, and light gold in color. There was some tearing present at moderate speed.
The aromas were quite powerful, with dominating flavors of citrus pith, lemon peel, and key lime, and secondary flavors of pineapple and dried apricot. I also noticed some floral and mineral components. I didn't pick up much alcohol on the nose.
On the palate, the primary flavors matched those aromas from above (citrus pith, lemon/lime zest), but layered in even more complexity as it reminded me of lemon tart, key lime pie, and even slightly tart gummy candies. The secondary flavors were less dried in character and more tart, perhaps kiwi and/or tart nectarine (the ones that makes your face grimace but yet are so refreshing), followed by a hidden character of herbaciousness. Some oak presence could also be detected. Overall, the wine was very balanced, with a medium body, round texture, followed with a finish of medium length. Given these qualities, especially the complexity, it kind of reminded me of a white Bordeaux almost, especially since I've never had Sauvignon Blancs from Napa that were this complete in elegance.
As a disclaimer, I don't usually drink Sauvignon Blanc since I prefer the full-bodied mouthfeel of Chardonnay (especially from the UV Vineyard), but I believe that the crispness of the fruit balanced with the acidity in this wine paired beautifully with my raw fish for dinner. This wine retails for $45/ bottle and even though it's sold out at the winery, it can be found at ACME Fine Wines in St. Helena by the bottle (as can the 2016 La Pelle Cabernet Sauvignon as well - I may very well need to get some of those after tasting this). As Anton D mentioned in his review, I agree that "this wine is in the top pantheon of Sauvignon Blancs" (that I've tasted), and I plan on purchasing more when I make my next trip up to Napa Valley.