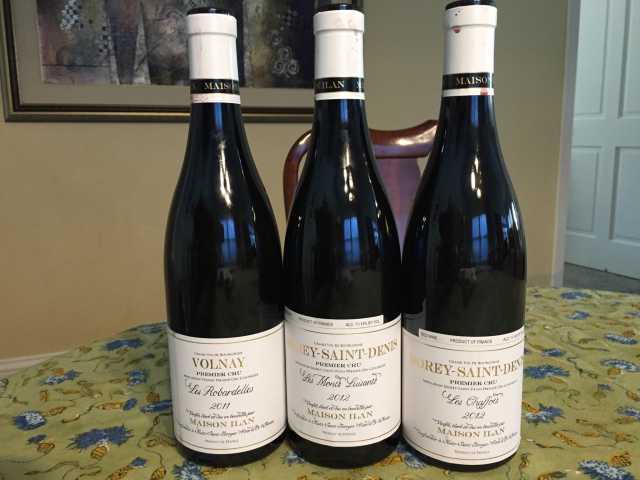 A friend and I had been trying to find a time to open some Maison Ilan wines. I've been dreading opening the 2012s after reading so many bad notes about corks, misidentified wines, and general f*ckups.
We finally pulled it together last night over a very nice coq au vin (made with 2013 Patty Green Berserker's Cuvée). There were three MI wines:
2011 Volnay Robardelles
2012 MSD Mont Luisants
2012 MSD Chaffots
I opened all three about an hour before dinner and took small tastes, as well as checking corks for consistency with the labels (all matched). There were two things to note from inspection. First a surprise: The Volnay had two capsules! Second, the Chaffots had quite a lot of soaking on the cork and a bit of leakage under the capsule.
On initial tasting, all three were fairly sound and drinkable. I had a bit of concern about the Chaffots as it seemed to have a little oxidation.
We followed all of these over dinner. One flaw that showed when we poured was a cloudiness in the Mont Luisants. The wines had been standing up for quite some time so I don't think this was normal sediment. It was uniformly hazy. When we tasted the full set of 2011s several years ago, the Chambolle Feusselottes showed that way as well. The Mont Luisants was also a bit weak and came off as a little sour. I remember the 2010 and 2011 of this wine being very light in color and body, but I liked them for their nose and brilliant look. Not this one.
The Volnay was quite good - much more enjoyable than I expected based on notes and our previous tasting. This bottle was a pretty strong 2011 with nice fruit, good cherry red color, a little woodsy/earthiness and a touch of tannic grip.
The Chaffots was even better, with an interesting savory component. I'm still suspicious that this bottle may have been slightly touched by oxidation and showed too mature, but the overall impression in the glass was good. It had good body without any heaviness, and a touch more tannin than the Robardelles.
Most people (maybe all of us) agreed on a rank order with the Chaffots at the top, Robardelles next, and Mont Luisants at the bottom. I think just about everyone agreed that the Mont Luisants was flawed but drinkable (I don't believe anyone poured it out).
Overall I was quite happy with these results. I had been fearing that I might have two flawed 2012s and an indifferent 2011, but the wines were good enough that we didn't sub in any other bottles (we did kill a mag of Roederer Estate Rosé first). We also had great fun rehashing the full story of Maison Ilan.
I do wonder if it makes sense to cut capsules and check for leaky corks. I thought our Volnay showed correctly for its age but the Chaffots showed more mature than it should. If bottles like that will oxidize then they might be at their best now or soon.