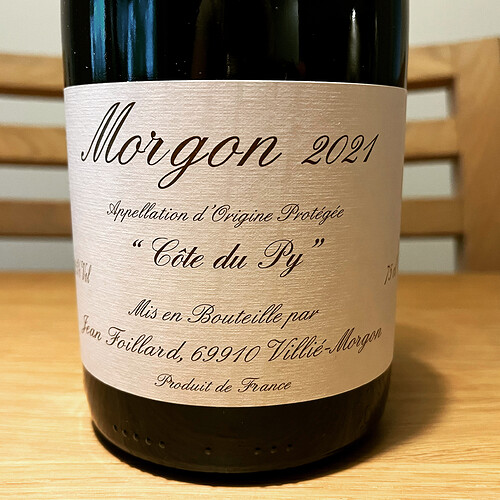 Yeah baby!! I've struggled with Beaujolais lately but this 2021 is exactly as advertised. Everything is in place, nothing is missing, nothing extra in there, just pure deliciousness. Time to back up the truck!
2021 Jean Foillard Morgon Côte du Py - France, Burgundy, Beaujolais, Morgon (16.5.2023)
The nose is rather comforting and familiar. There is primary, ripe-ish raspberry fruit along with some VA, wet rock and a tart hint of cranberry. It is somewhat reductive but not overly so. On the palate it is fruity, juicy and low in weight with very uplifting acidity. It doesn't necessarily taste like a proper cool vintage wine from the yester year as it definitely has some density but it is positively crunchy with no Grenache-ness to it. In fact there is a wonderful minerally sensation towards the finish that I find immensely pleasing and it is also savory while very clean at the same time (meaning the VA does not play a big role). The mouth-puckering finish is just great, setting one up to take the next sip very quickly. There is nothing I don't like about this, I would love to own a case or three.
Posted from CellarTracker