Dear Berserkers:
My name is Theodora Lee aka Theo-patra, the Queen of the Vineyards, and am the Owner of Theopolis Vineyards. I am so happy to become a part of the Wine Berserker Community and excited to participate in my first BerserkerDay.
Here is a picture of me working the Vineyard:


Theopolis Vineyards is a small lot vineyard and hand-crafted winery located in California's prestigious Yorkville Highlands of the Anderson Valley. Situated along Highway 128 in southeastern Mendocino County near the border of Sonoma County, the AVA is a highly elevated, rugged interior wine-growing area. Established in 2003, Wine Critic Robert Parker bestowed upon wine made from grapes harvested from Theopolis Vineyards a stellar rating of 94-96 points, a spectacular showing for the vintner's first harvest in 2006. Indeed, our first grape buyer was Mike Officer of Carlisle Winery & Vineyards. We also sell our grapes to Paul Gordon of Halcon Vineyards and Philip Cuadra of Highlawn, who also make award winning wines from our fruit.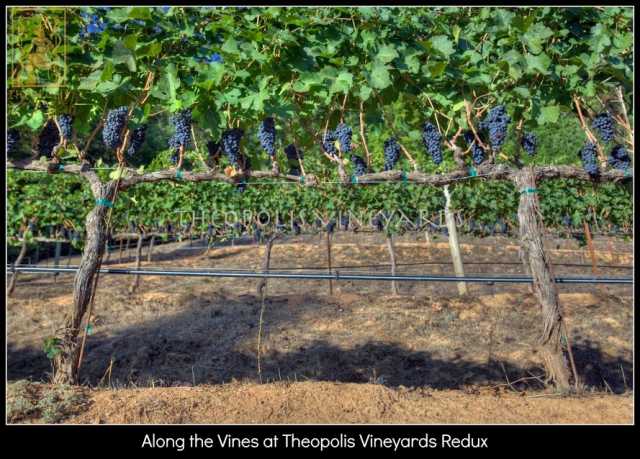 Emboldened by the great fruit produced by the land, I began bottling my own wines in 2014. Theopolis Vineyards is best known for its Best in Class, Double Gold, 95 Points 2013 Estate Grown Petite Sirah and its Double Gold 2014 Estate Grown Rosé of Petite Sirah. In addition to bottling the richly intense and flavorful Petite Sirah and Rosé of Petite Sirah, Theopolis Vineyards strikes a lighter note by bottling a Symphony, a white wine, which is a crossing of Muscat and Grenache Gris. Theopolis Vineyards also bottles an Anderson Valley Pinot Noir and a Yorkville Highlands Pinot Noir.


We are pleased to say that our wines have been well received in the wine community. Here is a description of the wines along with a few of the awards that the wines have garnered:
2013 Theopolis Vineyards Estate Grown Petite Sirah
Tasting Note: This Estate Grown Petite Sirah has a bouquet of delicious and ripe dark red fruit with hints of chocolate, balanced by suggestions of black cherries, anise, and ripe plums. The wine is rich and flavorful on the palate, lingering to a pure and long finish. This vintage will stand up now and age beautifully.
Awards: Best in Class, Double Gold and 95 Points, 2016 San Francisco International Wine Competition
Gold, 2016 Sunset International Wine Competition
93 Points/Cellar Selection, Wine Enthusiast Magazine, March 2017
2014 Theopolis Vineyards Estate Grown Rosé of Petite Sirah
Tasting Note: A refreshingly brilliant dry Rosé of Petite Sirah, with floral aromas of rose petals and flavors of fresh cherries and cranberries. The palate is clean and bright, with hints of green apple balanced by nice acidity.
Awards: Double Gold at 2016 San Francisco Chronicle Wine Competition
88 Points, Wine Enthusiast Magazine, March 2017
2014 Yorkville Highlands Symphony
Varietal: The Symphony grape is a California crossing of Muscat of Alexandria and Grenache Gris developed in 1948 (but not commercially released until 1982) by the late Harold Olmo, professor of viticulture at the University of California, Davis. As its pedigree suggests, it is a seductively aromatic wine with delightfully captivating aromas that are markedly floral with slightly spicy flavors.
Awards: Bronze at 2016 San Francisco Chronicle Wine Competition
90 Points/Editors' Choice, Wine Enthusiast Magazine, March 2017
2014 Anderson Valley Pinot Noir
Tasting Note: An expression of Anderson Valley terroir, this exquisite Pinot Noir has aromas of lightly toasted oak and delicate rose petals, with flavors of cherry and raspberry highlighted with subtle undertones of forest floor to round out the bouquet. This Pinot Noir is savory which adds length to a memorable finish.
Awards: Bronze, Sunset International Wine Competition
92 Points, Wine Enthusiast Magazine, March 2017
2015 Yorkville Highlands Pinot Noir
Tasting Note: This Pinot Noir is a wine of beauty and elegance, with aromas of black cherries, delicate rose petals, and cranberries. It is highlighted by subtle undertones of forest floor with flavors of dark red and black fruits to round out the bouquet. On the palate, this Pinot Noir is savory with bright acidity adding length to the clean finish.
Master Sommelier Evan Goldstein described this Yorkville Highlands Pinot as likeable, with rich fruit, good astringency, medium body and a lingering dry finish.
2015 Yorkville Highlands Symphony
Tasting Note: Tropical floral nose, with flavors of peaches and mango, which harmonize to create a refreshing and delicious wine, with a crisp and clean finish. Indeed, it strikes the right note!
Here are some links that you might find interesting to learn more about us:
Here is a link to Somm Journal where our 2013 Petite Sirah was featured as Best in Class in the World:
http://digital.copcomm.com/i/711666-august-september-2016/125
You can learn more about Theopolis Vineyards at our website http://theopolisvineyards.com
including more information on our history, tasting notes, accolades and some pictures of our various events. Also, be sure to check out our Facebook page Redirecting... our Instagram feed Login • Instagram Twitter feed https://twitter.com/TheopolisV
and watch us on YouTube https://www.youtube.com/results?search_query=theopolis+vineyards
We hope you will give our wines a try, and have a wine-der-ful day!
Theodora Lee aka Theo-patra, the Queen of the Vineyards
Theopolis Vineyards