The topic of the effectiveness of styro shippers (heat only) comes up occassionally on the MB, but there has been no hard data – until now. I cobbled together a Particle Photon wifi dev module with a couple of temp sensors, a standard DHT22 sensor for air temp and a DS18B20 waterproof temperature probe for liquid temperature. Here is a graph of the results: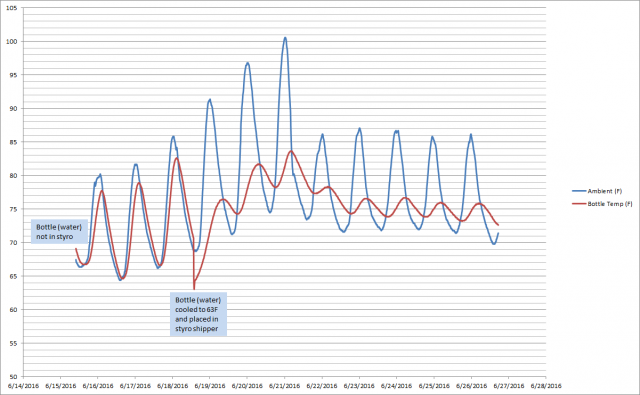 The experiments were carried out in my garage during the first heatwave of the summer.
The first part of the chart shows the bottle in open air, clearly showing the bottle temp closely following the ambient temp. With this as a baseline, I cooled the bottle (filled with water) to 63F and placed in in the styro shipper in its shipping box. As you can see, it does a pretty good job until the air temp climbs into the nineties. I think this shows that styro shippers are very effective unless it is extremely hot, but you can draw your own conclusions.
Here are some photos of the setup: