Happy Berserkers Day 2020! We are so excited to participate again this year! A huge Thank You to Todd and his crew for making this day possible. And Thank YOU for your support and a fantastic berserker's Day last year! A small family business like ours, with no tasting room access, this is a HUGE opportunity for us to share our passion. With already approachable price points, deals like this are rare. We invite you to take advantage of a killer deal on these beautiful wines!
Geoff and I will be available to answer any questions so feel free to reach out. 707.965.9804 (home/ office)or email: rachel@stellareesewine.com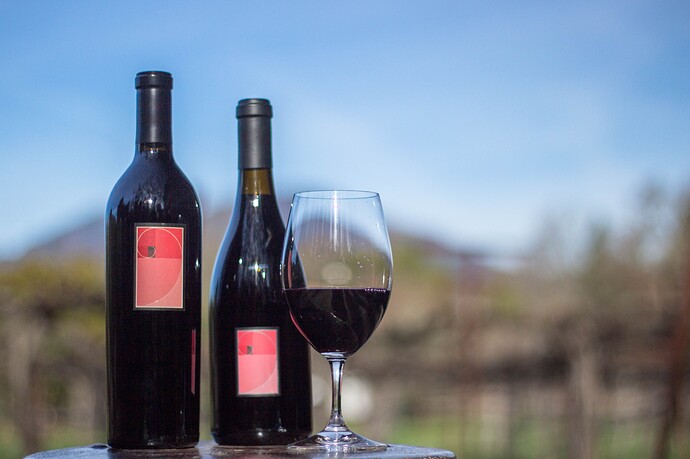 TAKE ME TO THE OFFER PAGE:
OUR WINE
All of our wines are 100% single varietal from small local vineyards we love working with.
2018 Moon Mountain Chardonnay (60 cases produced)
In 2018 we bought just under a ton of Wente clone Chardonnay from Moon Mountain Vineyard. In an effort to make a Chablis style Chardonnay, we blocked malolactic fermentation and aged the wine sur lies for 11 months in neutral French oak barrels. The result is a crisp, clean and mineral driven Chardonnay with a strong acid backbone and sleek mouthfeel with fresh aromas of asian pear and white flowers.
2017 Moon Mountain Grenache (125 cases produced)
Made in the Southern Rhone tradition of 100% whole cluster and fermented for 22 days. Our Grenache is everything we hoped it would be; a great representation of rhone style technique and exquisite mountain fruit. You can expect aromatics of wild strawberry, fig and salted caramel. The palate is savory and mouthwatering with notes of strawberry candy, lavender, and chaparral. Its long finish is nuanced with rhubarb and bourbon soaked cherries.
2014 Napa Valley, Marcey's Vineyard, Calistoga AVA Cabernet Sauvignon (250 cases produced) Just a few cases left!
Ripe, juicy and opulent with dark, savory undertones, this vintage of Stellareese hits all the marks. The trademark herbal and floral aromatics of Marcey's vineyard are present, along with summer blackberries, ripe red cherries and crushed herbs. The entry of this wine is silky and inviting, the finish is long and saporous with nuances of cocoa and tobacco. The tannins are fine grained and integrated yet offer a bit of texture.
2015 Napa Valley, Marcey's Vineyard, Calistoga AVA Cabernet Sauvignon (250 cases produced)
Aromatics are characterized by cinnamon, cedar and baking spices with notes of vintage leather. The mid palate is savory and voluptuous. Layers upon layers of rhubarb, black tea, and exotic spices pepper the palate. The tannins are silky and integrated giving way to a long, elegant finish with beautiful texture and inviting notes of dark cocoa and tobacco. This vintage is delicious right out of the gate. Drink it now, or if you're so inclined to cellar it, it will age beautifully for 10+ years.

OUR WINE OFFER
ACCESS SPECIAL OFFER PAGE HERE:
25% off 3 bottles
your choice of current release and library wines.
use code:
STELLA3
25% Off 6 bottles of your choice of current release and library wines PLUS FREE SHIPPING!
use code: STELLA6 and BDSHIP for FREE SHIPPING on 6 or more bottles
30% Off 12 or more bottles of your choice of current release and library wines PLUS FREE SHIPPING!
Use code: STELLA12 for 30% off and BDSHIP for FREE SHIPPING
(use code BDSHIP after you submit shipping info on online order form)We will be online if you have any questions, email us at: rachel@stellareesewine.com
ACCESS SPECIAL OFFER PAGE HERE:All wine orders will ship ground, when weather permits


-----> Leave a comment below about how excited you are about your Stellareese purchase and be entered to win canvas and leather wine bag! <-----
*****IF YOU HAVE TROUBLE WITH THE CODES, PLEASE EMAIL ME AND I'LL SEND YOU AN INVOICE YOU CAN FILL IN.
rachel@stellareesewine.com OR CALL 707.965.9804**
WINE TOTE OFFER
After 10 years making and selling wine, we have developed the ultimate wine carrying accessories for men and women. Tote bags with bottle pockets, messenger bags and 3 & 6 bottle wine carriers made of canvas and leather. Our bags are hand crafted with the utmost attention to detail and design.
FOLLOW THIS LINK: to our site and use code: BDTOTE to access 25% OFF ANY HAND BAG OR WINE TOTE on our site TODAY ONLY!
Snag an early Valentines gift or gift yourself one of Wine Country's finest wine totes!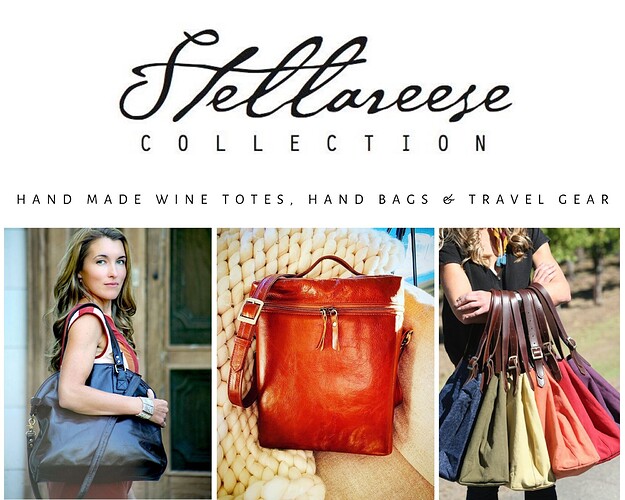 OUR STORY
Husband and wife winemaking team Geoff and Rachel Davies began Stellareese Wine in 2007. We took a leap of faith and bought grapes from a small vineyard in Calistoga, investing everything we had to follow a dream we couldn't imagine fully. Marcey's Vineyard has been the backbone of our wine making project since its inception. It's Calistoga AVA location, sandy soil and valley floor climate make it a desirable place to grow Cabernet.
In 2004 Rachel began working with Greg Brown at T-Vine Cellars. He became her mentor, teaching her how to make wine, sell wine, and run a winery. Greg and Rachel worked together for six years, during which time she and her husband Geoff were encouraged by Greg to start their own wine brand. Stellareese found its genesis in the cellars of T-Vine where Rachel made Stellareese through the 2012 vintage.
In 2013 Geoff began working for Thomas Brown at Outpost Estate and making Stellareese along side some of the most sought after wines in the US; Schrader, Maybach, Casa Piena, and Outpost among others. For the last 7 years Geoff has been handcrafting Stellareese Wine at this state of the art facility on Howell Mountain and has taken our wine project to new heights. In the summer 2019 Geoff became winemaker at the esteemed Napa Valley winery, Revana.


From the bottom of our hearts, THANK YOU for supporting our family and our wine project!


Follow our adventures here:
https://www.instagram.com/stellareesenapavalley