Sonoma Wine Tour – April 2017 (Part 2) – Idlewild, Ryme, Irene
I've posted a portion of a report on a late April three-day wine trip with friends to Sonoma County (plus one stop in Marin County). There's a separate report on each day of the trip, and the portion below is from Part 2 of 3. I'll post the final segment of the trip tomorrow. The full reports for each day of the trip can be found on the Grape-Nutz.com website – here's the link for Part 2:
Sonoma County Tour – April 2017 – Part 2
Idlewild Wines
Ryme Cellars
Irene Wine Cellars
I was joined on this wine tour by Grape-Nutz.com head honcho Eric Anderson and friend Michael Poston.


Idlewild Wines and Ryme Cellars
Before our Sonoma wine tour, I'd contacted both Sam Bilbro of Idlewild Wines and Ryan Glaab of Ryme Cellars, as they share a winemaking facility and I figured it would be convenient to visit both of them there. I left it to them to coordinate things, and they decided to make it a joint visit and tasting which worked out great – always good to get a "two-fer"! It helps that Sam and Ryan are close friends – they've known each other for a number of years and their kids go to school together. I'd first met Sam when we were pouring at adjacent tables at a trade tasting in San Francisco in the spring of 2013, and I met Ryan – and his wife / partner in Ryme, Megan – about a month later at the Seven % Solution wine tasting event in Healdsburg. I was impressed by their wines right away but this visit was the first time I'd spent much time with either Sam or Ryan.
[resizeableimage=486,365]https://scontent.xx.fbcdn.net/v/t31.0-8/18122004_10208036219977920_3065694173809942857_o.jpg?oh=8cbb8cfc2a8fe70f99f3ad2aeefe41f1&oe=5975CDD4[/resizeableimage]
Sam Bilbro of Idlewild and Ryan Glaab of Ryme with Michael Poston and Eric Anderson
The facility that Sam and Ryan share is located between Healdsburg and Geyserville. A number of winery buildings I've been to over the years have been re-purposed from other uses, but this was the first time I'd visited one that had originally been a mushroom farm! Sam and Ryan have been in the facility for about two years, and they also share it with another friend, Leo Hansen of Leo Steen Wines (a Chenin Blanc specialist). The building is a long concrete block structure with a number of separate compartments. Each of the three labels has its own space and there are some shared spaces as well. The three of them share equipment, which helps keep their costs manageable. It's a plus that all three strive to make their wines in a similar minimal-intervention manner – native ferments, no added water, acid, nutrients, etc. – and also that there is almost no overlap in the wine varieties that each of the three works with.
We followed the directions to the winery that Sam had sent us and parked behind the building. Sam and Ryan came out to welcome us, and we stood outside talking for a few minutes, despite a light drizzle that morning. We headed inside before too long, and took seats at some big comfortable chairs and a sofa in the corner of one of the winery spaces. Sam and Ryan each chose four of their wines to pour for us – two whites and two reds apiece – and they organized them into a single flight rather than grouping them separately by winery, a nice way to do the tasting that emphasized the spirit of cooperation rather than competition between vintners.
A little background on Idlewild and Ryme is in order here, and since Ryme was the first of the two to be established, I'll start with them. Ryan and Megan both pursued winemaking degrees, and they met while working as seasonal cellar hands at Torbreck Winery in Australia's Barossa Valley. They founded the Ryme label in 2007 – the winery name comes from the first two letters of their first names. Between the two of them, Ryan and Megan have worked for some highly-regarded producers, including Peay, Sine Qua Non, and Marcassin. Ryan eventually became the assistant winemaker for Pax Mahle's Wind Gap label, and earlier vintages of the wine were made at the Wind Gap facility. Ryme's first release, from the 2007 vintage, was from one ton of Aglianico sourced from Luna Matta Vineyard on the Westside of Paso Robles. Finding the fruit came through a personal connection, as Ryan and Luna Matta vineyard manager Stephy Terrizzi had been college roommates – that sort of personal connection in sourcing fruit was a recurring theme throughout our three-day wine tour.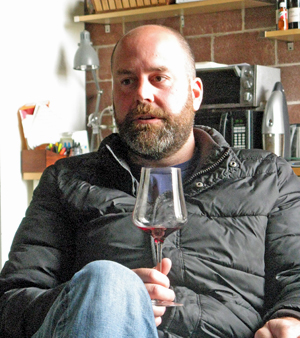 Ryan Glaab
Ryme produces a number of wines, with something of a focus on Italian grape varieties. In addition to the four Ryme wines we tasted on this visit – two Vermentino bottlings, Cabernet Franc, and Aglianico – they make Fiano, Ribolla Gialla, Pinot Noir, Carignane, and Cabernet Sauvignon. Fruit is sourced from sustainable or organically-farmed vineyards, and as mentioned above, the winemaking can best be described as minimal intervention. A number of vinification methods add to the interest of the wines – some whites are fermented on the skins, there's often lots of whole-cluster fermentation used on the reds, there are long macerations on some wines (up to four months), and some fermentations are done in clay amphorae, while barrels range from 2 to 10 years old. Total current production for Ryme is around 2,000-2,500 cases per year. Ryan also works as a consulting winemaker for several other labels including Petrichor and Lost & Found.
In addition to Ryme, Ryan and Megan have recently launched a new project called Uphold Wines. It's a way for them to make an increased commitment to supporting social progress and community. Uphold makes affordable everyday wines – a white, rosé, and red - and 100% of net profits go to organizations that uphold "protection of the planet, women's rights and people's equality." The initial white is Vermentino-based, the rosé is from Aglianico, and the red is Carignane. I had the opportunity to taste these first Uphold releases a couple of weeks prior to our visit with Ryan, and they're all delicious and offer great value.
Sam comes from a winemaking family. He told us that his great-grandfather made wine in Cloverdale during Prohibition and trucked it to San Francisco. Sam's father Chris started Marietta Cellars in Geyserville in 1978, so Sam grew up around grapevines and winemaking. His brothers are both in the wine business as well – Jake has run the Limerick Lane vineyard and winery since 2011 and Scot now runs Marietta. Sam worked in the restaurant and produce businesses prior to starting Idlewild in 2012. He told us that he liked the word Idlewild and learned it came from the name for a special place that Native Americans felt to be "peaceful but savage" – he thought that was an apt description of Nebbiolo (one of the winery's specialties) and went with that name for the label. Speaking of labels, Sam designed the Idlewild wine labels, after teaching himself Illustrator so he could do the artwork. A new addition for Idlewild is their salumi and wine bar located just off the Plaza in Healdsburg, opened only a couple of months before our visit to the winery.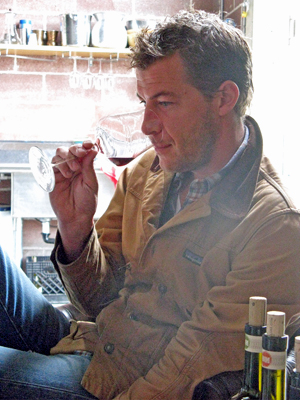 Sam Bilbro
Over the years, Sam has been able to try fine wines from all over the world, but he took a special liking to the wines of Piemonte in northern Italy, and the grape varieties found in that region are the focus of Idlewild. The winery produces varietal bottlings of Arneis, Cortese, Dolcetto, Barbera, and Nebbiolo, all sourced from Fox Hill Vineyard in Mendocino County. Other recent varietal releases have included Valdiguié and Carignan. In addition to these varietal Idlewild wines, Sam also makes three blends, collectively known as the "Flora & Fauna" blends. The current "The Bee" white is a blend of Moscato, Arneis, and Cortese, "The Flower" rosé is from Dolcetto, Nebbiolo, and Barbera, and "The Bird" red is a blend of Barbera, Nebbiolo, Dolcetto, Grignolino, and Freisa. I've tasted these several times in the past, and they're always quite nice, and good values too.
Sam told us that he aims to make wines that are true to their Italian origins but are still Californian. Fox Hill Vineyard, the source of nearly all of Sam's fruit, is located just south of Ukiah. Sam now manages the vineyard, helping to ensure that the fruit is grown in the way he wants. Like Ryan, he ferments using native yeasts and keeps things simple in the winery. Sam told us that he's not looking to copy winemaking methods of Piemonte – for example, he makes his Arneis in neutral oak rather than stainless steel in order to tone down the fruit component of the wine, and he ferments his Nebbiolo with a substantial percentage of whole clusters. He was excited about getting a large wood fermentation vessel this year. In general, Sam is looking for an energy from his wines, something he referred to as a "loaded spring" quality.
Ryan started out our tasting with two Ryme wines, the 2016 "Hers" and 2015 "His" bottlings of Vermentino. The names of the two bottlings reveal that one is Megan's preferred style of the wine (bright and aromatic) and the other is Ryan's (savory and textural) – what a great idea to make wines in both styles! The fruit for both was sourced from Francis Mahoney's Las Brisas Vineyard in Carneros, and picked at the same time – the only difference is the winemaking method. The "Hers" Vermentino was pressed right away, fermented half in stainless steel and half in barrels, then bottled early after aging in neutral oak. The "His" rendition is in an "orange wine" style, fermented with foot-trod whole clusters like a red wine, spending about two weeks on the skins, then 10 months in neutral barrels. The Ryme Ribolla Gialla is made in a similar way, and Ryan told us that he likes orange wines for their interesting texture combined with freshness. In past years, I've always had a preference for the "Hers" Vermentino bottling but this time it was really a toss-up – they were both delicious, but very different.
We continued with the two Idlewild whites, beginning with 2016 Arneis. This was whole-cluster pressed and fermented in stainless steel before going to neutral barrels for about five months. Sam told us that he likes to include harder press wine to add more texture and structure to the Arneis. The 2015 Cortese includes fruit from two separate picks at the vineyard – 75% picked early and direct-pressed to neutral oak, and 25% picked later and skin-fermented, with nearly three months of maceration before pressing. Sam noted that Gavi wine from Piemonte (made from Cortese grapes) used to be known as the "White Burgundy of Italy." He also mentioned that it's been a relatively easy grape to work with during harvest season in the vineyard since it retains acidity while gaining sugar slowly. These may be Idlewild's best renditions of these two white varieties yet.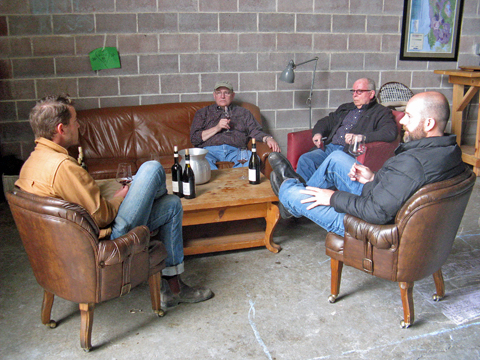 Tasting with Sam Bilbro of Idlewild and Ryan Glaab of Ryme
Moving on to reds, Ryan poured us the Ryme 2015 Cabernet Franc, sourced from Alegría Vineyard on the northern edge of Russian River Valley. The Cab Franc vines were planted there in 1990, and since it's a cooler site for the variety, Ryan is able to harvest it fairly late and the brix remains on the low side. Fermented with whole clusters, it's a lighter style of Cabernet Franc. Next up was 2015 Idlewild Barbera. Sam did a whole-cluster fermentation with the fruit, and he said that he does a heavier foot-treading for Barbera than for a more tannic variety such as Dolcetto. In this case, he feels it helps add structure and a more savory note to the wine.
We had plenty of tannin in our final two wines – the Idlewild 2014 Nebbiolo and Ryme 2013 Aglianico. The Idlewild Nebbiolo, which will be released this fall, was fermented with 50% whole clusters (something that's rarely done in Piemonte) and spent about 90 days on the skins before pressing to neutral oak. Nebbiolo is a notoriously difficult grape variety to master, but Sam is making great strides already considering his first Nebbiolo was from the 2012 vintage. The Ryme Aglianico was entirely whole-cluster fermented, and aged for three years in neutral barrels. Aglianico can be a massively dense and tannic wine, but Ryan described the 2013 vintage as fleshier than some earlier ones, and I agree that it does not seem as tannic as some of the earlier Ryme Aglianicos – this certainly ranks with some of the best I've tasted from California.
We had a very relaxing time tasting with Sam and Ryan, one of the most memorable stops during our three-day wine tour. The comfortable and low-key setting helped foster more give-and-take discussion than I've had during most visits with vintners, and it helped that this easygoing and straightforward quality seems to be reflected in both Sam's and Ryan's personalities as well. We interspersed our tasting with related discussions including various vine trellising systems and the potential benefits of farming for somewhat higher crop loads to help keep brix in check, as well as Ryan's pointing out how stem tannins can help fill out a wine's structure, creating broader and less sharp tannins. Tasting the wines from both Idlewild and Ryme together as we did was a good way to compare them, since the winemaking approaches have similarities though there are certainly some differences as well.
Sam and Ryan poured us an outstanding group of wines during our visit. My overall favorites were the whites – both the Ryme 2016 "Hers" and 2015 "His" Vermentinos, and the Idlewild 2016 Arneis and 2015 Cortese. The Idlewild 2014 Nebbiolo and Ryme 2013 Aglianico were close behind. Both Sam and Ryan pursue a similar goal of purity in their wines and I think they both succeed very well. The simplicity of the winemaking methods that they each use helps to bring out that transparent quality, emphasizing grape variety and vineyard source over technique. It was a pleasure to visit Sam and Ryan, and the wines from both Idlewild and Ryme are well worth seeking out – among the best renditions of the grape varieties they work with that you'll find from California.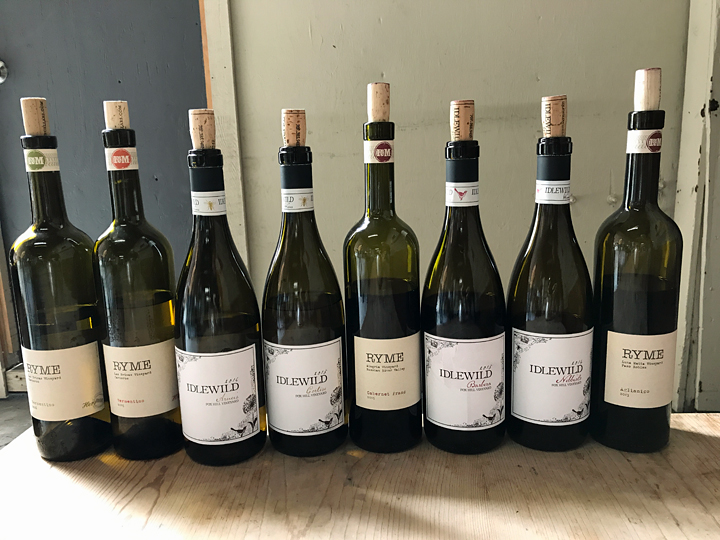 Ryme and Idlewild wines – photo by Eric Anderson
Current releases
Ryme 2016 Vermentino, "Hers," Las Brisas Vineyard, Carneros. Very light color, with bright citrus and stone fruit, flowers, and a hint of fresh herbs. Medium-light weight with juicy acidity and a clean, refreshing finish, nice.
Ryme 2015 Vermentino, "His," Las Brisas Vineyard, Carneros. Light orange color, this featured notes of orangepeel, honey, and spice on the nose. Medium-bodied and very lively on the palate, with a chalky mineral note on the mildly tannic finish – very intriguing and perhaps the best "His" Vermentino yet.
Idlewild 2016 Arneis, Fox Hill Vineyard, Mendocino. Slightly floral, plus stone fruit, orangepeel, and savory aromas. Medium-bodied with good acidity a bit of skin-fermented phenolic character, and a fresh finish, nice.
Idlewild 2015 Cortese, Fox Hill Vineyard, Mendocino. Aromas of fresh herbs, citrus and pear, and a touch of pepper, along with a distinctly saline quality. Medium weight with a bit more texture on the palate and a slight bite of tannin on the finish, nice.
Ryme 2015 Cabernet Franc, Alegría Vineyard, Russian River Valley. Upfront herbal and floral aromatics, with red fruit and earth notes in support. Medium-bodied with a lively mouthfeel, finishing with chewy tannins.
Idlewild 2015 Barbera, Fox Hill Vineyard, Mendocino. Ripe black cherry and plum fruit with touches of smoke and pepper on the nose, and zingy acidity. Medium weight on the palate with a lively finish and moderate tannins.
Idlewild 2014 Nebbiolo, Fox Hill Vineyard, Mendocino (pre-release). Medium-light garnet color, with classic Nebbiolo floral and tarry aromas along with red fruit, earth, and herbs. Medium-bodied with lots of structure and big but refined tannins – Idlewild's best Nebbiolo yet.
Ryme 2013 Aglianico, Luna Matta Vineyard, Paso Robles. Dark color, with ripe black cherry and darker fruit, lots of spice, herbs, earth, and a savory component. Big and bold on the palate, finishing with grippy but not aggressive tannins – still best to cellar this for a few years but it's got fine potential.