DI COSTANZO WINES
SOLD OUT - Thank you BD11! What an amazing community! I'll be emailing every person directly today. Thank you!
It's a treat to be here, hi everyone! Di Costanzo Wines is the passion project of myself (Erin) and my husband (Massimo). I am a celebrated wine professional whose rich experience in the wine industry spans from restaurants to retail and from New York City to Saint Helena. Massimo's journey in wine has taken him from the UC Davis Viticulture and Enology program, to harvests in Italy, Argentina and South Africa. Professional highlights here in the Napa Valley include Ovid Winery, Screaming Eagle Winery and Philippe Melka Consulting.

2010 marked the debut vintage of Di Costanzo Cabernet Sauvignon from the Farella Vineyard in Coombsville, starting with just 100 cases. In 2016 we added DI CO added to the portfolio. Today our production is at about 1000 cases, and we craft four different Cabernet Sauvignons from single vineyards in Napa and Sonoma.
We've been honored to be acclaimed by Bloomberg Magazine, Decanter, Vinous, Wine Enthusiast and the San Francisco Chronicle among other wonderful publications. Wine Enthusiast Magazine even named both of us to their Top 40 Under 40 Tastemakers lists. Partners in wine and in life, we live and work in the Napa Valley with our two young boys.
Massimo and I have always believed in keeping robust libraries, with the idea that we would be able to share our wines on future occasions with the kinds of collectors who appreciate Cabernet Sauvignon after a few years of cellaring. Participating in Berserker Day seems like the perfect opportunity to break into our vault in this way for the very first time.
SOLD OUT(Option A)
Instant Di Costanzo Farella Vineyard LibraryOur flagship wine from the iconic Farella Vineyard in Coombsville. These wines all showcase this temperate site's volcanic soils, and display the ideal balance of savory, mineral and fruit notes, supported by fine tannins and shimmering acidity. All 100% Cabernet Sauvignon. Drinking order: '14, '15, '13.
Di Costanzo Farella Vineyard Cabernet Sauvignon Coombsville 2013 x 1 btl (AG 95)
Di Costanzo Farella Vineyard Cabernet Sauvignon Coombsville 2014 x 1 btl (AG 94)
Di Costanzo Farella Vineyard Cabernet Sauvignon Coombsville 2015 x 1 btl (AG 94)
Current library bottle price: $115 per bottle
BD11 price: $92 per bottle (20% discount) + $10 Ground shipping to most states
Total for 3 bottles, shipped = $286
(Double it? Sure, say the word to make it 6 bottles shipped for $20.)
This is right about the previous release price for Di Costanzo Farella, a price we were able to offer back when Massimo worked at Farella Vineyards and we were immensely lucky enough to have a sweetheart deal on custom crush and fruit. In 2015 our first son was born, and we pivoted away from this day job, which altered the price structure for future vintages. Enjoy the time warp!

SOLD OUT
DI CO is now SOLD OUT
(Option B)
The Debut of DI CO
This is the first vintage we made of DI CO, when we first realized we were on to something special. 100% Cabernet Sauvignon, 270 cases made, sourced from a single vineyard at the base of Mt. Veeder. 35+ year old vines. (Previously this same block was being sold to Cnstellatin. We are proud that we stole it back from The Man. Ha!) 2016 was the vintage poured by the glass at Eleven Madison Park, and in all reality, if we could have held back that 2016 to release now, in early 2020, instead of in late 2018, that was the time frame this wine would have wanted. Again, enjoy the time warp! Dark, luscious, and classically styled, it's a serious Napa Valley Cabernet Sauvignon with pure fruit, trail dust and finely wrought tannins. 14.3 ABV, 60% New French Oak. We have just eight (8) cases from the library to shake loose.
DI CO is now SOLD OUT
DI CO, Cabernet Sauvignon, Napa Valley 2016
Release price: $55 per bottle
BD11 price: $49 per bottle. $10 ground shipping on 3-6 bottle orders. $20 ground shipping on 7-12 bottle orders. Applies to most states.
Minimum DI CO order 3 btls, max order 6 btls.
DI CO now SOLD OUT
Shipping offers cannot be extended outside of this Berserker Day promotion. Please combine A + B if you wish, kindly note the 3 bottle minimum.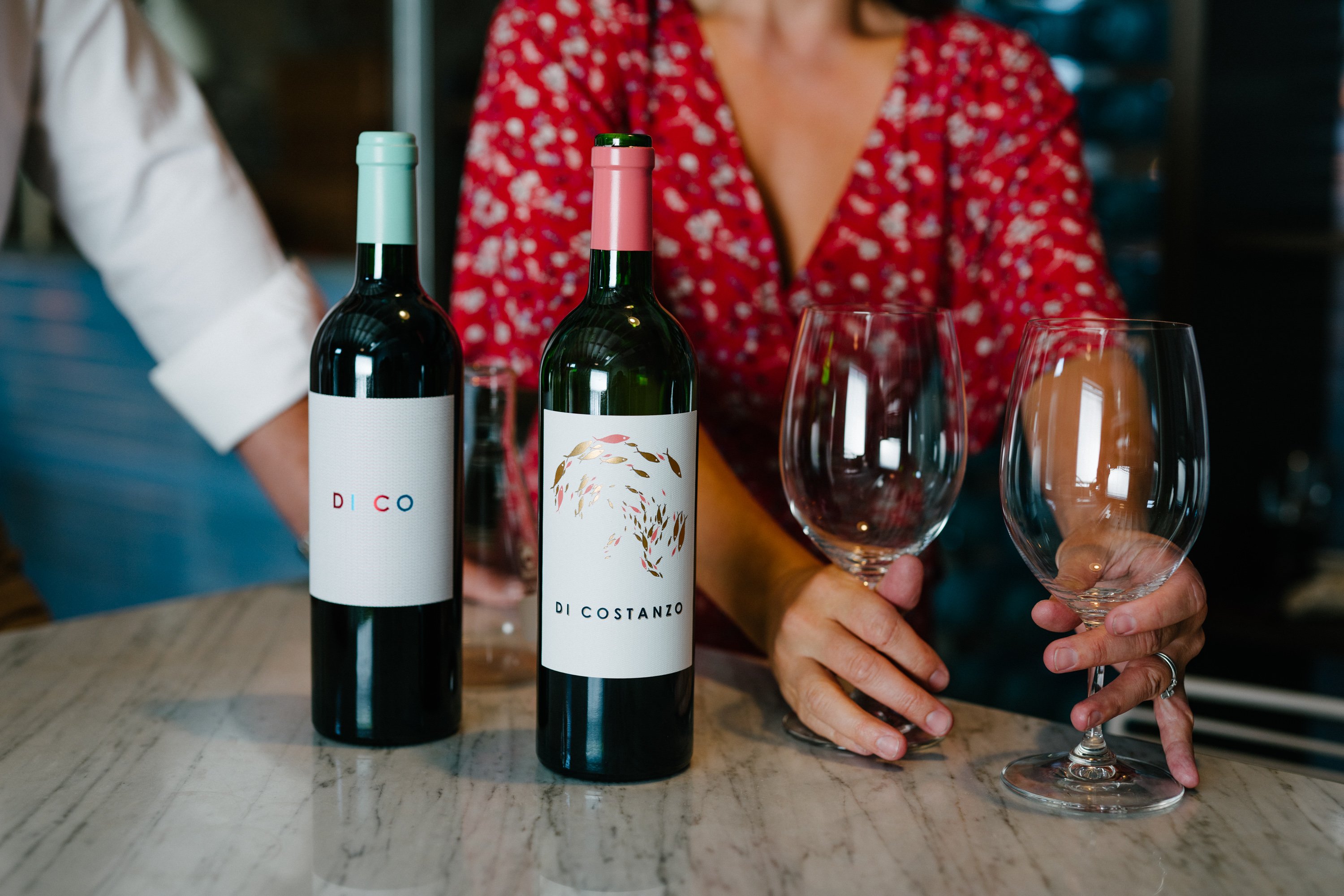 To order, please email Erin directly: erin@mdcwines.com. Please include the following in your email:
WINES REQUESTED
SHIPPING ADDRESS
SHIPPING PHONE
I'll reply with a secure link, which will permit you to provide your credit card details via our secure server.
Tax will apply to CA, NY and a few other states. UPS is our default Ground carrier, but inquire if you prefer FedEx or GSO. As all Berserkers know, we encourage shipping only to a business address whenever possible. We'll send along in early March, or as the weather best permits safe transit.
All of these wines are in short supply, so we hope to be able to fill all requests. Shipping offers cannot be extended outside of this Berserker Day promotion. Our release to our direct mailing list is tomorrow morning, and so I'll be online as much as humanly possible for the next 48 hours. You will hear back from me. Thank you for this warm welcome to BD11!
Erin + Massimo Di Costanzo
P.S. The fish on our Di Costanzo label was inspired by this snapshot of Massimo's grandfather, Vincenzo, fishing off the shore of his native Positano…