Over the course of the evening, we had a N.V. Roger Pouillon et Fils Champagne Brut Solera, 1991 Louis Jadot Corton-Charlemagne Domaine des Heritiers, 2005 Gros Frère et Sœur Clos Vougeot Musigni, 1988 Chateau Haut-Brion and a 1990 Chateau La Mission Haut-Brion. I didn't take notes during the dinner and drafted these a few days later so some of the details may have escaped me.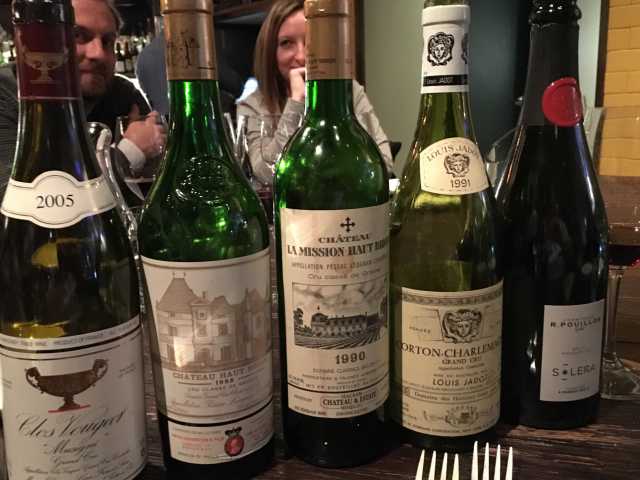 N.V. Roger Pouillon et Fils ChampagneBrut Solera - This was consistent with my let bottle so rather than recreating the wheel, I am just copying that note. The nose is dense with lots of tart apple and pear notes. There are oxidative notes, which makes sense given the solera, and similar bready yeasty notes. Very satisfying and reminds me of a baby Krug. Great value.
​

1991 Louis Jadot Corton-Charlemagne Domaine des Heritiers - It is funny. These days, I am alwats nervous to open White Burgundy, even new releases, due to premox and so many bad experiences, but this 1991, which is older than most white Burg that I drink, had no problems at all. Maybe my nervousness should only be for the newer bottles. Pop and pour, this poured a golden yellow. Great mature burg notes of lemon curd, flint, sulphur, something that kind of reminded me of a cheese rind, in a good way. There were also some smoke notes. Although there were definite lemon notes on the nose, there was not a big acidity on the palate. It was smooth, and made me hope that pre-mox will someday be a thing of the past because I really enjoyed this 25 year-old wine and would like to buy some with the goal of aging them to this point.


2005 Gros Frère et Sœur Clos Vougeot Musigni

- I first had this wine at Thanksgiving 2013 and it was an eye opener for me. We got another bottle for Christmas and I had big expectations. I was not disappointed. This wine really needed a day to slow ox or a few hours in the decanter. Unfortunately, that was not possible for us. Instead, we decanted upon arrival at the restaurant and the wine got about an hour in the decanter before pouring it. Initially the wine was shy. The only real notes that I remember initially was a red fruit profile dominated by tart cherries. For this reason, I set the glass aside and let it get a bit more air. The extra time paid huge dividends. When I came back to the wine about 45 minutes later, the red cherries had been joined by some mushroom notes along with leather, raspberry, and some Asian spices. The wine had a great mineral presence on the palate with firm but not overwhelming acidity. The tannins were also still very present. As someone at the table stated, "this is a rare occurrence when the Burg has more tannin than the Bdx." Overall a great bottle of wine that has another 5, 10, or 20 years on it.
​


1988 Chateau Haut-Brion

- This wine was double decanted a few hours prior to dinner. It poured a dark ruby and did not have as much bricking as I would have expected for a wine that is 28 years old. The nose was shockingly primary. My first reaction was Luden's Cherry Cough Drops, which is strange because that is often associated with young California wines, almost in an insulting way (depending on who says it). To me, the description emphasizes how young this wine is drinking. Over the course of the evening, the cherry notes fell more into balance as some cedar, cigar, and leather notes emerged. However, given the age, the intensity of these notes was more subdued than expected. I really enjoyed this wine. Over the course of the evening it really came into balance and offered plenty of enjoyable primary and secondary characteristics. However, the wine puzzles me. Where will it go from here? Is it still young with a long life ahead of it? If so, how long? If not, why does it retain such a primary initial presentation? Those are questions for someone smarter than me. I am simply happy to sit back and enjoy.

​**

1990 Chateau La Mission Haut-Brion

** - I was really excited to try this wine, more so than the 1988 Haut-Brion. However, on the day in question, the 1988 Haut-Brion came out on top. We double decanted this a few hours ahead of dinner. Unlike the Haut-Brion, this did not present any primary characteristics initially. There was bricking around the edges. The nose offered up some ash, currant, cassis, cheese rind, bell pepper, gravel mushroom, cedar, mint and pencil shavings. This is basically textbook secondary Bordeaux. The wine was very fresh and lively on the palate despite its age. It did not evolve much further over the night, but did not need to. This was a good wine from start to finish. I think that it has some time left, but it is in a very food place now.

​
Overall, this was a great night with great food and wine and friends.