At times, I enjoy grazing on tapas with wine in lieu of a full course dinner. I don't look for main courses then and am more than happy loading up on assorted bites with rosés. One such casual evening was this past Saturday at Rene and Aimee's place. We were 6 in all.
Four of us started off with two savory terrines: Terrine de Sanglier and Terrine de Cerf. With these, we started off with a bottle of…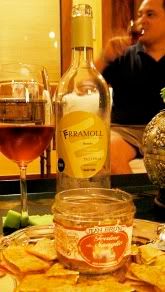 2005 Bodegas Terramoll Rosado - Miguel's bottle, from their family friends' (the Moll family) winery situated in "la Mola", the highest part (200 meters above sea level) of the island of Formentera (DO), Baleares, Spain. For its tinto and rosado, cabernet sauvignon, merlot and monastrell are the grapes used. As far as I can tell, however, for the 2005 rosado, monastrell was not part of the blend.
This is a plump, comfortable rosé with nice heft and a definitively rounded middle. Smooth, very approachable and easy to drink a lot of fast. Its soft fruit has nice depth for a rosé, and the well-balanced dark cherry, blackcurrant and plum, hints of cedar and herbs and ever-so-faint underlying minerality are neatly presented, the alcohol well in check. Nice balance here.
Too bad it isn't available locally, and, as far as I can tell from searching the web, it is also not available in the US. I hope Miguel has more bottles of this.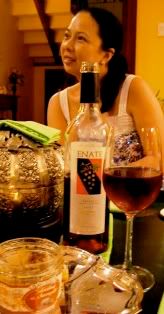 2005 Enate Rosado Somontano - Miguel's bottle. From DO Somontano, between the Pyrenean foothills and the Ebro valley, in the heart of northeastern Spain's Huesca province, around 70 kms south of the French border. This rosado is 100% cabernet sauvignon. The winemaker, Jesus Artajona, apprenticed in Bordeaux and worked for a while in Château Margaux.
I found this wine dominated by blackcurrant, raspberry with some cherry and a pinch of feisty red spice thrown in. Compared to the above Terramoll, the Enate was not as soft or rounded (likely because there is no merlot blended in), drier and a touch austere (perhaps due to his stint in Bordeaux?).
Nice enough, I wouldn't mind buying some of this, but I'd guess more people would find the Terramoll much more approachable and likable.
By the time we started on this second rosado, the other wives had arrived, so our hostess left us briefly to organize our meal's service while everyone continued chatting.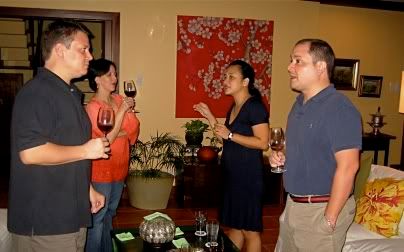 Within a few minutes, we took our seats and dug into the platters of…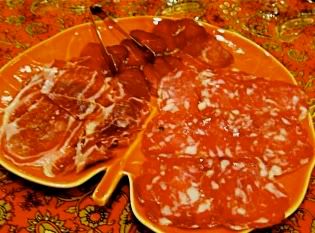 Jamón Bellota de Jabugo, Salami Milano and Mocetta di Manzo,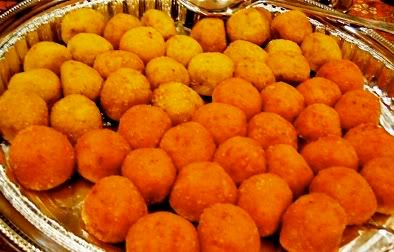 Croquetas, and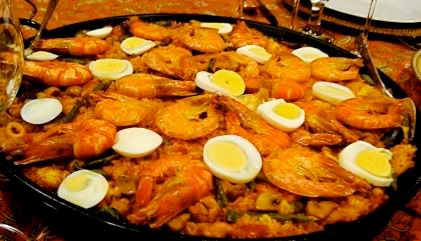 Paella.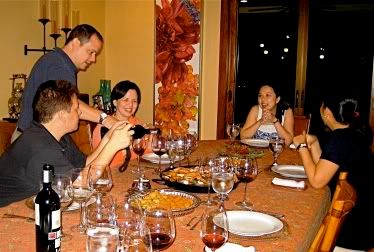 With all these, we enjoyed…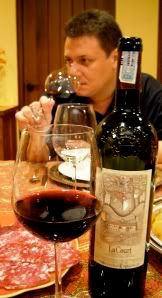 1999 Michele Chiarlo Barbera d'Asti Superiore Nizza La Court - My bottle. I first tried this over a simple, rustic Italian lunch on the 9th June 2009. I liked it and promptly bought a few bottles from Bacchus for myself. My notes then are as follows:
From Piedmont's Barbera region of Asti, this wine is made up wholly of barbera grapes from the same-named, 6 hectare, south-west exposure single vineyard "La Court". Largely over-shadowed by the more famous Piedmontese nebbiolo-based wines, Barolo and Barbaresco, Barberas receive comparatively little press. Considering the subject wine, however, this lack of attention is undeserved and, perforce, lamentable.

The complex bouquet recalls dark fruit compote, dried cherry, kirsch, violets and cedar. Its medium body presents mature, soft, velvety dark cherry, violets, a light touch of dried herbs (lavender? thyme?) and hints of balsamico and leather in the underlying black fruit. The finish was moderate and precise; the tannins soft and smooth. It paired very well with the roast chicken. With the first sniff and sip, I decided I must have more bottles of this.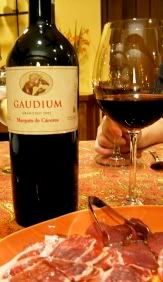 2001 Marqués de Cáceres Gaudium - Rene's bottle. Owned by the Forner family who left Spain for Bordeaux during Franco's time. When they eventually returned, they introduced Bordeaux techniques in Rioja such as, among others, relatively shorter oak ageing and the predominant use of French oak as opposed to American. The Forners also own and run 1855 Classified 5th Growth Château Camensac in the Haut Médoc, and, in the past, Château Larose Trintaudon as well .
The wine is full-bodied, somewhat chewy beside the lighter-framed Chiarlo La Court, the nose is distinctively and generously laced with spicy/toasty oak lending notes toffee, vanilla and cinammon to the comparatively viscous, deeply veined, somewhat jammy dark fruit, strawberry, cherry and raspberry. In the mouth, there are added whispers of thyme, anise and, towards the back, a bit of violets.
I recall from a dinner in honor of Marqués de Cáceres' export manager, Joel Martinez, that Gaudium sees approximately 18 months in all new French oak, hence the pronounced, though fairly well integrated oak notes.
Next came the Cheese Platter with Membrillo (quince jelly) on the side of course, paired with: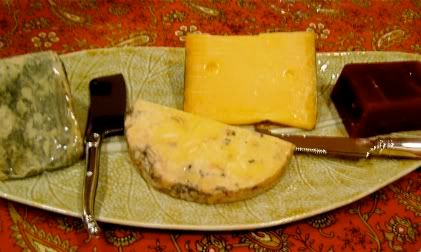 1988 Dow's Quinta do Bomfim Vintage Port - Rene's bottle. This particular port presents a somewhat light and fresh character. User-friendly, it is very easy to drink and appreciate. Its bouquet is of ripe dark plum, raisined berries, sweet cedar with touches of dried fig and molasses. These notes are mirrored on the palate in a medium port body, the flavors light-footed and almost whimsical.
Its fruity freshness was most welcome and even sorely needed due to the queso de Cabrales' (a cheese from eastern Asturias in Spain) aggressive pungency and bleu gaminess which the membrillo alone could not cut.
Dessert then followed in the form of delightful little turons stuffed with mango instead of the usual banana, served with vanilla ice cream on the side.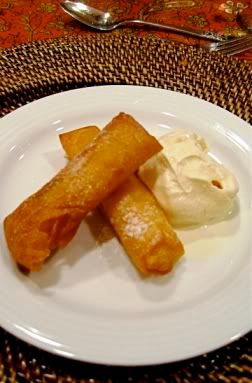 We then lingered over last pours from the bottles and, at around midnight, took our respective leaves, thanking our hosts for such a relaxing and most enjoyable evening.