Greetings Berserkers! We are excited to be back for BD13 after our BD12 newbie debut.
Sandar & Hem crafts transparently made wines from distinctive sites within the Santa Cruz Mountains AVA. Our winemaker Rob Bergstrom launched Sandar & Hem to explore the unique and diverse expressions of vineyards in the Santa Cruz Mountains after working harvests at Rhys and Mount Eden.

Santa Cruz Mountains wines have a compelling character driven by the altitude and aspect of the mountain environment, strong ocean and bay cooling influences, and diverse soil and geology brought by the upheaval of the San Andreas Fault running through the region. The wines exhibit a purity of fruit and fresh acid, mineral, and tannic structure that can yield delicious wines of balance, that are at their very best paired with food, and which can age gracefully, often for decades. To complement this character, our winemaking approach is to pick relatively early just as phenolic ripeness is reached and then to foster the grapes with a light hand to allow the sites to speak. We have chosen each special vineyard site based on a number of factors including the history of the site and vine age, compelling plant material (e.g. heritage clones, own-rooted sites), farming (organic and biodynamic practices preferred), interesting geology, and microclimates.
You can learn more about the vineyards and winery at our website: https://www.sandarandhem.com/About-Us
We also posted a Wine Berserkers newbie thread last year at: https://www.wineberserkers.com/forum/viewtopic.php?f=89&t=176897&p=3179124#p3179124

For BD13 we have three 6-pack sampler offerings, which includes a Mindego Ridge Pinot Noir and Chardonnay pack, a mixed single-vineyard Chardonnay pack and a mixed single-vineyard Pinot Noir and Chardonnay pack. These sampler packs will give you a good idea of what our wines are all about and will introduce you to some of the amazing vineyards in the Santa Cruz Mountains that we are fortunate enough to work with.
We also have the last handful of cases of our 2020 Grenache rosé remaining that we are offering at great pricing to make room for the 2021 rosé that will be released soon.
Ground shipping is included for any additional bottles that you add to you orders with one of these offers with 10% on any items beyond the 6-packs. Wines will be shipped within a week or two of BD13 to locations with suitable weather and held until safe shipping is possible for places on weather hold.
Wine Club members get special offers and shipping for BD13.
Please feel free to reach out with any questions.
In honor of Berserker Day Lucky #13 one Berserker who makes a purchase AND comments in this thread will receive a magnum of our sold out 2018 Santa Cruz Mountains Bordeaux Blend for 13 cents. Winner to be announced at 3:13PM on BD13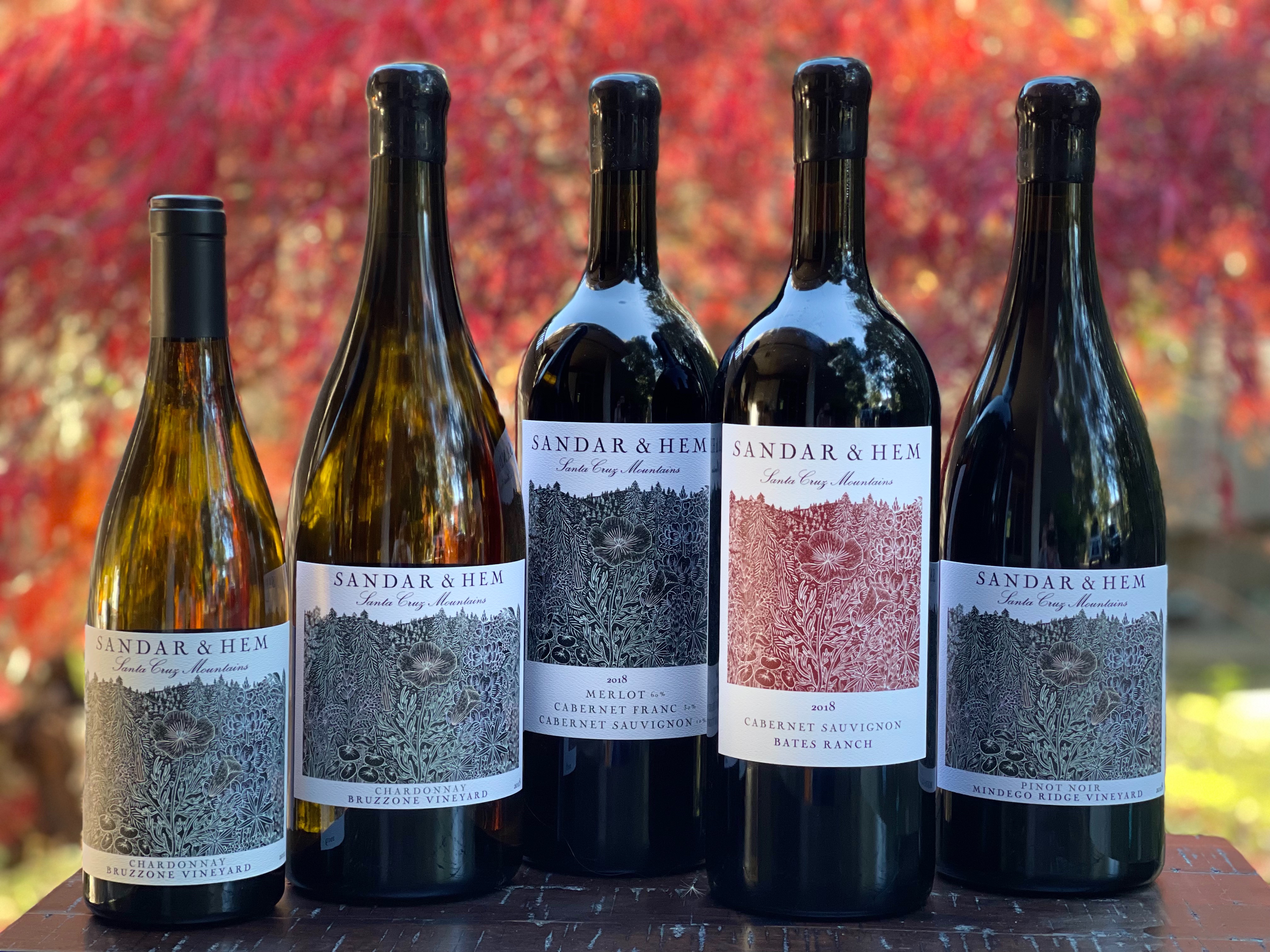 We Ship to: CA, CO, DC, FL, IL, MA, NY, OR, TN, TX direct.
For additional states see below.
Mindego Ridge Pinot Noir and Chardonnay Sampler 6-pack
SOLD OUT(Retail: $248) Includes ground shipping
https://www.sandarandhem.com/product/BD-13-MR-Pinot-Noir-and-Chardonnay-Sampler-6-pack
USE CODE: SOLD OUT
One Each:
2019 Mindego Ridge Pinot Noir, Santa Cruz Mountains (95 pts Editor's Choice, WE)
Two Each:
2019 Mindego Ridge Vineyard Chardonnay, Santa Cruz Mountains (94 pts, WE)
Three Each:
2018 Mindego Ridge Vineyard Chardonnay, Santa Cruz Mountains (93 pts Vinous Media (AG), 94 pts Editor's Choice, WE)
Sandar & Hem Pinot Noir and Chardonnay Sampler 6-pack
SOLD OUT (Regular: $260) Includes ground shipping
https://www.sandarandhem.com/product/Red-and-White-Sampler-6-pack
USE CODE: SOLD OUT
One Each:
2018 Bruzzone Vineyard Chardonnay, Santa Cruz Mountains (92 pts Vinous Media (AG), 94 pts Editor's Choice, WE)
2019 Bruzzone Vineyard Chardonnay, Santa Cruz Mountains (95 pts, WE)
2019 Bald Mountain Vineyard Chardonnay, Santa Cruz Mountains (95 pts, WE)
2019 Mindego Ridge Vineyard Chardonnay, Santa Cruz Mountains (94 pts, WE)
Two Each:
2019 Mindego Ridge Pinot Noir, Santa Cruz Mountains (95 pts Editor's Choice, WE)

Sandar & Hem Chardonnay Sampler 6-pack
SOLD OUT (Regular: $242) Includes ground shipping
https://www.sandarandhem.com/product/BD-13-Chardonnay-6-Pack
USE CODE: SOLD OUT
One Each:
2019 Bald Mountain Vineyard Chardonnay, Santa Cruz Mountains (95 pts, WE)
2019 Frances J Chardonnay, Santa Cruz Mountains (94 pts, WE)
2018 Bruzzone Vineyard Chardonnay, Santa Cruz Mountains (92 pts Vinous Media (AG), 94 pts Editor's Choice, WE)
2019 Bruzzone Vineyard Chardonnay, Santa Cruz Mountains (95 pts, WE)
2018 Mindego Ridge Vineyard Chardonnay, Santa Cruz Mountains (93 pts Vinous Media (AG), 94 pts Editor's Choice, WE)
2019 Mindego Ridge Vineyard Chardonnay, Santa Cruz Mountains (94 pts, WE)

2020 Bates Ranch Grenache Rosé 6 bottles (90 pts, WE)
BD Price: SOLD OUT (Retail: $144) Includes ground shipping
https://www.sandarandhem.com/add-cart/Rose6Pack
USE CODE: SOLD OUT


Ground shipping is included for any additional bottles that you add to you orders with one of these offers.


Wine Club Members BD13 Discount - 20% Off on all wines plus free ground shipping
Please email robert@sandarandhem.com with your order.



We can also ship to: AZ, GA, IA, ID, IN, KS, LA, MD, ME, MO, NC, ND, NE, NH, NM, NV, OK, PA, SC, TN, VA, VT, WA, WI, WV, WY

Please use the links below to order for shipments to these additional states - Same pricing applies:

Mindego Ridge Pinot Noir and Chardonnay Sampler 6-pack
https://vinoshipper.com/shop/sandar_and_hem_wines/mindego_ridge_pinot_and_chardonnay_sampler_6-pack_-_bd13_85918?list=
USE CODE: SOLD OUT

Sandar & Hem Pinot Noir and Chardonnay Sampler 6-pack
https://vinoshipper.com/shop/sandar_and_hem_wines/reds_and_whites_sampler_6-pack_85858?list=
USE CODE: SOLD OUT

Sandar & Hem Chardonnay Sampler 6-pack
https://vinoshipper.com/shop/sandar_and_hem_wines/chardonnay_6_pack_85857?list= USE CODE: SOLD OUT

2020 Bates Ranch Grenache Rosé 6 bottles (90 pts, WE)
https://vinoshipper.com/shop/sandar_and_hem_wines/rose_6_pack_85859?list= USE CODE: SOLD OUT