HAPPY BD12 YOU WONDERFUL BERSERKERS YOU!
Oh, how I missed this crew!


I am so happy and honored to be back here with you guys this year!!
One of the greatest joys of my Liquid Farm days was bantering with all of you fabulous ladies and gents on here year round and having a blast on this special, glorious day!
After a few years of a much needed leisurely "sabbatical"

the itch to do something new alas became too strong not to scratch. Thankfully the stars aligned (no pun intended!) late last Summer and I jumped back in! This first year out with the help of a friend, Santa Barbara County winemaker (aka; Syrah King) Joey Tensley, I made a little wine, had a little (a lot) of fun and am amp'ed to see where this new endeavor takes me! And most of all! To have wine once again to share with all of you! Something I have dearly missed!
Berkserkers on this day are THEE FIRST EVER to get dibs on/buy these wines! Get ready for discounted packs AND $10 flat rate shipping!

So, whats with "stars & dust" Nikki?
August of last year I woke with the name swirling around in my head - while other ideas for names felt forced, something about it just felt right. After all, we are all made up of stardust, all the same, all connected. A little nerdy/sciencey, a bit hippie/playful meanwhile still thought provoking. It felt like home for me.
We're all the same and we're all intertwined.
stars/dust is within the make up of these wines & the unique places they're grown just as it's the makeup of each of us.
Nature is not outside us- we are nature.
Earthy Rosé's, Old Vine Chards and Rhone Reds from Santa Barbara County.
The label itself in its final stages as I type, was inspired by the Joni Mitchell album cover on which the song "Woodstock" is recorded. The below four lines from that song brought things full circle, hearing it instantly assured me that this indeed was the one.
We are stardust
We are golden
And we've got to get ourselves
Back to the garden
Here is a link to my primitive splash page/mailing list sign-up - full site will be in action come March! www.starsanddustwines.com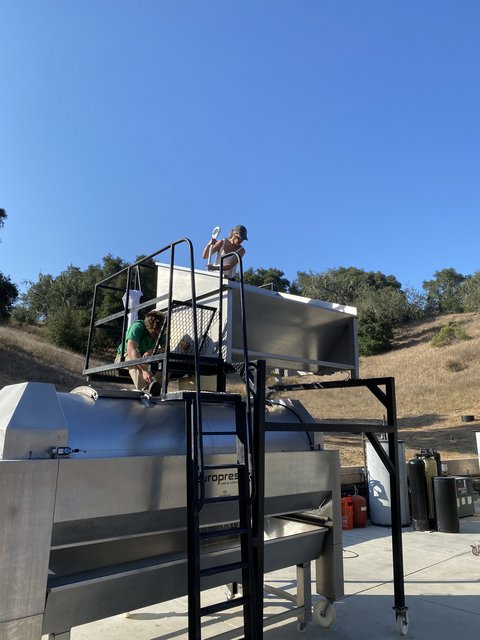 Cellar hand Andrew and I pressing the 1st fruit of harvest and 1st for stars & dust! 9/5/20


**I am humbled to have kicked things off in the 2020 vintage with 6 small lot single vineyard bottlings
all totaling a hair under 500 cases.**
2020 stars & dust WINES
2 vineyard designate Rosé's l 1 of Grenache and 1 of Mourvédre (more deets below!)
2 single vineyard Old Vine Chardonnays l 1 from Hilltop Vineyard in the Sta. Rita Hills and 1 from the famed Bien Nacido in Santa Maria
2 single vineyard Reds l 1 Grenache from Tierra Alta in the Ballard Canyon AVA and a cool climate Syrah from Hilltop in SRH.

As I absolutely did not want to miss out on the fun this year, you guys are the very first to see the wine on offer EVER!
I am bottling both of these Rosé's March 1st and they are the two bottlings that comprise my packs this year! These are lively, fresh, bone-dry wines with just enough fruit and minerality. And the fact that they clock in around 11.8% ABV AND don't break the bank mean they're perfect for everyday enjoyment - alone or at table - especially when the weather starts to warm again - Spring and Summer must have's!
As for the 2020 Chards and reds, they are resting happily in barrel to be bottled late this year and will certainly be included in next years BD offering!
NOTE! For those of you willing to take the plunge with me in these early days, please know your support shan't be forgotten and will be immensely treasured! Expect nothing short of WORLD CLASS personal customer service from yours truly! And, some special offers and discounts along the way.

---


ALRIGHT! ABOUT THE WINES ON OFFER!
2020 stars & dust Rosé of Grenache l Tierra Alta Vineyard l 80 cases made
Ballard Canyon AVA l Santa Ynez Valley l 11.8% ABV
Vin: 100% handpicked vineyard designate Grenache, picked early for freshness, aged 6 months in 100% neutral barrel, 1/3 foot stomped by yours truly
Profile: super juicy with notes of rose petals and strawberry, guava and on the palate - the broader, more fruit forward and easier drinking of the two
Vineyard: farmed by Ivan Belfy and his awesome crew and planted in 2000 this is one of the steepest and sought after vineyards in the newly appointed Ballard Canyon AVA. This section of Grenache I am working with is 1,300 feet above sea level! The soils are clay with high amounts of limestone providing great minerality in the fruit
~
2020 stars & dust Rosé of Mourvédre l Kærskov Vineyard l 100 cases made
Los Olivos District AVA l Santa Ynez Valley l 11.8% ABV
Vin: 100% handpicked vineyard designate Mourvédre, picked early for freshness, aged 6 months in 100% neutral barrel
Profile: wild herbs, white cherry on the nose with layers of strawberry, pomegranate and an earthy minerality on the long finish - the leaner and more serious of the two
Vineyard: planted by the talented Ryan Carr in 2014, this vineyard lies in the middle of the Santa Ynez Valley in the Los Olivos District AVA and is perfect for Rhone varietals. The soils are a mix of clay loam and river stone allowing great drainage and rich nutrients

\


ROSE PACKS ON OFFER WITH $10 FLAT RATE SHIPPING!

All at a one time BD only 25-30% OFF discount!

AND

All packs ship $10 flat rate too! A savings of $15-$50+
The Bowie 4 pack @ 25% off!
BD! Only $78 / Retail $104
2 of each of the 2020 Rosé's / Retail $26/bottle
Why Bowie? David Bowie's "Ziggy Stardust"
~
The Willie 6 pack @ 25% off!
BD! Only $117 / Retail $156
3 of each of the 2020 Rosé's / Retail $26/bottle
Why Willie? Willie Nelson's "Stardust"
~
The Coltrane 12 pack @ 30% off!
BD! Only $218 / Retail $312
6 of each of the 2020 Rosé's / Retail $26/bottle
Why Coltrane? John Coltrane's "Stardust"

\


HOW TO ORDER?
This year as the full website is still in construction, we are going to kick it old school with some person to person contact!

1.) Post your order here! Why might you ask? It will auto enter you into a raffle for a mixed 6-pack of Rosé!! WOOT!
2.) Email or phone in your order to me! If emailing order please include: shipping and billing addresses & best contact number - from there I will reach out personally via phone with a huge thank you! And to grab your CC info and answer any questions you may have.
My direct contact info l email: nikki@starsanddustwines.com l cell: 949.355.5995
I will be online with you guys allll day and into the night!

\
FAQ's
States I apologize I am unable to ship to at this time: AK, AL, DE, HI, MS, NH, RI & UT
When will my BD order ship? Just in time for Rosé weather!! Unless you request a hold, I aim to ship the wines out to ya late April/early May pending weather in your area
---