Another vote for this one. Love it for the price.
+1
FWIW, Laguiole isn't a type of corkscrew, it isn't even a brand, it's a place (I've been there). It's a town justly famous for cutlery, more recently corkscrews. The bee is a symbol of the town and some of the forges belong to a consortium which has exclusive rights to use the name 'Laguiole' with the bee symbol. I've used dozens of corkscrews from the town, some with the bee, some without. Corkscrew quality depends on the producer, design and engineering.
Dan Kravitz
Monopol
I have a Durand but I never need to use it.
The coutale is similar to the Le creuset that I use. I'd recommend the coutale, the Le creuset version is no longer made.
I have one of the Laguiole but used it once and didn't like it. I'll have to try it again. The trouble with the Durand is remembering to use it.
The insect on a Laguiole is a cigale, not a bee.
I use a standard waiters corkscrew for just about everything.
I have the same as Patrick's. Very easy to use, has never failed me yet. For years I used a waiter's and an ah-so.
But these days I like the leverage I get with winged corkscrews.
I have one of the fancy Rabbit corkscrews, but never use it. Too bulky.
This. I love my Durand, works like a charm. It's too bad I usually remember that after I pull out half a cork.
For simple and ease of use the Coutale is my favorite due to the dual hinge and good build quality. There are tons of ripoffs which work for a bit but always break and are prone to slipping off the rim eventually. The coutale is the only one of this dual hinge design that actually lasts. It is $20 and my goto if opening quite a few bottles.
"Innovation Waiters Corkscrew By Coutale Sommelier"
With that said what I use everyday and have for over 10 years is a Laguiole En Aubrac Wine Opener. As mentioned Laguiole means little as you have to know each maker. Not unlike Champagne where one needs to know who the producer is. I own a few of this brand and the build the the best. I find used ones on Ebay occasionally and they popped up on massdrop a year or so ago and that was posted here. One can be found for $125 or a bit less used. It is great piece of gear and IMHO the best of the "Laguiole" labeled wine openers.
There was a fantastic forum piece posted on all the Laguiole makers here or on the old Parker board many years ago. That is where I learned about En Aubrac as a great producer on Laguiole wine openers.
Jeff,
I'm with you. Screwpull for every day, Durand for older corks. Trader Joes double-hinged waiter's corkscrew for travel.
Cheers,
Warren
Ok not just because I'm a cyclist, but the Campagnola Big is an awesome corkscrew. Super well made, durable, and rock solid platform. I like the fat screw as well to increase penetration into and grip of the cork. Minimal failure in quality corks. And very easy extraction. I use Durand for anything 15 years or older or if the cork looks sketchy.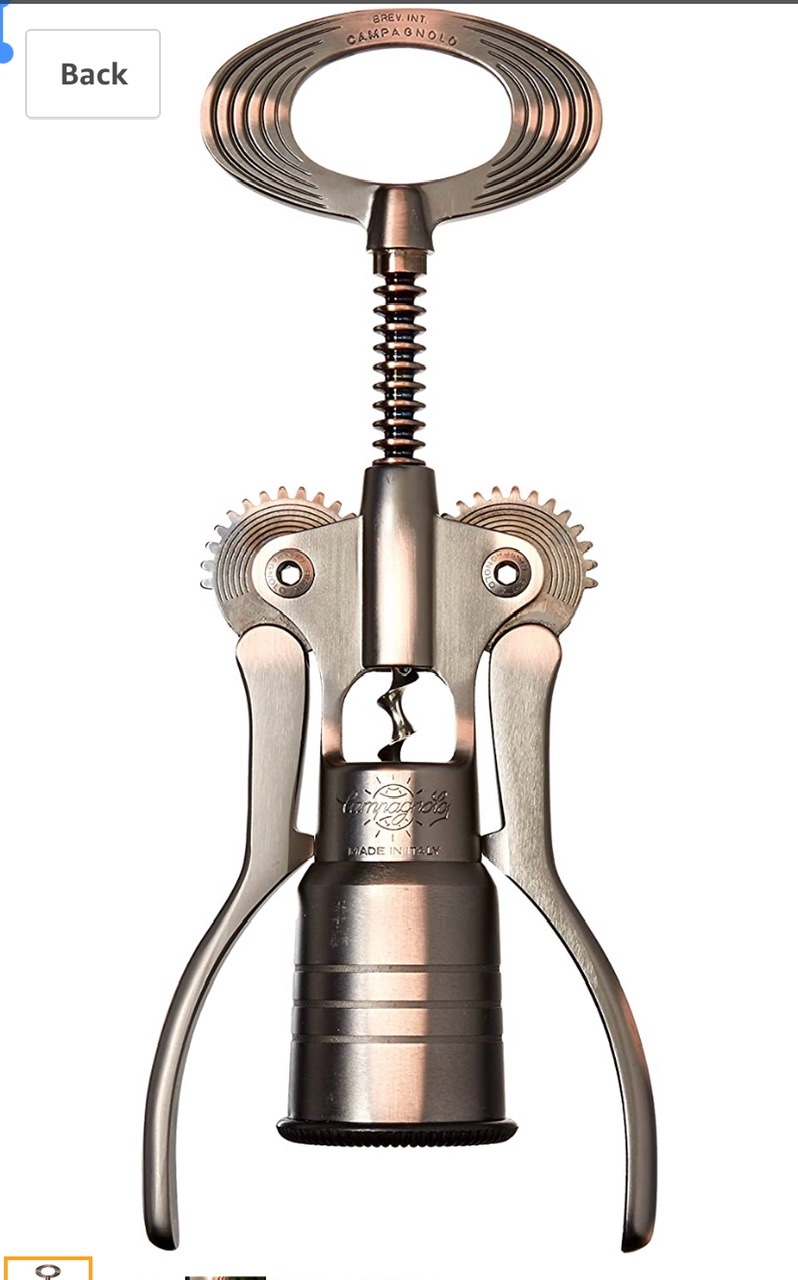 I have several. If we finally get together once this s–t is over and done, you can have one.

I have a waiters double hinge from Corison that is great - super sharp worm and double hinge is great. Sometimes I also use the wine enthusiast legacy opener that sits on top of my kitchen wine fridge, but since I have basically no "hands on" control of that one, I really only use it for bottles ~5 years and younger.
Anything older than 10-15 years gets Monopol ah so or Durand. I misplaced my Durand at some point, so lately mostly ah so for older bottles but I also almost lost a cork recently into the bottle (of not THAT old wine—99 Mayacamas), so that shocked me into ordering another Durand.
Yep, that Massdrop deal was great! Thanks again to whoever posted the PSA on that!
I always use a butler's friend. Once I figured out how to use one, I only use the standard screw type opener for my wax covered corks.
I had no idea they had a real name…or came in so many variations till I searched some of the names noted in this thread. The ones I've been buying are usually cheap plastic openers. That Durand looks pretty slick.
The one I use most often is a Rabbit (Metrokane) Two Step similar to the Coutale Innovation. They are $8-$9 at Bevmo, so I bought several to put in various bags. I combine with a Metropol ah-so for a poor man's Durant with older bottles. I've never broken one.
-Al
not till that Ah-so pushes a cork into a prized older bottle and becomes an Ah-shit.
waiter's corkscrew and a Durand backup when out and about, Screwpull at home, Durand for older wines.