Hello Berserkers! Pezzato is thrilled to be participating in its first ever BerserkerDay. We recently released our inaugural vintage and are offering our Pezzato family and friends pricing and some additional perks available only on this special day.
About us:
You can read all about us in our newbie intro and on our website story page.
Our wine notes and a nice write up from Jeb Dunnuck on the 2018 Pezzato Cabernet Sauvignon are included at the bottom of this post.
The Offer: 2018 Pezzato Napa Valley Cabernet Sauvignon (our inaugural vintage):


Pezzato family and friends pricing . Available in 3-bottle increments, with a 12 bottle limit.
Invite to family and friends virtual tasting: As a Pezzato buyer, you will receive an invite for a virtual tasting of our 2018 vintage to be held in May or June. I (Michael) will discuss the wine, share my experience with the 2018 vintage and give a preview of the 2019 vintage.
For those who buy 12 bottles:
Private virtual tasting with Michael, once you have your wine, to share about the wine, winegrowing practices, winemaking techniques and everything else Pezzato.
OR
Barrel tasting and 4x4 vineyard tour:
We will host you and up to 3 others for a Barrel tasting and 4x4 vineyard tour in Napa (when travel/COVID restrictions allow). We will tour one of our newest vineyard sites high up on the north eastern slopes of Lake Hennessey, overlooking Pritchard Hill and the Napa Valley.
Grand Cru Cru (GCC) and Dirty Dozen members - special offer: OFFER SOLD OUT, NO MORE MAGNUMS AVAILABLE


TO PURCHASE: Visit our website and create an account (if you already have an account login). Once logged in, click "Access Your Offering" to view the offer. We will follow up with eligible buyers to coordinate delivery of perks.
The fine print: We ship to most states with the exception of Utah, Mississippi, Hawaii and Alaska. If you have any questions about shipping send us an email (wine@pezzatowine.com). All wine will ship ground, in most cases GSO/GLS to the western US and FedEx to other states. If you prefer a different shipment method please email us (wine@pezzatowine.com) or put a note in the order comment field. We will try to accommodate all requests
We will ship orders as soon as the weather permits and you are ready to receive the wine.
Michael's Wine Notes:
The 2018 Pezzato Cabernet Sauvignon is from a single vineyard in the eastern bench of Oakville. We're fortunate to call Screaming Eagle, Phelps Backus, Tench and Bond St. Eden our neighbors, all just a stone's throw away. It's a truly magical neighborhood in which I feel honored to be able to grow wine.
The wine:
Our inaugural release exceeded all of our expectations. Aromas of crushed rock, dried tobacco leaf and rhubarb fill your glass. The interplay of fresh acidity and supple tannins coats your palate from start to finish with the weight and depth you expect from an opulent Napa Valley Cabernet Sauvignon. The finish is impressive, lingering far longer than you may allow before taking a second sip. 14.9% alcohol, 116 cases produced.
The Growing Season:
2018 shaped up to be a nearly perfect growing season in the Napa Valley; one of the three best that I've seen in my 15 years of experience, along with 2008 and 2013. Moderate winter rains replenished soil moisture, ensuring that early vegetative vine growth flourished. Mild spring weather resulted in a slightly later-than-average bud break, which allowed us to avoid severe frost events. Bloom and set were trouble-free. Temperate weather from veraison through harvest allowed the grapes to reach optimal ripeness at a slow and gradual pace. This slow ripening helped us to develop excellent flavors in unison with brix loading, so that at harvest we had an ideal balance of prime flavors and sugar accumulation.
The exceptional growing conditions of 2018 also produced a larger-than-average crop. While we saw more clusters per vine than in 2017, the vines were fully capable of ripening the higher yield, given their strong canopies, aided by increased soil moisture and moderate weather throughout the growing season. The larger crop also allowed us to more aggressively thin clusters to bring our vines into balance, a concept that I believe is critical to producing high-quality wine.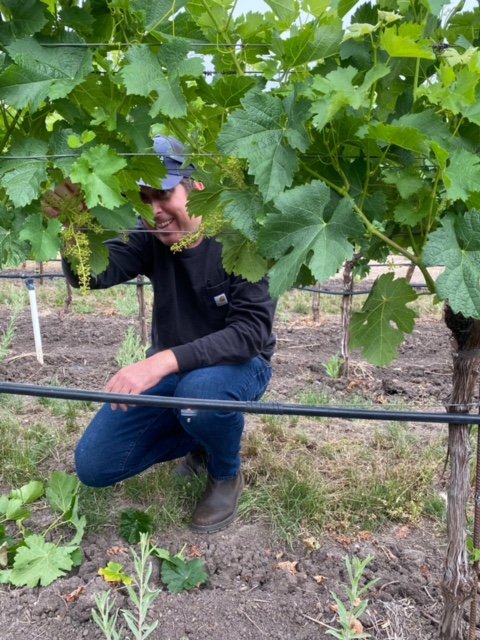 Harvest, Fermentation and Barrel Aging:
The 2018 Pezzato Cabernet Sauvignon grapes were harvested late at night on October 10th. Then cluster-sorted by hand and, once destemmed, sent through an optical sorter to ensure that only pristine berries made it into the fermenter. We gently stomped the grapes before letting them soak on skins for 5 days. Following the cold soak, we inoculated to begin fermentation. Throughout fermentation we employed pump over and pulsair techniques for cap management, the latter being a newer technology that relies on blasting compressed air directly into the fermentation. We have found that the pulsair technique keeps yeast happy and the fermentation healthier.

We drained and pressed the lot on October 24th. Free run and press wine went directly into a mix of new French oak barrels from established coopers Darnajou, Taransaud and Sylvain. We feel fortunate to have secured these highly-allocated barrels for our inaugural vintage. We do not rack during aging as we believe that staying on the lees adds to the richness and mouthfeel that we desire in our finished wine.

After 17 months in barrel we racked the Pezzato wine for the first time to compile our final blend in tank prior to bottling. The 2018 Pezzato Cabernet Sauvignon was bottled on March 30, 2020.
Jeb Dunnuck: 95-97 pts (barrel sample)
Coming from one of the assistant winemakers for Russell Bevan, the 2018 Cabernet Sauvignon is smoking stuff. It's probably going to be impossible to find, but it's a powerful, Graves-like beauty loaded with chocolaty fruits, scorched earth, black olive, and tobacco aromas and flavors. With brilliant purity of fruit and both acidity and tannins, it has all the right components and is going to be a brilliant wine.
Cheers,
Michael and Andrea Savaiano