We had a blast on our first trip to Willamette Valley and I want to thank all those who reached out and provided input on the trip in a prior thread I posted. The depth of knowledge and insight from the Berserker community was tremendous and you guys made our first trip very special. Here is a rundown of our trip with what limited notes I was able to take. I will try and post day 2 tomorrow, day 3 Wednesday and day 4-5 Thursday but forgive me if I fall behind. Thanks again for all the help and hope this helps those of you planning your next trip!
Day 1
We arrived late morning and decided to grab a bite before the tastings started. We stopped in at Red Hills Market for a quick sandwich and it was delicious. The fried chicken sandwich and open face ham w/ gruyere was a hit.
Brick House


We started off our day with a visit to Brick House where we toured the facilities and tasted with Steven Guy. Steven was great, very knowledgeable and just a terrific host. I had never had any of the Brick House wines before but, from all the great Berserker praise, I had high expectations. The wines did not disappoint! First out of the gate was the 2014 Ribbon Ridge Chardonnay- light yellow color, very crisp with a wonderful steeliness and notes of green apples, lemon and good acidity. Light on its feet and just a wonderful start to the tasting. Next up was the 2014 Cascadia Chardonnay-this was more rounded than the Ribbon Ridge with a wonderful smokiness to it, lots of citrus, good minerality and a touch tart on the back end. Then onto the reds. First up was the 2015 Ribbon Ridge Gamay Noir-this was really beautiful with loads of cherry, red fruits and seemed very food friendly. Kept thinking about this with turkey at Thanksgiving. We then worked our way into the pinots and started with the 2014 Cuvee du Tonnelier Pinot Noir-beautiful color, dark fruited, a touch of spice but a bit candied for my tastes. Probably my least favorite wine of the tasting. After being slightly disappointed with the first pinot the next 3 were on a whole different level. The 2014 Les Dijonnais Pinot Noir-was full of beautiful cherries, strawberries, spice and nice earthy notes. This needs more time to evolve but was really delicious right now with some air. Looking forward to trying this again in 3-5 yrs. The 2015 Les Dijonnais Pinot Noir was everything the 2014 was but with what seemed like a deeper, darker core. Not quite as pretty to me but really well built. More tannic than the 15 and a touch of cola. The last wine was the 2014 Evelyn's Pinot Noir- and this was just striking. Showing both red and dark fruits it had an incredible nose filled with spice and some floral notes. Intense wine that demands time but was the star of the show for me. A real elegant power here that has the potential to be very special. Not a bad way to kick off our first trip to Oregon!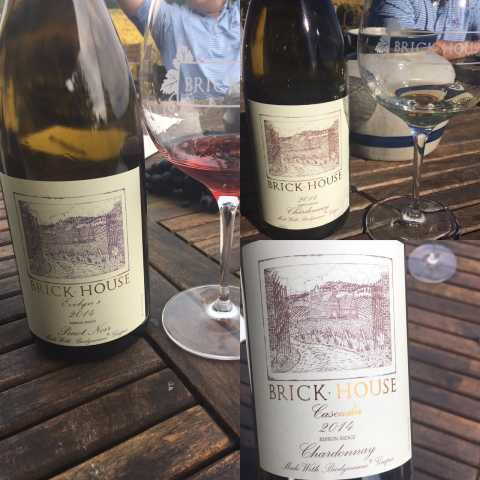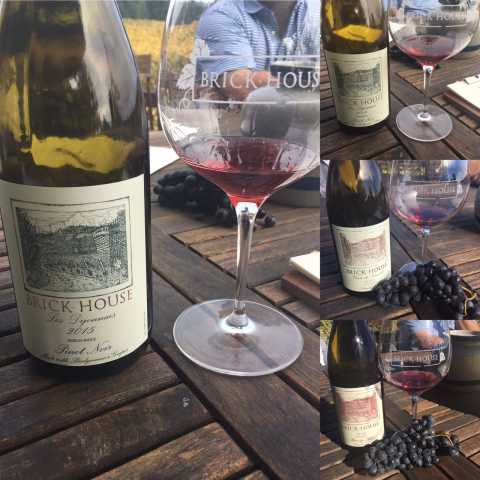 Patricia Green Cellars
Our second stop was to Patricia Green where we tasted with Caroline who did an outstanding job. She walked us through the different sites and really tailored our tasting after getting a feel for what we liked. We started with the 2015 Estate Vineyard Sauvignon Blanc- very floral, with loads of melon and green apple. A very nice wine and great introduction into WV Sav Blanc. Next was the 2015 Durant Vineyard Chardonnay- well rounded chard with floral notes, citrus and the oak was well done here. Coated my mouth and left quite a nice finish. From there we moved onto the reds and got things rolling with the 2015 Volcanic Pinot Noir-a blend of 3 sites and showed bright red fruits and just extremely easy to drink. As with most of the pinots here I found the oak to be noticeable but well integrated and not overdone at all. This was just a very pleasing wine that while maybe a touch simple was also simply delicious. We then went to the 2015 Marine Sedimentary Pinot Noir- full of black cherry, earth, cedar, pepper and tea. Was great to do this side by side with the Volcanic and we all preferred the more earthy tones of this wine. Just a delicious wine that is a great QPR! This is going to be a wonderful weekday wine at our house for quite some time. Next up was the 2015 Freedom Hills Vineyard Dijon 115 Clone- was peppery with lots of cherry, red fruits, earthy with a slight spice. This was also very good but fell behind a few others in the tasting to me. Then we move to the 2015 Estate Vineyard Old Vine Pinot Noir- we absolutely loved this. This bottle had been open for several hours and it was obvious. Loads of dark cherries, spices, plums, floral notes and earthiness. Full, silky tannins with a lasting finish that made a big impression. At this price I am a big believer in this wine. One of the top wines of the tasting and a favorite amongst our group. We then went to some of the higher end stuff and first up was the 2015 Notorious Pinot Noir- made using 100% new oak this was much more of a full bodied wine well integrated toasted oak, dark fruits, cola and spice. It was more Californian than the others but even though there was noticeable oak it didn't take away from the wine at all. This was super sexy, opulent and slutty (in a good way). I can see why people love this wine, it's an easy one to enjoy if you are in the mood for this style. Then, to finish, we ended with the 15th Anniversary Cuvee Pinot Noir- a cuvee of the best barrels from the best vineyards Patricia Green has to offer. Red cherries, cola, blackberries and a gorgeous floral component. Very long, rich, sexy and will improve greatly with a few years. I don't think it will go forever but this should be killer in a few years. A great wine to end a fantastic tasting! While the Patricia Green wines were a touch oakier than most of the places we tasted I cannot say enough good things about their wines and the entire experience there. Sure they use oak but it so beautifully integrated and their wines are delicious right out of the gate. I found this to be a nice change of pace and really enjoyed the stop. We will definitely be back!