anybody own one? Been on wait list five years and just ordered/confirmed for KD-30L. Stoked.
5 years? Are you getting a knife or a sword?
Not yet. I usually browse japanesechefsknife.com and occasionally knife forums in the kitchen section. Hattori has a good reputation. I see you got the petty size. Wow $480. cheaper than a Kramer I suppose. If I were to buy another knife (I really… must…resist…) I'd get a petty size. Please report back. I'm curious what you think of the fit and finish as well as any detailed touches.
Is Cowry the powdered steel? I haven't had much good luck with powdered steel. It microchips too easily but that could just be the producer and poor metallurgic process.
The chefs knife I tend to reach for the most often, is my Hiromoto Aogami Super 240mm gyuto.
Hattori is one of those old school Japanese artisan knife makers. Health, age, and demand makes it a long wait.
Alan:
You will be thrilled. My go to is a KD 33 and it is amazing. Took me a while to learn how to sharpen correctly but that is all on me. Enjoy!
CD
Hattori is 73 and in poor health, has cut back production severely. I pretty much forgot I was on the wait list! They notified me recently. japanesechefsknife is indeed the site.
my wife may use it like a sword and gut me when she sees the purchase.
Beautiful knives. Enjoy it.
Having used the Hattori HD and the Hattori FH, I mus say that I prefer the FH. Now the KD is another animal entirely, often with a fancier/heavier handle, leading to a more substantial feel in hand. It's a beautiful knife that should sharpen up well. I recommend learning how to hand-sharpen first (preferably on other knives that are easier to sharpen) and then later on sharpening the KD on your own. Otherwise, japaneseknifesharpening.com would be a great place to sharpen your knife for you.
What a great purchase! Treat your Hattori well!
(Personally, I use a Konosuke HD - a very different knife than the Hattori KD).
I still only get a postcard from them!
That's a nice pick up Alan. Those KD knives are beautiful, and I have always wanted one. I've been on the wait list for maybe 3-4 years, but I more or less gave up hope after Hattori became ill.
I've instead support the amazing American kitchen knife makers and put my money towards them now: (Ealy, Rader, Burke, Tsourkan, Ingoglia, Marr, Martell, HHH, Devin Thomas, Carter, Fowler, Rodrigue from Canada). A lot of those wait times can be around 2 years though, so it still takes time.
k.
It does look pretty awesome and much cheaper than Kramer's…
At first I thought you were teasing Alan, and then saw it is actually called petty.

Yeah, considering Kramer knives auction on eBay for 10k+, I'd certainly say so. There aren't many knives that make KDs look like a bargain, but Kramer is one of them.
k.
Wow, I had no idea about the world of knives. Interesting stuff. Think I'm gonna do more research and see if the wife wants something better than what she can find at W-S or Sur la Table. Some of the prices are eye popping, need to readjust what I think is expensive.
Yeah, it can be addicting. I think I have about 30 kitchen knives and most of them have been custom made or customized in some way.
The American custom makers right now are top notch. For non-American knives, probably one of – if not the best vendors – is Japanese Knife Imports out of LA. Custom knives usually run in the $400-2,500 range for a chef's knife depending upon maker. Knives from Japan are usually a bit cheaper, but they can get crazy expensive too.
Here is just one of my custom knives.
k.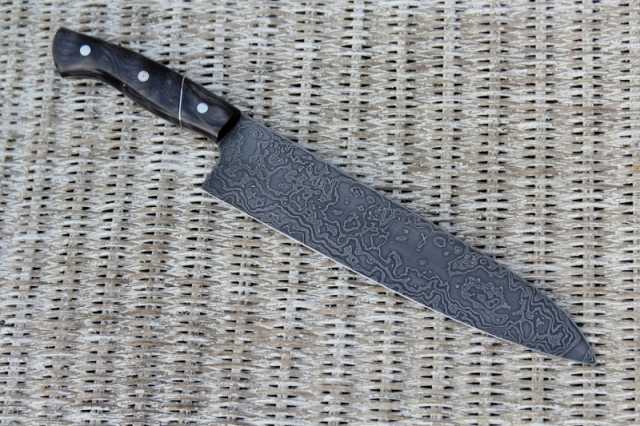 KM: that is one gorgeous blade.
Is there a resource to define all the Japanese knife terms ?
Some of the stuff at SurLaTable is decent, and they let you try out knives on carrots and stuff so you get a real feel for the knife. In fact I use the 8" Zwilling Bob Kramer carbon steel chef knife quite a bit. For $350 it's a bit pricey for a production line knife, but the handle, balance, and blade quality fits great for me and will tie me over until I get off the Kramer waitlist.
But yeah…if you go to japanesechefsknife.com you can spend hours thinking about all the knives you "need" at reasonable prices.
some of those Kramer knives are crazy–$9000 auction price. What do the wait list knives cost and how long on the list to get a knife?