SchöneTal Cellars is a family-owned winery focused on crafting premium pinot noir with minimal intervention. Playing tribute to our family's German heritage our name is derived from the German word "Schöne, meaning beautiful, and "Tal", meaning valley, and when combined it expresses our view of the Willamette Valley for its bio-diversity, agricultural richness, stunning landscapes and history. Our first vintage started with the 2014 harvest and the winemaking style is built on a foundation that focuses on obtaining quality fruit from vineyards that prescribe to sustainability and sound viticultural practices followed by a diligently managed artisanal process of producing small lots of unfiltered and unfined quality wines that showcase natural elegance and the sensuality of pinot noir.
Our approach to wine-making is simple, harvest at a time when the flavors have developed in the vineyard, allow fermentation to occur spontaneously from indigenous yeast, manual punchdowns (no pumpovers), no stainless tanks and neutral oak barrels for elevage. We are also a fan of whole cluster so depending on the growing season determines the amount of whole cluster we incorporate during primary fermentation. In essence, craft a wine by allowing the grapes express their true elegance by naturally undergoing fermentation without any manipulation so the wine can reveal its natural beauty and balance from the surrounding terroir.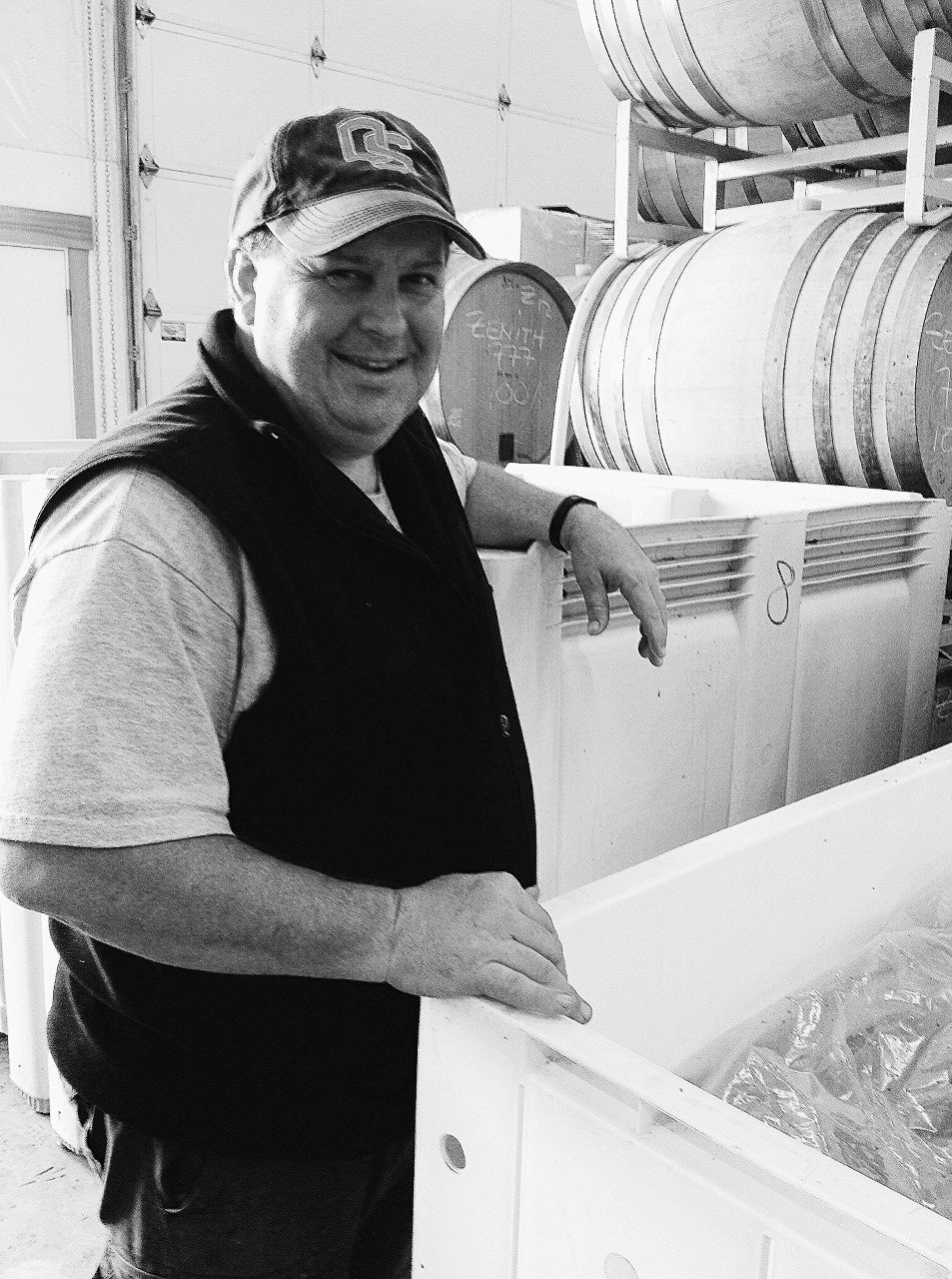 Our Story - My wife and I married shortly after college and following 3-years in the Bay Area, we made the decision to move back to Oregon to settle down in McMinnville, her hometown. She's a true Oregonian. We raised four beautiful and amazing children in this community and our life has blossomed here, for many reasons, but the wholesome people, captivating landscapes and the undeniable culture of wine and food are a few of the many attributes that have kept us here for so many years.
My passion for wine started upon our return to McMinnville, as we witnessed and experienced the growth of the wine industry in the Willamette Valley. We were fortunate to become friends with many of the early pioneers and producers in the wine industry and I would eagerly volunteer my time during harvest when our winemaking friends would call. The cold brisk mornings, the purple stains on the hands, the manual punchdowns and the aromas lingering in the valley during harvest never seemed to last quite long enough. So, in 2014, I called upon a few of our winemaking friends, Bill Sweat from Winderlea Winery and Vineyard, for one, who then assisted me with sourcing some of the best Pinot Noir grapes in the Valley, and Todd Hamina from Biggio Hamina Cellars, in particular, who provided me with equipment, space within the winery and, of course, a tremendous amount of guidance and mentoring. That's when SchöneTal Cellars came to life.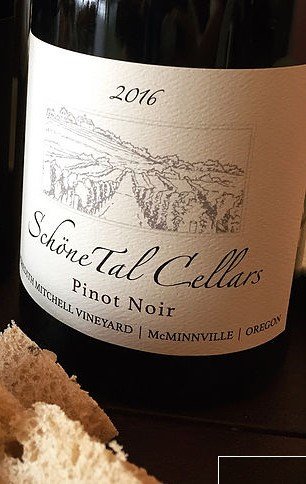 The Vineyards where we source our fruit:
Meredith Mitchell Vineyard (McMinnville AVA): Meredith Mitchell is a truly unique spot, superbly windy as it is exposed to the blustery winds coming through the Van Duzer Corridor. All own-rooted Pommard clone vines planted on an under-layer of Jory (volcanic) with the upper-layer being Yamhill (silty clay loam) soils. An unusual characteristic for the region. The rows are wide spacing and uses a high single wire trellis system. South facing aspect with elevations ranging between 300-560 feet in elevation. This vineyard, southwest of the city of McMinnville, was planted in 1988 and has expanded to 25 acres over the years. Rated one of the top 5 vineyards in Oregon for good reason, the combination of own-rooted, mature vines and shallow, rocky, broken basalt and sedimentary soil consistently produces intense fruit with complex layers of aroma, flavor and structure.
Meredith Mitchell is a certified biodynamic vineyard and wines made from Meredith-Mitchell fruit tend to bright ruby. Potent, smoke-laced red berry liqueur, cherry and floral pastille scents, along with suggestions of cola, vanilla and musky herbs. Mouth fill is smooth and broad, then tightens up in the middle palate, with vibrant red and dark berry flavors. Rich yet lively Pinot with dusty tannins sneaking in late and folding nicely into the wine's juicy, lingering fruit.
Hirschy Vineyard (Yamhill Carlton AVA): Hirschy Vineyard is located in Oregon's Willamette Valley in the Yamhill-Carlton AVA. Comprised of Willakenzie soils, its elevation rises from 300 to 500 feet above sea level, making it an excellent region for growing Pinot Noir.
The first 29 acre section of Hirschy Vineyard was purchased in 2006 from Walt and Dorothy Skuzeski. A walnut orchard until the Columbus Day storm in 1962, the property was farmed in small grains until 2007. In 2007 and 2008 the property was planted with Pommard, Wadenswil, and Dijon clones (114,115, 667, and 777) of Pinot Noir all on Phylloxera-resistant root stock. Those vines (19.6 acres) are now in 9th and 10th leaf and have provided winemakers with Pinot Noir grapes since 2009.
In 2012, the vineyard expanded by the acquisition of a 65 acre adjacent property formerly known as the Austin Ranch. The first vines were planted on this property in the fall of 2012. Initial plantings were Dijon clones (667 and 777) on Phylloxera-resistant root stock. These blocks will came on-line for the 2015 vintage.
After significant clearing and preparation in 2012 an additional 10 acres were planted on the highest elevation, steepest part of the Austin Ranch property. These plantings of the Wadenswil and Pommard clones came on-line for the 2016 vintage.

Hirschy Tasting Notes (1st vintage 2016): Hirschy Vineyard has a pale ruby-purple color and is scented of red cherries and pomegranate with hints of roses, fallen leaves, lavender and dusty earth. Medium-bodied, it has chewy tannins and a racy backbone in the mouth, with plenty of flavor layers and good length. In the beginning - medium dark ruby, crushed black raspberries, plum, a posy of red fruit notes. In the middle - satin mouthfeel, truly elegant weight and carriage, fresh acid edges, very bright berries. At the end - a gentle, whispering finish, light notes of orange rind, and warm earth.
Cheers!!
www.schonetalcellars.com
email: schonetalcellars@icloud.com