May as well start it now! My 40th b-day is next week - the celebration has started and will continue for the entire year

. I plan on sharing a lot of wine this year and will update this thread with new notes as the year putters on. I hope to share wine with as many old and new friends as possible in 2014 so let me know if you want to join in

.
Brad has been in town since Sunday so we've shared a few things during the work week at my house and at a local steak house: 2001 Podere San Luigi Val di Cornia Fidenzio which was quite good with some pasta, 2002 Hospices de Beaune Beaune 1er Cru Cuvée Maurice Drouhin Joseph Drouhin that really opened up in the decanter, 2007 Groth Cabernet Sauvignon Reserve that can really cut a steak, 2005 Henri Boillot Volnay 1er Cru Les Chevrets which is very young/spicy, and 2001 Domaine des Lambrays Clos des Lambrayswhich has closed down a wee bit but is still a pleasure!
We had a great Lunch Bunch 2002 red burgundy outing today with fabulous food! The first course was Warm Mushroom Salad - Polenta Croutons, Grape Tomatoes, Broccolini, Arugula and Manchego Cheese. 2nd was Sous Vide Pheasant Breast - Tarragon Corn Pudding, Sweet Potato Straw and Chocolate Beurre Rouge. 3rd was Marinated NY Steak and Peking Style Pork Belly - Steamed Bun, Crispy Rice Rolls, and Cherry Sauce. Pictures below: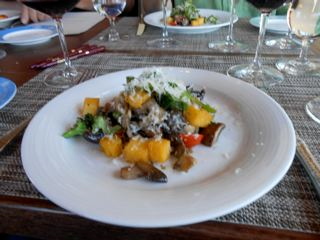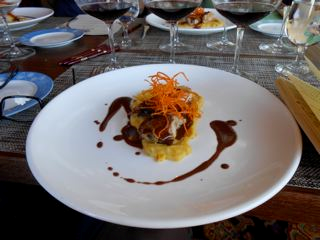 The wines turned out great except for one corker out of nine wines!
2002 Serafin Père et Fils Gevrey-Chambertin 1er Cru Les Cazetiers: This was quite nice to tell you the truth - very Gevrey in style. Full mouth of earthy minerality, lots of red fruits, and airy soft cherry - smoke. Quite persistent on the palate also - enjoyable and got 4th place overall.
2002 Nicolas Potel Charmes-Chambertin: Touches of VA on the nose - several others agreed. High toned raspberries, viscous rich mouthfeel, and good levels of acidity here. A good enough wine but just didn't do it for me - 6th place overall.
2002 Domaine Dujac Charmes-Chambertin: One can sense the depth here if you spent time looking for it. Complex flavors of creamy cherry and flashy raspberry - the fruit here is supported by plenty of structure. Touches of stem spices which is liked! In the end, wasn't very distinguished which is a shame. 5th place overall.
2002 Domaine Marquis d'Angerville Volnay 1er Cru Taillepieds: I really thought this had the most up front nose in this flight for sure - creamy scents of spiced cherries and ripe plums. Savory acidity throughout but just didn't grab me like the last time I had this for whatever reason. This one got 8th place overall.
2002 Nicolas Potel Echezeaux: I got darker aromas and flavors here when compared to the previous wines - black plum and earth driven sappy berries. This one seemed AOK but it just couldn't distinguish itself like a good wine should - maybe to young??? Oh well - 7th place overall.
2002 Alain Hudelot-Noellat Clos Vougeot: Corked - bummer!
2002 Domaine Comte Georges de Vogüé Chambolle-Musigny 1er Cru: I immediately start to look for nice crunchy chambolle creamy fruit when I drink a Vogue aoc or 1er - this one had nice levels which seem to be evening out a bit. A balanced wine for sure - creamy black cherry with nice licks of acidity. Loved the texture here! This one got 2nd place overall.
2002 Domaine Leroy Vosne-Romanée 1er Cru Aux Brulees: Always a pleasure drinking one of these Leroy bottles. Balanced acidity with a satin laced nose of spiced cherries, touches of medium roast coffee, and other lovely pinot fruit. I liked this very much like this one - got 3rd place overall.
2002 Jacques Prieur Musigny: Still very young at this point but was still giving enough to take the #1 ranking. I fell in love with the '06 version of this one last year and I'm slowly becoming a fan of this wine. Balanced wine throughout - roses, perfumed spices, touches of savory plum fruit. Loved the levels of minerality here which bodes well for the future. Loved it!
1963 Warre Porto Vintage: A nicie thrown in to finish out the lunch. Touches of citrus rind, caramel, fresh plum fruit, lots of savory acidity and lovely texture.
CHEERS