Tech (a.k.a., Maritess) & Jamie, and, Mich & Ron are in town for the holidays, so, the Doc and I, together with our wives, had our regular dinner get-together with them last night at old favorite, Je Suis Gourmand. Earlier that evening, I stopped by The Goose Station for a quick drink (or 5) with the Usual Suspects (which will be subject of a subsequent, short post).
L-R: My wife, Mrs. Doc, Doc and Ron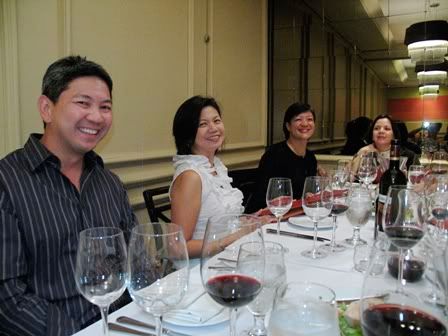 Jamie, Tech, Mich and my wife
Mrs. Doc, efficient as always, had already ordered up an assortment of appetizers (two orders for some of them) for sharing by the time I arrived:
Marc Aubry's signature Terrine of Duck Foie Gras w/ Salad & Melba Toast
Tarte aux Oignons Alsacienne
Flammenküche (a.k.a., Tarte Flambée)
Os à Moelle (a.k.a., Bone Marrow)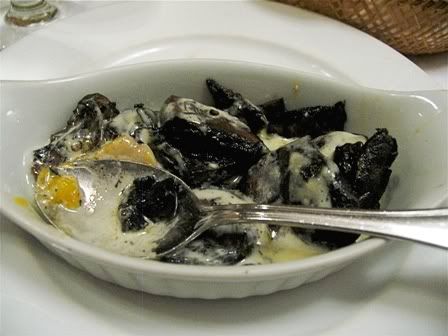 Portobello with Oeuf Cocotte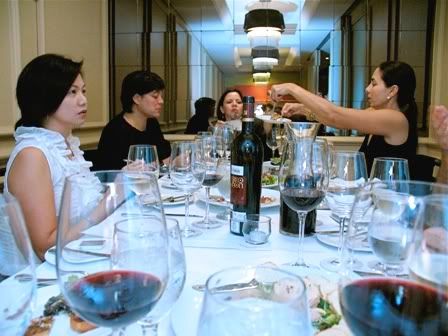 With these, I opened a bottle of dry German riesling recommended to me by J-Lab (the Usual Suspects' official German wine expert).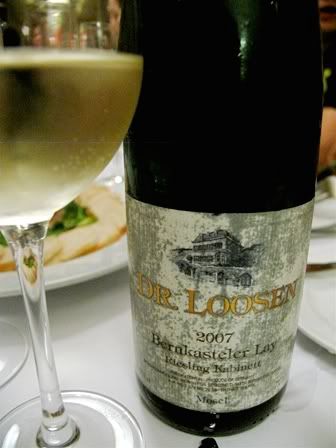 2007 Dr. Loosen Bernkasteler Lay Riesling Kabinett - My bottle, from Germany's famed Mosel Valley. I had never tried this before, but brought it along because: (1) I know 2007 is an excellent year for German rieslings (upon release, Berlin-based chef, Martin Barz (Zwick), enthusiastically recommended them to me); (2) Doc, Mrs. Doc and my wife like German rieslings (plus Doc favors kabinetts for apéritifs); and, of course, (3) J-Lab assured me it was good.
The wine was, indeed, well-received. It's fresh, light, bright, playful, off-dry, low alcohol peach, apricot, quince flavors infused with precise minerality were made bright by healthy acidity. Good focus, very quaffable and, thus, an ideal apéritif, particularly with the rich foie gras and the salty lardons of the flammenküche.
For my main course, I had the always pleasing and wine-friendly old reliable, Beef Onglet with Frites. It was Doc who turned me on to this dish - before then, I generally eschewed hanger steaks. Marc's version, however, is robustly flavored, nicely gamey, a bit chewy yet tender, well-caramelized and topped with deliciously savory-sweetish caramelized onions. Aside from Doc and I, it is also a favorite of the Stockbroker, J-Lab, Keiichi and Miguel.
Beef Onglet with Salad and Frites
With this, I enjoyed two reds:
1995 Dunn Vineyards Napa valley Cabernet Sauvignon (Magnum) - Doc's bottle. As stated in my post on the 2005 Long Shadow Vintners "Feather" Columbia Valley Cabernet Sauvignon (also made by Randy Dunn): "I became aware of (Randy Dunn) because of Tina Caputo's short documentary entitled "Robert Parker's Bitch" (nb: made for Vineyard & Winery Management Magazine), where Dunn bravely lambasted the US Emperor of Wine…"
Dunn was very outspoken against Parker in that "documentary". In this connection, however, I've read comments by old Napa cab hands to the effect that Dunn's wine-making style is actually in the same style he complains that Parker has, because of his vast influence, caused to become prevalent. I don't really know about that, but I do know that Dunn's wines, in the past, have enjoyed hefty scores from Parker. Whether or not that high-point regime ended with the airing of Dunn's comments is unknown to me.
In any event, this wine is smooth, velvety, dark, with a serious/somber character in its quietly full-bodied, somewhat brambly, well-ripened blackcurrant, crème de cassis, bit of black cherry, cigar tobacco, and underlying black coffee flavors. Toffee/cinnamon/toasty oak-vanilla notes are more readily apparent towards the back and in the finish, but are not at all obtrusive. Nice balance. This is a very good Napa cab - one I definitely liked and that went very well with the beef Onglet - easily matching the dish's power, yet in a subtle manner. Good show.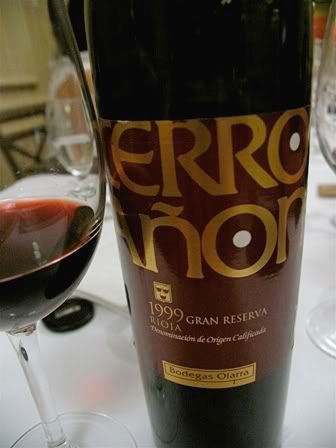 1999 Bodegas Olarra Cerro Añon Gran Reserva Rioja - My bottle; one I really like and have been drinking a lot of lately. My last notes are very recent, from just 6 days ago, at the Alabang Group's Christmas Dinner 2009:
1999 Bodegas Olarra Cerro Añon Rioja Gran Reserva - my bottle, of which I, unfortunately forgot to photograph. I've written about this a few times, the last being at > a WSCP event on the 28th October 2009> . Last night's bottle I decanted for around 1-½ hours before serving.Willy admired its "complex nose" and noted scents of licorice, violets, cedar and vanilla in its dark fruit. On the palate, he described this shades-over-medium body Rioja as "complex and graceful". I couldn't have put it better myself. I purchased the last case of this from Terry's Selection. JC de Terry now has a new vintage of this wine available, but I've yet to try it out. Rest assured I shall post on it when I do.
For dessert, Mrs. Doc ordered a couple for everyone to share: French Apple Tarte and Strawberry Cheesecake (sorry, I forgot to take photos of them). For myself, I had an order of Dark Chocolate and Walnut Ice Cream - not sweet, not overly rich, very understated but definitive dark chocolate and walnut flavors. Loved it.
As always, Tech kept us all in stitches with her animated stories, quips and antics. She's a show unto herself. I imagine Jamie and their kids really don't need cable tv with Tech at home.
It was a fun night. Great to see Jamie & Tech, Mich & Ron again; and, of course, always a pleasure dining with the spouses Doc.