Will you be attending the video session?
Hey folks!
With all the fun video chatting we've been doing, something exciting came up! Kevin Sidders reached out and asked if Wine Berserkers might want to put together a video session with Marc Hochar of Chateau Musar, and I was happy to set it up for this Saturday!
Details will follow in terms of login info (Zoom) but it will be held Saturday, March 28, 3pm Pacific/6pm Eastern
I'm going to do a poll here to do a count on how many plan to attend. This one will run differently than others, as I will have everybody MUTED upon entry, and you will have to use the chat system to 'raise your hand' and get one of the hosts to un-mute you to ask a question, provided we have more than 10 people which I think is extremely likely. In the past, 10 is really the max before the audio issues start making a mess of things, and people talk over one another, etc.
Please vote below 'yes' (I had to put 'no' there as well as it requires two poll options) if you plan to attend, so we can get a rough estimate.
NOTE: I also posted this as an event on Facebook, in the Wine Berserkers page there. Please vote only here or there (not both) if you plan to attend
RULES/FAQ/SCHEDULE
We had our practice session this morning to come up with a game plan, and everybody's excited for the event. I wanted to go over a few details so everybody knows how it will work, as we needed to make this a bit different from the normal social video gathering, due to the larger number of people attending.
Schedule:
I'll welcome everyone and introduce the VinConnect team as well as Marc to everyone, then turn it over to Jon. Jon will speak a bit on Chateau Musar and allow Marc to introduce his forthcoming releases in detail. We'll then move to a Q&A session, which is outlined as follows:
Everybody will be muted upon entry. Jon and I will be moderating questions, and if you have a question, don't bother speaking, as nobody will hear you until we unmute your screen.
To ask a question, use the Chat function (visible on the lower section of the screen, and I'll be posting chats to the whole group so it is easier to see, as once I submit a chat, an alert will pop up on your screen. That chat window should stay open the entire time, so you can track what others are asking, etc. It would be easier if you start with 'Question for Marc' but it's not necessary.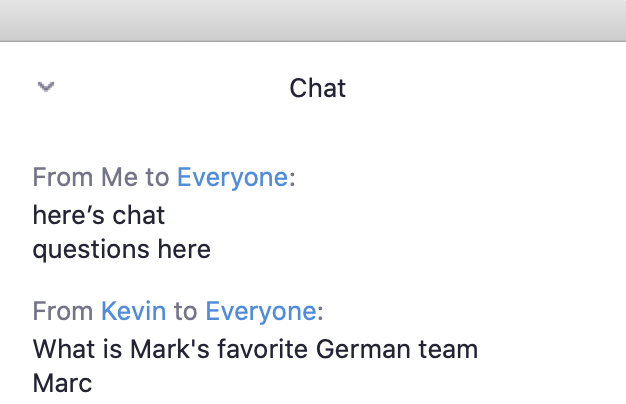 Here's an example of a chat, from our practice session today. Be sure when you chat that you are addressing either Everyone or one of the hosts (me or Jon, and it is indicated next to our names, i.e. Todd French (host) so it's easy to find) It's preferable that you chat with EVERYONE, however, as we assume some will have the same question.
We will call upon you to ask your question out loud, so wait for us to direct you. If we get a backlog of questions, we may chat with you privately to let you know where you are on the queue. Once we announce you, we'll unmute your account and you can talk directly with Marc. Once finished, we'll mute your account again and move on to the next person asking a question.


TIPS ON USING ZOOM:
Virtual Backgrounds - while they are fun, and when people see them, they all want to play around with them, it messes up your appearance on video, slowing it down and making it choppy, so if you plan to ask a question, don't use a Virtual Background. We are all stuck at home, so everybody realizes we've got bookshelves and the like

Remember you are muted, but we CAN see you, unless you stop the video on your end. If you do, and you plan to ask a question, be sure to start it back up.

There are two view modes - Speaker View and Gallery View. I like Gallery View as you can see everybody on the screen at once (only on a computer or large tablet - if you are using a mobile phone, you have more limited options on who/what you can see) so choose your favorite.

I can address some technical/IT questions via chat, but NOT on screen/video as we need to control that a bit better, particularly because this is being recorded


Questions? Feel free to ask now! See you tomorrow! (We've got over 50 RSVPed for this, so it will be a huge group)
LINK FOR THE MEETING:
Join Zoom Meeting
https://zoom.us/j/989228969
Meeting ID: 989 228 969