Figured I'd get a thread going for people's notes and impressions for the Gala dinner. First a couple of thoughts (note this is copied from my identical thread on the Vinous boards):
Thank you to Marzia, Antonio, James and the entire Vinous team for putting this incredible evening together. I know its an incredible undertaking and we all really appreciate the effort. And kudos for raising a TON of money for childrens cancer, just tremendous.
This was the most fun Gala dinner that I recall. Once the party got going and people started wandering around mingling, is when it really gets a lot of fun. For all the people who I was able to see again and reconnect with, I probably missed twice as many, but overall just a blast. And the most fun part of the night by the way is when everyone started hanging out at the bar at the end drinking Champagne to cleanse the palate…also the part that hurt the most the next am!
My impression is that the producers really enjoyed being here. From conversations, most of them took the opportunity to spend a few extra days in New York City and really enjoy the best that the city has to offer. Its great that this is an excuse for them to all come out here and have some fun.
Del Posto did a very nice job with the service. They shine on the pasta courses for sure. I'm not one to gripe, and this isn't a big one, but the two story nature of the room is one drawback of the location. Because we were upstairs, it made it harder to really mingle with everyone downstairs without straying too far from the table. That is where the old Four Seasons really stood out. The somms also did a tremendous job.
Some people will complain - what a waste of so much good wine. It always happens. To that I'll relay what Carlotta Rinaldi told me the following morning. She couldn't get over the generosity and spirit of sharing at our table (and others) and was unbelievably grateful to have an opportunity to try so many reference point wines. She shared that they rarely have an opportunity to drink wines like this and its an incredible experience for them. And that said, its a great occassion to share many great wines with incredibly passionate people.
I'm definitely not going to post detailed notes but some super quick impressions of the wines I was able to taste. We sat at the G Rinaldi table with Carlotta Rinaldi. She's really wonderful, super outgoing and really smart. She brought her boyfriend Tom (a delightful Kiwi) with her and her NY importer, another great guy, Dom from Vinifera, whose family has been working with the Rinaldis for generations. Carlotta was super generous and brought a number of magnums to the tasting (the 99 and 01 were really shining by the way):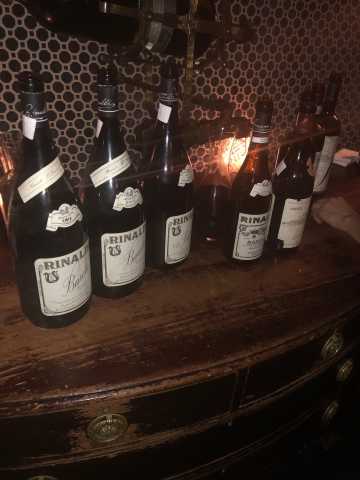 Also joining us at the table was a group of Nebbiolo loving Napa winemakers - Thomas Rivers Brown, Tony Biagi and Matt Courtney. Our friends Michael and Mary Silver. And another lovely couple from Jackson Hole, the Stouts. We had a tremendous lineup and as many of the wines were pre-opened, not much failure rate either. We started off going oldest to youngest and mixed some flights up based on vintage or producer. In order as much as I can recall…
1952 Cantina Mascarello Barolo Riserva - one of the wines of the table, lucky the cork was covered with mold, but was intact, and the wine was just great
1958 Giacomo Conterno Barolo Riserva Monfortino - good but not perfect example of the wine, the pregiati was the better of the pair tonight
1958 Giacomo Conterno Barolo Riserva Vini Pregiati - excellent acidity, classic rose nebbiolo notes, very good
1971 Giacomo Conterno Barolo Riserva Monfortino - phenomenal, one of my wines of the night, like usual wine shows lots of life left, good menthol notes, excellent
1967 Giacomo Conterno Barolo Riserva Monfortino - this was served side by side with the next Giacosa. more dark fruited than the other monfortino, showing "late in life" but very good
1967 Bruno Giacosa Barolo Riserva Collina Rionda - just wonderful, have had this a few times and this was consistent, the only mature CR Riserva. A tribute to the man, still showing sweetness, beautiful
1971 Gaja Barbaresco Sori Tildin - one of my wines of the night. Last year this was the wine of the table, so I brought it again to try for a repeat. We didn't vote this year, but this was in the running. Easily the best of the Gaja flight, exquisite
1971 Gaja Barbaresco from 3L - apparently there was another corked one floating around, but ours was great. Not as interesting as the sori tildin, but delicious and typical of a 71 Gaja.
1967 Gaja Barbaresco Sori San Lorenzo - this was really a great flight, this wine performed the best of any time I've had it, but to me the 71s just outclass. Very good though
1974 Giuseppe RInaldi Barolo - I brought this since I knew we'd be sitting with Carlotta. Absolutely tremendous. Has the most unbelievable mint notes. Great color. She was blown away.
1964 Giuseppe Mascarello Barolo - this was very good, but I didn't get a ton of complexity
1989 Gaja Barolo Sperss - part of a flight of 89s and 90s - this was from magnum, total knockout. Gorgeous
1989 Giuseppe Rinaldi Barolo Brunate - wow, this was exquisite as well. with the Gaja as the easy wine of this flight
1989 Bartolo Mascarello Barolo - weakest of the flight, tasted quite oxidative
1990 Bruno Giacosa Barbaresco Santo Stefano Riserva - just awesome, classic Bruno in the zone
1978 Vietti Barolo Rocche - Luca and Elena happened to wander up just as we were about to open this one, so a happy coincidence, and the wine was to their liking! Powerful, complex, stunning.
1971 Vietti Barolo Briacca - Luca pulled me downstairs to try this. He was so excited because he said he hadn't had it since he was like 18 years old. Really beautiful and classic notes from a great vintage.
At this point the formal dinner was over and everyone started wandering around and just lots of great fun and conversations to be had. I'll share a few photos as well.
The tablescape…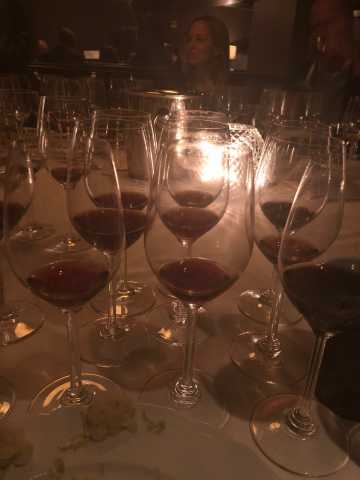 A few local Piedmontese that you guys might recognize alongside myself…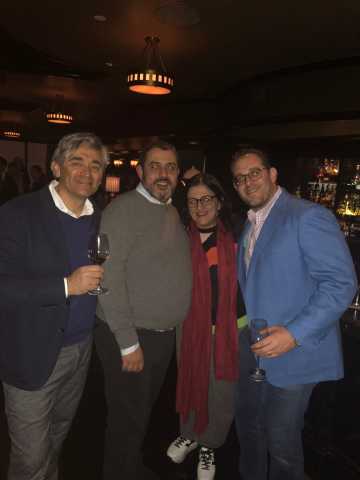 Myself along with Clay McLachlan and TRB…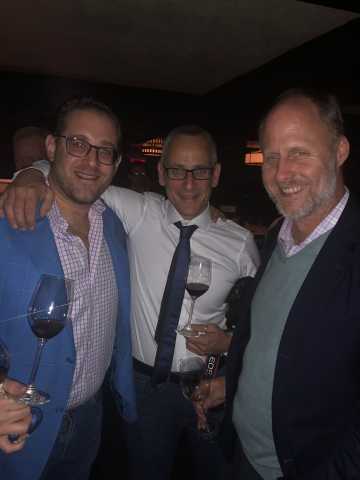 Phew, I'm tired just writing this! Again, thanks to the Vinous team for putting this great night together. Truly a blast. I will remember it fondly and look forward to sharing great times and great wines again with the Nebb loving community next year. Happy Super Bowl Sunday!