BERSERKER DAY 2018:Hello Old Friends… Really Good To See You Once Again…We are honored to participate in another Berserker Day. Thanks for your past support (all of our previous BD offers have sold out) and we hope you like this year's offers. Karen will be online most of the day if you have any questions or issues ordering.
Cheers and thanks in advance!
Karen and John
*** * * * * * * * * * * ***
SOLD OUT: OFFER 1: "74-41" NAPA VALLEY CABERNET SAUVIGNON VERTICAL 3-PACK
OFFER CLOSED: 2014 "74-41" NAPA VALLEY CABERNET SAUVIGNON 3-PACK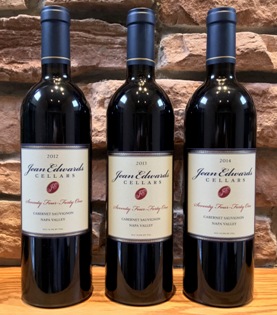 3-PACK INCLUDES: 3-750ml 2014 VINTAGE
We pay homage to our east coast roots by naming this 100% cabernet sauvignon wine "74-41" representing the coordinates of our New Jersey residence. We blend a combination of our mountain and valley floor fruit in this wine from:
Stagecoach Vineyard (Pritchard Hill)
Baconbrook Vineyard (Spring Mtn)
Broken Rock Vineyard (foothills of Atlas Peak)
Aged in 100% French Oak (22 months in 75% new oak). This wine consistently has a profile of dark black/blue fruit, cassis, cola and currants yet the vintage influence shines through.
Some Accolades:
2014 - CT Avg. NR - (no numbers in CT yet but some great reviews) - also served at the James Beard House
Past vintages (2006-2013) CT Average 92 pts.
For more info on the wine please click on this link: https://www.jeanedwardscellars.com/74-41-cabernet-sauvignon.html
ORDERING/SHIPPING:
Most states are in a weather hold. We monitor weather closely and as soon as we see a window of opportunity to ship we will reach out via email regarding timing.
CLICK LINK TO ORDER: sorry link no longer available


*** * * * * * * * * * * ***
OFFER 2: JOIN OUR "FAITHFUL FRIENDS" WINE CLUB - IT'S BERSERKER DAY ALL YEAR LONG!
Here's a way to experience Berserker Day all year long - by joining our most popular wine club "Faithful Friends". Faithful Friends members receive a 20% discount throughout the year (not just on club wines) - that means each time you order with us your discount is applied. Here are some benefits:
Two 6-bottle shipments per year (spring and fall)

You have options – we suggest the wines but you may customize and adjust selections (club price will be adjusted based on your selections).

Wine Club members receive new wines first (often available to club members months in advance of our vintage release) and some wines are only available to club members (or at our tasting room).

Your first shipment will be this Spring and include these not-yet-released wines:
2015 Stagecoach Vineyard Cabernet Sauvignon-Pritchard Hill (2 bottles)
2015 Rutherford Cabernet Sauvignon (2 bottles)
2015 Yates Family Vineyard Cabernet Sauvignon-Mt. Veeder (1 bottle)
2015 Cooper's Cuvee (Oaklee's Blend)-Napa Valley (1 bottle)
- The above club shipment retails for $440 - as a Faithful Friends member you pay only $352 for the wines. That's 6 bottles of premium Napa Valley wine for a bargain price!
And, to sweeten the deal for Berserker Day join today and we are adding free shipping on your first club shipment. (Shipping charges are normally a $20 flat fee on 6 bottle club shipments).

By joining you'll also receive free tastings in our new Sonoma Tasting Room (for you and 1 guest); invitations to special events including our grand opening event on 2/18/18; and if you would like to pick-up your club shipment at the tasting room we can arrange that too.

The club commitment is one year (two club shipments).
So if you like Berserker Day discounts - this is the club for you - it's like Berserker Day but all year long!
CLICK LINK TO SIGN-UP OR LEARN MORE:
https://www.jeanedwardscellars.com/join-faithful-friends-wine-club.html


Viisiting Napa or Sonoma? Stop by our new tasting room on the historic Sonoma Square:
29 East Napa Street, Suite C
Sonoma, CA 95476
(707) 935-5952
Sun-Thurs: noon to 6 pm
Fri- Sat: noon to 7 pm