****Special Offer: 50% off our Prestige subscription for 1 year with code BD2022
****EXTENDED until January 31st, 11:59pm ET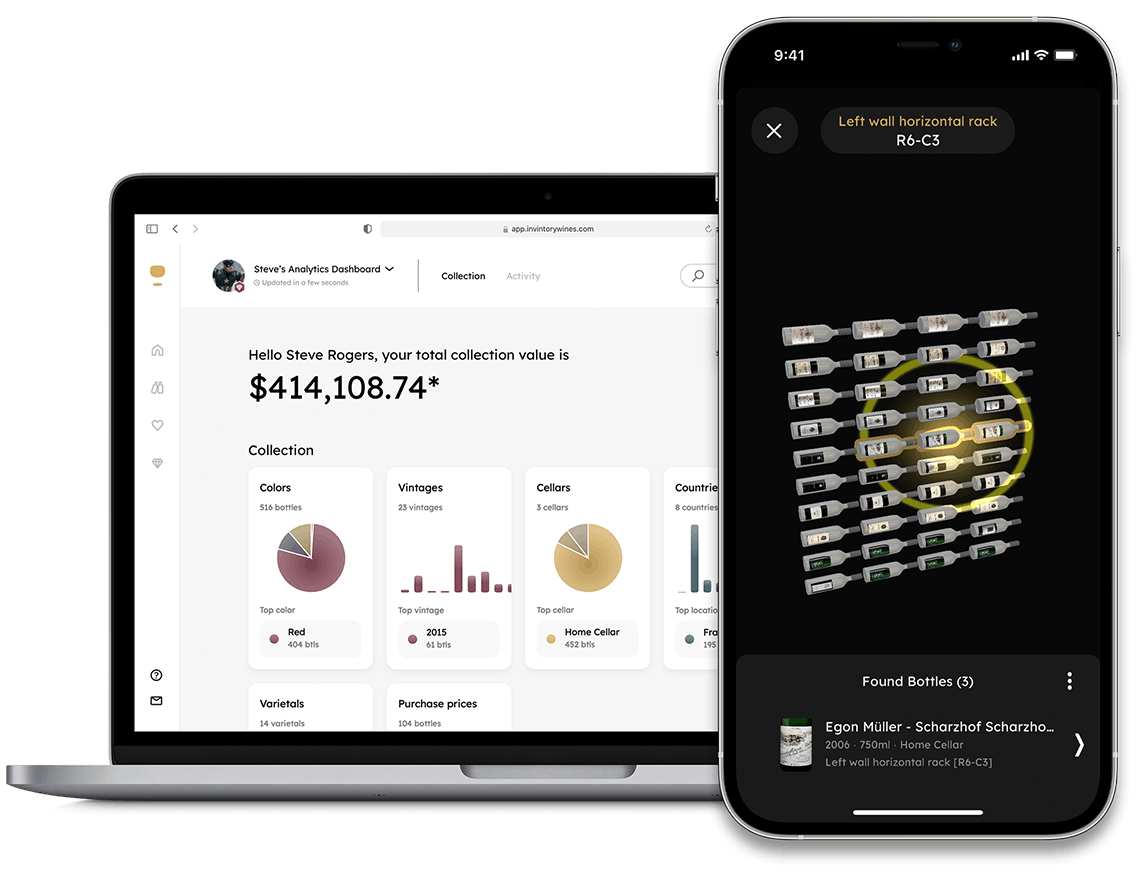 Built for wine collectors by wine collectors, InVintory is an all-in-one solution on iOS, Android, and web to keep your collection organized, find your bottles, and access all the information you need, using powerful technology and intuitive design.
Our Prestige subscription (regular price: $9.99/month or $99/year) gives you access to our cutting edge VinLocate feature.
VinLocate is very simple. There are just three steps:
Build a custom 3D model of your wine cabinet or cellar → Assign bottles to slots → Find any bottle at the tap of a button.
Prestige also includes advanced features, such as:
Market values (for individual wines and your total collection), sourced from Liv-Ex, WMJ, and Wine-Searcher



Advanced analytics on your cellar by color, country, vintage, price, as well as activity trends on what you've consumed, added, and spent.



Transit list to get alerts on pending shipments, like new allocations or Bordeaux futures
Beyond that, our free app provides myriad features to make managing your collection as easy as possible - create multiple cellars or fridges, add unlimited bottles, print bar codes, share your collection with collaborators with various levels of permissions, track a wishlist, capture memories, and more.
How To Access the Offer
Go to https://invintorywines.com/ and click Get Started to create an account



During Prestige checkout, enter code BD2022



Download the app on your phone and you're set!
Watch a recording of our live demo
Click here to watch Josh Daiter, CPO, go through the app from top to bottom, highlighting in particular our flagship VinLocate feature to create a 3D cellar and find your bottles in an instant: https://us06web.zoom.us/rec/share/TXvab7ghJ2uEJreAArfnaR5XHbzrNdEJcK5bgXtRy0ZFkwezGjIbiZijFUvvHB09.bqFXwD3qtVToWf1q
FAQs
My collection is housed elsewhere. How do I get it onto your platform?
Getting your wines into InVintory is a snap. We handle the entire import process for you.
Once you've signed up, you can import your collection from another platform or send us any spreadsheet. Once we receive it, our in-house team of Certified and Advanced sommeliers will review your wines and match each one to the corresponding one in our database to ensure its accuracy.
It typically takes us about 48 hours to complete an import, so send your collection our way, sit back, pull a cork, and let us do the work.
I have a pretty unique cellar or fridge/cabinet configuration. Can VinLocate handle that?
Absolutely. We've created multiple functions to customize VinLocate so it looks as "real" as possible. We have many built-in styles of rack, bin, and fridge shelf as a basis of the feature - for instance, grid, lattice, or shelf racks, and diamond, cross, or triangle bins. But you can customize even further. For instance, you can delete or hide slots to create various shapes when you build racks (i.e. if you have a wine wall under your stairs), you can change the direction of bottles, which is especially useful for wine fridges where we all have to get creative to make bottles fit!
Do you have a big database of wines? And is it accurate?
We have millions of wines in our database, so the short answer is: yes. If you have a wine in your collection, the odds are good we'll have it too. The only exception is hyper-local wines (we recently imported a spreadsheet of all local North Carolinian wines - many of those we did not have.)
The quality of our data is also very high. We made the decision not to crowdsource our data. Instead, we have a team of Certified and Advanced Sommeliers who oversee the database and review every wine that gets added, including the label image. They'll update information on producer, region, and pairing, and then we also pull market data on the wine's market price from Liv-Ex, WMJ, and Wine-Searcher (if a market price exists on these platforms). Our somm team is currently working on updating drink windows, but you can always update the drink window yourself as well.
How can I be sure you won't lose my data?
All our data is stored on the cloud with multiple redundancies, so you will not lose your data.
Unlucky 13 Bonus Offer
To celebrate Wine Berserkers' 13th anniversary, one subscriber will get their entire first year of Prestige for free!
To be eligible, subscribe to Prestige with the offer code above and comment on this thread. We'll announce the winner on February 1st once the promotion has expired.
The InVintory Origin Story
There's nothing worse than losing track of a nice bottle, only to find it years later when it's well past its prime.
Well, almost nothing…
Jeff Daiter kept losing track of where his wines were, and once day was frantically searching in his wine fridge for a bottle that was "supposed" to be there. Pulling out shelf after shelf, he suddenly caught sight of a bottle starting to roll and before he could react, it crashed to the floor and shattered. And of course, it was the very bottle he'd wanted.
Frustrated by the challenge of finding bottles, he turned to his son Josh - a computer engineer - and together they built a fledgling app over a weekend during a family vacation. Jeff liked it for his personal use, but then his friends caught wind of it…and they wanted it too.
Jeff and Josh realized they may have a business on their hands, so assembled a team of designers, developers, and sommeliers, and built InVintory into what it is today in collaboration with a beta group of 60 collectors.
The primary problem they solved for was the challenge of finding bottles, which led to VinLocate - an entirely visual way to find bottles instantly in 3D. But as they got going, they realized there were plenty of other challenges collectors faced, mainly the difficulty keeping a collection inventory up-to-date, so they prioritized an intuitive design with multiple convenience features (like setting reminders for consume notes) to ensure it would be easy for users to keep track.
InVintory truly is a wine platform built for collectors, by collectors. We're looking forward to sharing it with the Berserkers community!