Foodies,
This evening, I agreed to spend the evening making my homemade granola for a friend which I have previously posted about on these forums to show her how much better and easier it would be to make her own customized granola as opposed to buying the expensive pre-packaged organic granola at Whole Foods.
In a perhaps slightly ironic twist, I ended up running behind and in the interest of saving time offered to pick up some takeout at the Whole Foods near us of which I have previously posted about that opened recently.
Now I'd be lying if I said I wasn't excited. It's one thing to peruse the takeout section but once you're actually committed to buying it becomes a much more enticing experience. So what did I pay and what did I get for my hard-earned sadly below $1 US in value Canadian dollars?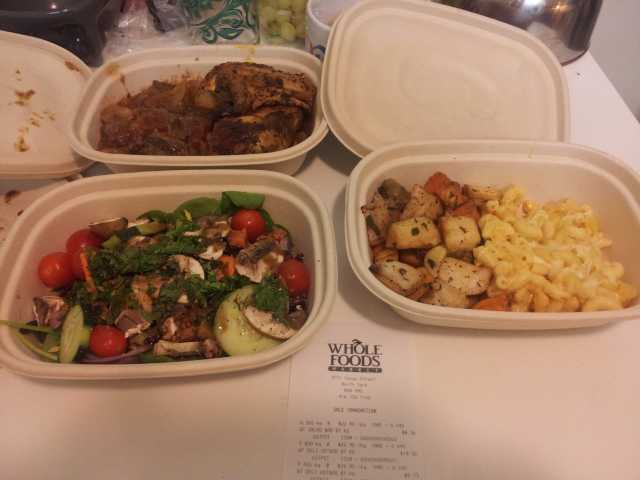 Actually, it was pretty reasonable and I'd even go so far as to say a very good value given both the very high quality of the food and the convenience provided. The total damage was $36.31. Broken down specifically, the salad cost $8.36, the sides cost $9.73 and the mains cost the most at 18.32. It was also quite a fair amount of food. As you can see in the pic, I got three single person recyclable meal containers worth to make a decent meal for 2 persons. One was from the cold salad bar and the other two were from the hot plate stations.
The salad I managed to put together was quite substantive: fresh spinach leaves, cucumbers, cherry tomatoes, tomato quinoa tabouleh, mushrooms, red onions, chick peas, mint, coriander, crumbled blue cheese and balsamic dressing.
For the main courses, I chose the pot roast casserole and two pieces of BBQ chicken. For the sides, I chose some roasted herb root vegetables and macaroni and cheese. Fortunately, everything was freshly loaded for the dinner rush. So how much was the damage?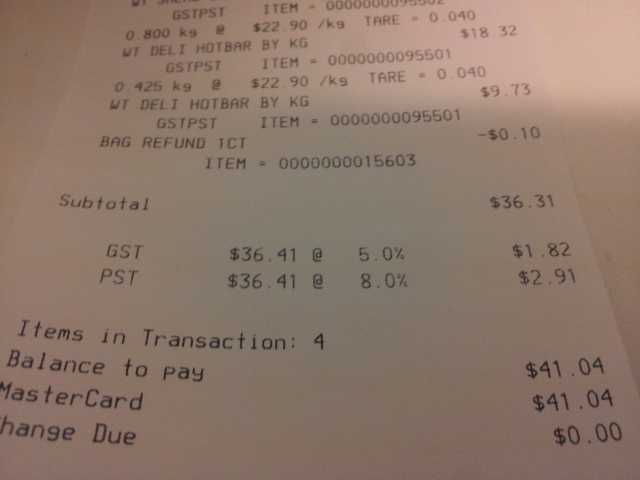 So actually it wasn't too bad and I'd even say a pretty good deal overall when considering the high quality of the food and the convenience provided. The overall price for all hot bar and salad bar items is $22.90 per kg. I'd say the salad and sides were the best deals considering what you get for the price whereas the mains were the least value given how much less food you see in the top left container in my photo.
However, the real value in the entire meal came when I arrived at my friend's house at 7 PM. I went to work on the granola right away and had it in the oven at 7:28. At 7:30, we were downstairs in her TV room watching Jeopardy with two TV trays full of food and two glasses of wine. The only reason it took us so long to get from the kitchen to the TV room is that I had to spend one of those two minutes in between gently nuking the food in her microwave to warm it up a bit more again.
I think $40 for a pretty good takeout meal and a nice evening in with the telly was worth it. However, I can see how people could easily get sucked into making a regular habit out of this and losing their entire paycheck to the place. One thing I should mention: I deliberately skipped the fresh bread and soup stations which would have substantially altered the cost and value of the meal. As it was, there was a fair amount of leftovers my friend's professor boyfriend who had to teach late at York University and would be coming home well after I had already departed for the evening.
So Whole Foods, you have sucked me in to the paycheck sapping void that is your ready to go foods section. Like all addictions, it always starts with the very first time… $$$$$… Ka-Ching. I think a weed habit might be less expensive to have.