Two "Short & Simple" BD10 Offers from Harrington Wines
The Story: Keeping it short
Harrington Wines was started in 2002 with a focus on old-vine, organic and sustainably-grown Pinot Noir. Since 2008 we have been digging around California's back-country for forgotten viticultural gems with good bones and tended to by prudent, mindful growers. Recent discoveries include Schiava, Corvina, Trousseau, Freisa, Alvarelhao, Mission, Aglianico, Sagrantino and Nebbiolo. In the winery, we steer clear of all the techno hocus-pocus and stick hard by the basics with an aim to produce lively, focused wines with an open, generous spirit. In 2015, a trip to Italy was made in association with UC Davis to locate, collect and import new and rare European varieties to the United States. The first of these new selections are now being planted in various California vineyards.
The Offer: Keeping it simple
There will be two 4-pak offers this year: a 4-pak of the best of the current releases and a second 4-pak of lighter-bodied, summer-drinking, not-yet-bottled 2018 wines to be released and shipped later in the spring.
Both of these offers are discounted more than 20% for BerserkerDay only.
"Spring Fling" 4-Pak
2018 Ribolla Gialla, Clements Hills, reg. $35.
2018 Corvina, Calleri Vineyard, San Benito County, reg. $25.
2016 Alvarelhao, Sumu Kaw Vineyard, El Dorado County, reg. $30.
2018 Mistero, Sumu Kaw Vineyard, El Dorado County, reg. $35.
Regular Price $125; BerserkerDay Price: $95.
"The Favourites" 4-Pak
2017 Trousseau, Siletto Vineyard, San Benito County, reg. $30.
2017 Cabernet Franc, Cedar Crest Vineyard, Manton Valley, reg. $30.
2015 Nebbiolo, Luna Matta Vineyard, Paso Robles, reg. $35.
2017 Syrah, McEvoy Ranch, Marin, reg. $35.
Regular Price $130; BerserkerDay Price: $100.
To acquire one or both of these offers, go to the PURCHASE page on the Harrington Wines website: http://www.harringtonwine.com/purchase/
Once there, click on the appropriate ADD TO CART button directly under the offer of your choice.
Taxes (CA only) will be added.
Shipping:
$22.00 per 4 bottle shipment: California
$25.00 per 4 bottle shipment: Arizona, Colorado, Idaho, Nevada, New Mexico, Oregon, Washington, Wyoming
$30.00 per 4 bottle shipment: Connecticut, Florida, Georgia, Hawaii, Illinois, Indiana, Iowa, Kansas, Louisiana, Maryland, Michigan, Minnesota, Missouri, Nebraska, New Hampshire, New York, North Carolina, North Dakota, Ohio, Rhode Island, South Carolina, Texas, Vermont, Virginia, West Virginia, Wisconsin, New Jersey, Maine, Maryland, Tennessee, Pennsylvania, South Dakota, Massachusetts, Washington DC
Sorry, we cannot ship to UT.
The "Spring Fling" offer will not ship until April. The "Favourites" offer will be shipped immediately or kept back for appropriate shipping temperatures. You will be contacted before shipping.
Any questions, please call me, Bryan Harrington @ 415.652.9655 or email: bh@harringtonwine.com.
See info on all the wines below!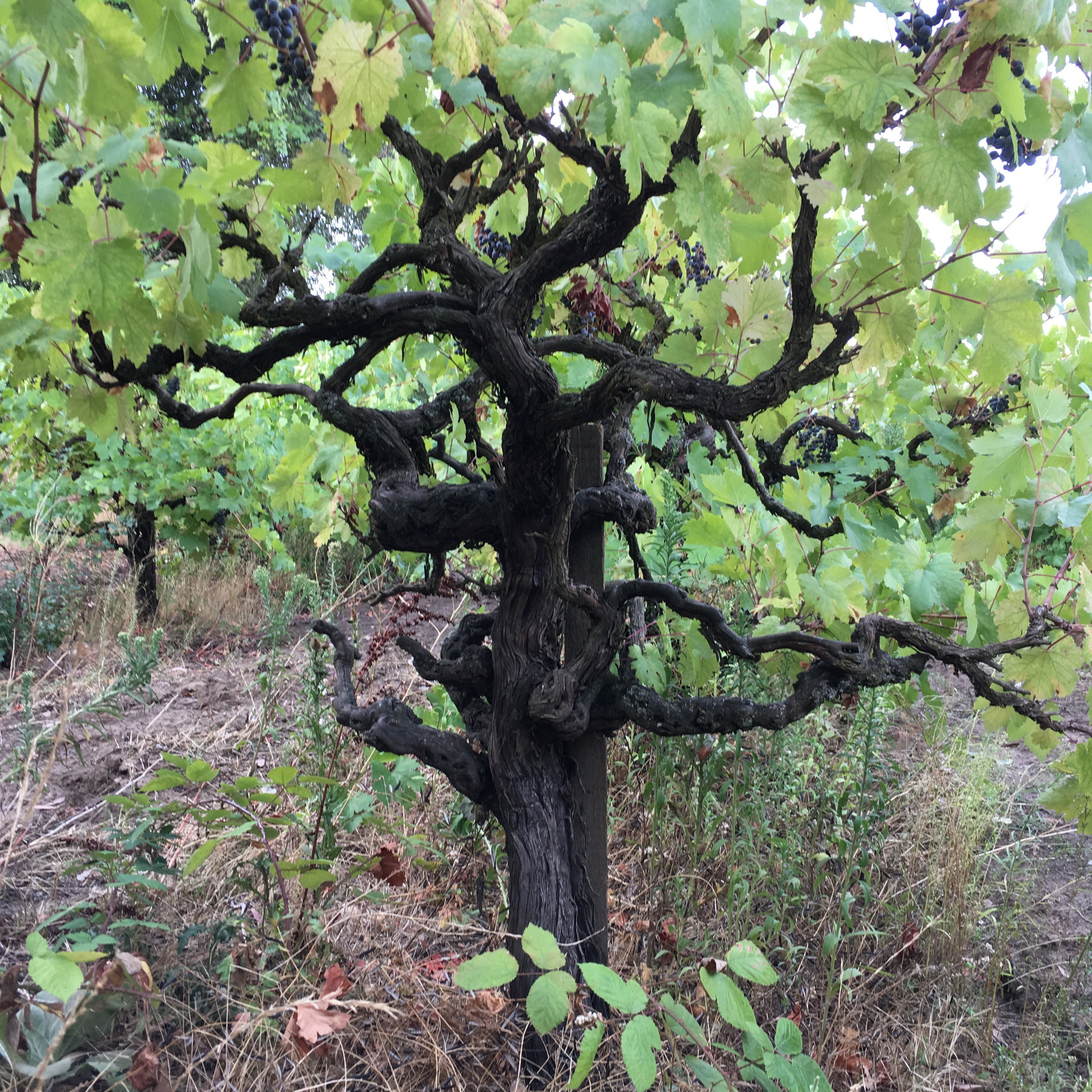 "Spring Fling"
Ribolla Gialla: Originally form the Friuli region of Northern Italy, Ribolla is a high acid grape often used to add structure in blends. This wine was fermented on the skins and the wine is currently being aged in an Italian amphora. Unexpectedly rich for Ribolla, you will find the wine has surprising depth with aromas of pear skin, honeydew melon and almonds and round, juicy flavors of yellow peach, apricot and spiced cider.
Corvina: Corvina is a red wine grape known as the key constituent of Bardolino, Valpolicella and Amarone wines. With little color in their skins, Corvina-based wines tend to be bright, transparent red in color but are deceptively rich in body with spicy, complex aromatics and flavors. Expect aromas of wild strawberry, crushed rose petal, cherry liqueur, hibiscus and flavors of raspberry, cherry tobacco, quince, cinnamon, raw almond and wet stone.
Alvarelhao: The 2016 Alvarelhao was sourced from Sumu Kaw Vineyard, a red volcanic soil site at 3000 feet elevation near Placerville. Alvarelhao is a very shy producer so it is disappearing from the vineyards in Portugal and Spain where it is known as also known as Brancellao. In the past, Alvarelhao was often used as a blending component in Port wine. This wine, however, was fermented to dryness. The wine is highly aromatic, extremely fresh and bright with transparent floral and mineral components. The crisp acidity and tannic structure makes the wine ideal for the table. All in all, a very drinkable wine, full of surprises.
Mistero: Speaking of surprises, in 2015 we brought back cuttings from vines thought to be Nerello Mascalese and Carricante from a vineyard on Sicily's Mt. Etna. The cuttings were quarantined for 2 years at UC Davis then planted at Sumu Kaw Vineyard in the Sierra Foothills. After a year in the ground, DNA testing found the Carricante vines are actually Grenache and the vines thought to be Nerello Mascalese are a completely unknown variety. This "pseudo Nerello" does not match any of the 28,000 grapevine varieties in the viticultural DNA database. Grapes from this vine and the Sicilian Grenache clone were fermented whole cluster to create this singular and absolutely delicious wine which is truly a "mystery of Mt. Etna."
"The Favourites"
Trousseau: Lovely expressions of this grape are found in the Jura region of eastern France and Northern Spain. Extremely rare in California. Expect aromas of dried rose petals, cranberry, black currant, crushed leaves with flavors of strawberry, cherry compote, black tea, pepper and bramble. Medium-bodied, structured with fragile tannins, and a savory grip. Ageable and complex.
Cabernet Franc: Don't know where Manton Valley appellation is? You are not alone. This wine was sourced from an organic vineyard located at 3000 feet high on Lassen Peak. The volcanic soils plus the high elevation produce a bright, fruit forward, high acid wine with ringing flavors.
Nebbiolo: Sourced from a Paso Robles limestone-rich vineyard, Luna Matta, this Nebbiolo is aromatically layered with hibiscus, black currant, baking spice and cherry pipe tobacco. Flavors of blackberry, Empress plum, black tea, clove, loamy earth. Firmly structured with significant grip. A rare, new world expression of Nebbiolo.
Syrah: Idyllic vineyard on the Marin Coast, McEvoy Ranch is organically farmed. The Syrah vine rows are interplanted with rows of olive trees. Complex black olive and black pepper drive the flavors of this extremely complex wine. You just might be reminded of Cornas. And believe it or not, this 100% whole-cluster fermented and concrete-aged wine was delicately foot-stomped by three very spirited ballerinas from the SF Ballet!
And here are notes and impressions on some of these wines as posted on the board from fellow Berserkers!
Jim Cowan:
2017 Harrington, Syrah McEvoy Ranch - remarkable wine; complete, lots of olive and lifted tones, good structure and such complexity at such a young age - my goodness! As impressive a young CA red wine as I have had in many years.

Harrington's McEvoy Ranch, Syrah was the stunner for me - domestic Cornas.

2017 Harrington, Cabernet Franc Cedar Crest Vineyard - again a touch of volatility but the fruit is singing, no green and the textures were grand. I liked it.

George Chadwick:
Agree on the Harrington cab franc, it was the biggest surprise of their release event for me. My favorite new release wines were the Trousseau and a Pinot blend and the soon to be released Misteri.

Tom Hill:
Harrington GrenacheBlanc SilettoVnyd/SanBenitoCnty (11.1%; 48 cs; SaH: 19 Brix) SanFrancisco 2017: Med.gold somewhat cloudy color; some floral/GB/honeyed bit graham cracker slight pungent/resiny/skin-contact (?) bit spicy/cinammon very interesting rather atypical GB nose; quite tart/tangy somewhat austere/saline/savory light floral/honeyed/GB light resiny/phenolic quite dry interesting flavor w/ light tannic bite; very long quite tart/tangy/citric light honeyed/floral/GB/graham cracker light phenolic/resiny/skin-contact rather tight/austere/saline finish w/ light tannic/tannic bite; a very atypical rather tight/lithe/wiry GB and seems to have a modest amount of skin-contact; interesting/unusual rendition of GB that will probably do some amazing things w/ age.

Harrington Syrah McEvoyRanch/MarinCnty (13.2%) 2017: Very dark color; beautiful blackberry/Syrah/very spicy classic c-c/black pepper somewhat Rhonish/pungent/roasted bit espresso/black olive tapenade maybe some w-c frmt (?) rather complex nose; very rart/tangy some c-c/black pepper strong blackberry/blueberry/Syrah/spicy somewhat Rhonish/black olive tapenade/probably w-c rather structured/hard some complex flavor w/ modest hard/crunchy tannins; very long/lingering tart/tangy/austere strong blackberry/Syrah/blueberry/spicy strong c-c/black pepper some w-c/Rhonish/black olive tapenade structured/hard rather complex finish w/ hard chewey tannins; a very classic c-c/w-c very structured Syrah that badly neds 4-8 yrs of age; much like a c-c Syrah from LasMadres than Que Syrah; a terrific Syrah that needs age.

Harrington Alvarelhao SumuKawVnyd/elDoradoCnty (13.2%; 28 cs) 2016: Dark color; rather earthy/dusty/ElDorado strong plummy/Mourv-like rather spicy quite attractive nose; lightly tart/tangy/metallic some earthy/dusty/ElDorado rather ripe/plummy/Mourv-like fairly structured flavor w/ some hard tannins; very long/lingering/lightly tart strong plummy/Mourv-like/slight herbal rather earthy/dusty/ElDorado structured finish w/ some hard/gruff tannins; a more serious expression of Alvarelhao but a bit on the rustic side; needs more age yet.