Happy WB Day - thank you all for the continued and amazing support.
Keeping it simple - and to do that, you'll notice the prices on my page will look very wonky. That is because I'm adjusting all the prices to handle the discount the code gives you across the line. They'll revert back to regular pricing at the end of the week. Inventory levels are very good across the entire spectrum. However, in the event of us selling-out of the Grassl line, I have a 20' container full of stems leaving Europe next week. Reloads are going to be inbound and 6 weeks from the WB day, our stock will replenish. If I oversell, I will reach out to you and advise. You may cancel your order. But, I won't honor the WB price past this coming Friday, so if you want them at the prices below, you may need to wait for restocking.
In the interest of being more cognizant of our packaging waste, we have begun offering 6-packs in normalized cartons of simple tissue and cardboard dividers both of which are recyclable, as opposed to only single tubes. While on the site, you will notice options for Tubes and what we are calling Commercial packaging options. Currently, the Mineralité and Liberté do not offer commercial packaging but Cru and 1855 do.
If you need a combo above 6 units, simply blend the packaging to your needs. You will need to add the format (tube/commercial) independently of one another. For example, if you wish to have 8 items and wish to have 6 in commercial packaging and only 2 tubes, then you need to select them in that combo independently of one another and load them in your cart.
Our Quantity pull-down an be confusing. Set the first one to 1 or single, then your packaging type, then your next quantity. A commercial 6 pack of 1855's would look like this: QTY / 6-pack / Commercial / 1 QTY.
If, for example, you need 8 Cru stems, you can pick 2 tubes and (1) 6-pack of commercial stems. You add those independently to your cart. Add 2 tubes to your cart, then select the commercial quantity you want and add them to your cart.
Lastly, we are also happy to take the tubes back and will pay for shipping. That option is part of the checkout process and is called our waste-reduction initiative.
Grassl Vigneron Line - Liberté, Mineralité, 1855, and Cru. They are each $30.00 / MSRP $50.00
Grassl Tasting Glass - 6 pack formats only - $12.00 a stem / $72.00 a box / MSRP $20.00/$120.00
Grassl Decanter - $40.00 / MSRP $80.00
Zalto - All glasses will be $50.00 each. Not all lines have single box availability this year - Bordeaux and Burgundy must be in units of 2.
Glass Lines Available Include: White, Champagne, Burgundy, Bordeaux, Universal / MSRP's range from $57.00 to $64.00
Zalto - Axium Decanter $90.00 / MSRP $114.00
Zalto - Mystique Decanter $100.00 / MSRP $134.00
For the WB sale use code WB2020 in your cart - all pricing is adjusted at the checkout, not when you see your cart for the first time. Apple Pay and all credit cards are accepted and secure.


SHIPPING IS FREE***
If you have issues ordering, I'm monitoring (and packing) all day - email me directly cfreemott@mac.com
Note: Demand for the 1855 is about to outstrip the supply. If you want the price and are willing to wait until the container comes in, feel free to order but choose these selections. You'd make my life easier if you placed two orders if you're going to mix instock and out of stock items.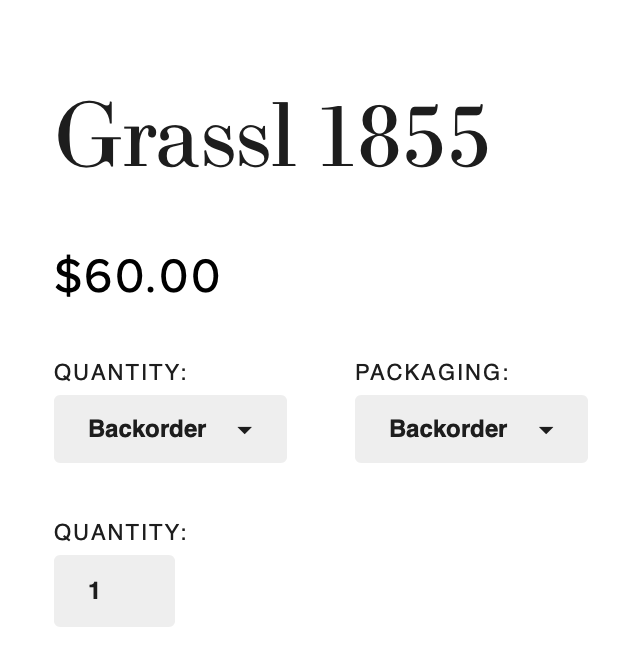 The Tasting Glass (1 QTY = 6 stems for a total of $72.00) is also running low, these are being given a backorder option as well.