It was a long drive from Logroño back to the Vecins' place in Barcelona - around 5 hours including our stops for fuel, snacks, espressos, etc. and bad bottlenecks along the Zaragoza area motorway. We left Logroño around 11:30am, arrived at Tita Rose's place by around 4:30pm, quickly dropped off our bags and then returned the car at the nearby Hertz lot in Estacio Sants (the main train station of Barcelona a mere 1.2 kms from the house per the GPS).
I was pretty weary by the time, so we just took the metro to the las Ramblas area near the Boqueria, looked around for souvenirs, saw none suitable, and wandered over to the Gran Via de les Corts Catalanes where we had an early supper of seafood tapas and a bottle of white at the outdoor café area of Farga Delicato (nb: all the shots in this post were taken with my phone camera).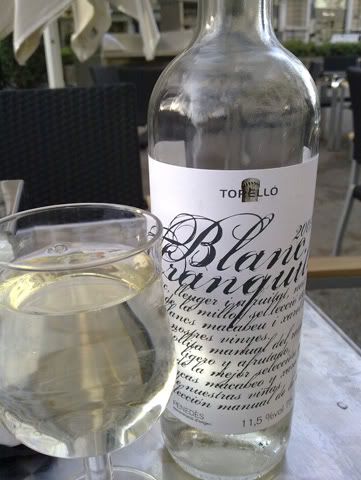 2009 Bodegas Can Martí de Baix Torelló Blanc Tranquille - A blend of macabeo (viura), parellada and xarel-lo (yes, they also make cava) that only ever touches stainless steel, never any oak. Acidity is moderate, certainly good enough, the fruit is fairly floral, fresh and shows flavors of green apple, yellowish apricot, citrus, slight underlying vegetal notes and, more apparent just past mid-mouth and to the back, a distinct almond-bitterness character from the macabeo/viura. Nice quaffer, very easy to drink and very cheap; it is certainly good enough for a casual sip with seafood tapas.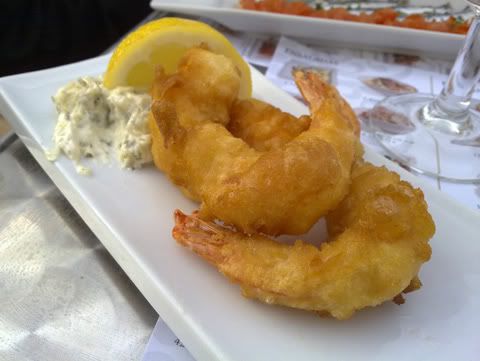 Camarónes en Tempura (nice, so I got 2 orders of this)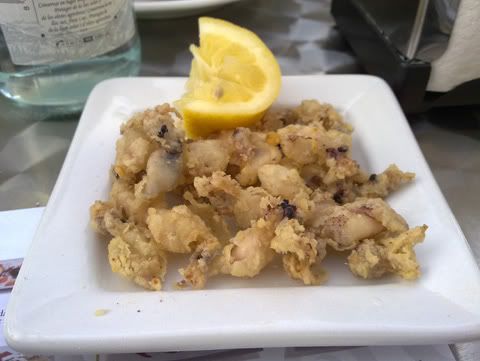 Chipirónes a la Andaluza (Baby Squid in the Style of Anadaluz)
Boquerónes con Tomate
Risotto de Chipirónes en su Tinta y Setas de Bosc
We thereafter proceeded wandering along the Rambla de Catalunya, buying some chocolates and candies. We eventually stopped at another café for warming cups of hot chocolate and pastries as it was getting pretty cold (they weren't very good so I didn't bother taking any photos).
We then called it an early night for a change and headed back to Tita Rose's before 10pm. Pleasant day, though quite tiring. Nice to be back in Barcelona.