A good friend Josh Leader is in town to play some golf so Roger ended up hosting our Tuesday lunch bunch tasting yesterday - the weather is just fine outside if not a little to windy

. Diane made some great dishes to go with the wines including a great onion tart and Vietnamese beef stew. We had a small flight of Williams Selyem chardonnays and then a set of x7 Williams Selyem pinot noirs from the Allen vineyard - fun stuff. This was the first time I had ever seen a chard from Williams Selyem - not sure I'd buy in the future to tell you the truth. All were poured blind and scores were taken before the wines were revealed…


2011 Williams Selyem Chardonnay Allen Vineyard: This had the prettiest nose to me - nice ripe pear with touches of cold creme caramel - I picked up touches of roasted herbs. Lighter acid profile than the upcoming 2012 but still a pleasure to sip.
2003 Williams Selyem Chardonnay Heintz Vineyard: This was off a bit - a little to much VA which is what others picked up. Stinky cheese, acetone - some redeeming qualities toward the end in the mouth. With food this came off much better I must say. Still not all that good…
2012 Williams Selyem Chardonnay Heintz Vineyard: Another fun and young chardonnay which did have some qualities which were very similar to the 2003 Heintz - none of the VA though. More oak here is what I noted - still balanced and overall a good drink.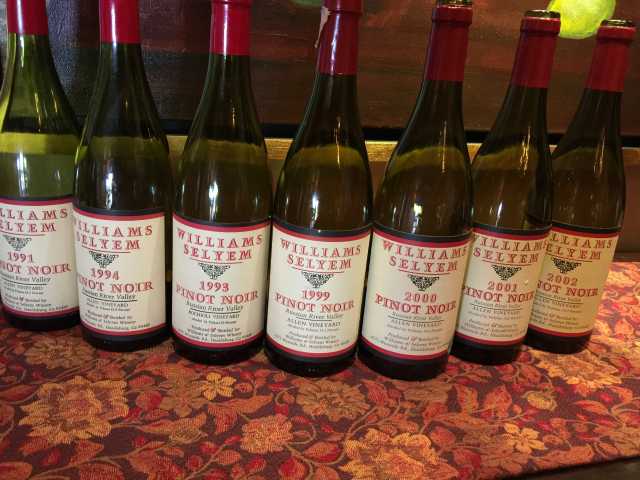 Pinot Noir:
Medium garnet color, touches of savory herbal undertones here, blackberry, menthol, elegant but just not a blockbuster showing. Least delineated of the bunch IMHO. This was the '99 Allen vineyard which got 5th place overall.

Mild dusty cherry - lovely and silky. Overall nicely balanced and a joy to try - lovely stuff that drank well on its own IMHO. This was the '02 Allen vineyard which got 3rd overall.

Complicated - not complex like one of the tasters described . Touches of acetone (slight VA?), touches of heat, buttery flavors at the end. Not all that good of a showing. This was the '01 Allen vineyard and got last place.

Nice cherry aromas here and most "burgundian" … Lots of nice red fruits here, good acidity, balanced throughout, touches of some very nice cola flavors, pepper and slight spice throughout. This was the '94 Allen vineyard which got 2nd overall.

Smoked cherry aromas, dark berries, light pepper, expanded in the glass nicely, forest floor, carried nice weight all the way until the end. Nice… This was the '93 Allen vineyard which got 1st place overall.

Elegant and savory - well balanced. Daft touches of cola and spices - more savory cherry. Loved this one to tell you the truth - elegant. This was the '91 Allen vineyard and got 2nd place overall.

Primary fruit here - darkest of the flight. Balanced sweet berry fruit, tea, touches of maple syrup (oak?), lovely fruit throughout — Young still… This was the '00 Allen vineyard which got 6th place overall.
Next up for me and Josh is dinner at my place under the stars this coming Saturday night. I have some fun stuff planned - hopefully

!