Well, Berserkers, we are back at it again for our second go on Berserker Day. I've got to say; we're psyched about the day and pleased to offer you all some fun packages to choose from. Last year was a whole lot of fun, let's see if we can't turn it up a notch this year!
Todd has been gracious enough to let the sophomores tell their story, so here is ours:
My wife Allyson I and started chasing Oregon Pinot in 2008. In fact, I have a picture of the exact moment I decided I wanted to be a winemaker. How great is that?! Al had just started medical school and we were still just dating. We'd been drinking Oregon pinot for a bit and decided to fly out for our first trip to the Willamette Valley. On a visit to Penner Ash, they let me get up on a fermenter and do punch downs. Well, that was it. It was over. I knew right then and there that I wanted to be a winemaker and we were going to make Pinot in the Willamette Valley. If you look at the picture below, you might be able to make that exact thought out on my face!


I got my start in California and then cut my teeth working through cellars on the east coast while Al was in medical school and starting a surgical residency. In 2014 we couldn't wait any longer and made the leap. We purchased four tons of high quality, beautiful, perfect Pinot from Johan Vineyards and were finally able to put all the planning, philosophizing and dreaming into practice. Head first, eyes wide open!
It really is refreshing to be able to take all of the ideas in your head and put them into practice. Well, refreshing and a little bit scary. But, hell, you only get one go at this thing so why not go at it the way you believe it should be! Thus far, I'm pretty pleased with the results.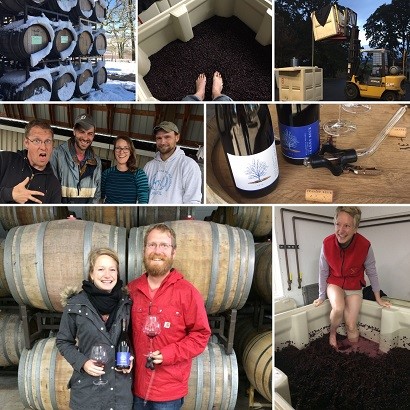 Our Style: The byline on all our winery literature is "vintage specific, vineyard centered, elegant & honest." Well, these are all things we believe in and focus on in our winemaking. I believe that vintage matters, especially in Oregon. It's what makes Oregon special and unique. Even in our short history, the vintages have had striking differences and the resulting wines show it. While similar, the small distinctions have pushed each vintage into its own complex network of variables. Simply calling '14, '15, and '16 "hot" vintages and walking away is missing a real opportunity to see the nuance that Oregon can bring, even in similar years.
We are vineyard centered in that we try to source fruit that's been grown the right way, with the lowest amount of impact as possible. Two of our vineyard sources, Armstrong (Ribbon Ridge) and La Chenaie (Eola-Amity Hills), are grown organically and Johan is a certified biodynamic site. I'm no farmer, but I've found the low impact focus in these vineyards allows the place shine without the haze of external unnecessary practices.
Finally, we want to produce wines that are both elegant and honest, mainly because those are the types of wines we love to drink. So, it stands to reason that we'd try to emulate that in our own wines. We try our best to be minimalists in our winemaking. While I'm not dogmatic about it, I know that less is more, especially when working with Pinot. I'm no rocket scientist, so I'm simply not smart enough to use all the stuff out there!
I worked under a winemaker who taught me what it was to make "pretty" wines. That idea stuck in my head and I've not been able to shake it ever since, thank goodness. So, if people drink my wines and find them to be pretty, I've accomplished my goal!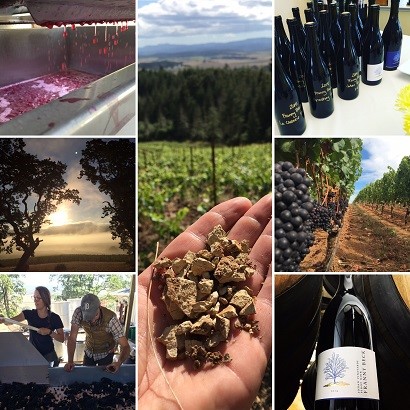 We've recently received some flattering press on our 2014's from a couple critics who I greatly respect. Our John Gilman and Allen Meadow's reviews are below. I'm also including a link to our Cellartracker pages for each wine. What I love most is that, whether professional or laymen, the tasting notes for our wines reflect the elegance, restraint and balance that I absolutely strive for I my wines. It pleases me to no end that others, almost across the board, find these qualities in the wine! A fair number of Berserkers have had our wines, hopefully some will chime in with their thoughts. I'd love to answer any questions you all have. I'm an open book for the most part and happy to share more details about who we are and what we do, just ask!
Please check out our website, too. Lots of good stuff there as well!
www.frannybeck.com
Reviews of the 2014 Willamette Valley Pinot Noir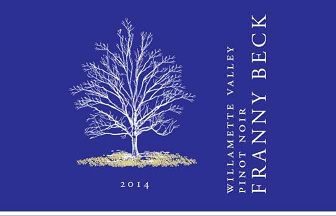 John Gilman
A View From the Cellar - October 2016
-The 2014 "Willamette Valley" bottling of pinot noir from Franny Beck was raised in fifteen percent new oak and comes in at a svelte 13.4 percent octane. The bouquet is complex, transparent and vibrant, offering up a classy blend of cherries, red plums, very pretty spice tones, a bit of gamebird, lovely soil nuances, an incipient note of chicory and just a touch of cedar in the upper register. On the palate the wine is pure, medium-full and very soil-driven, with a fine intensity, bight acids, little tannin and excellent focus and grip on the long and complex finish. This is a fine middleweight that delivers plenty of pleasure out of the blocks, but will also age very nicely over the mid-term.
Drink 2016-2030+. 91
Allen Meadows
Burghound - January 2017
-This is quite aromatically pretty with overtly floral aromas of red currant, cherry and briar hints. The sense of elegance continues on the beautifully well-detailed, pure and energetic middle flavors that possess good if not truly special depth on the dusty, balanced and solidly persistent finish. This should repay a few years of cellaring which should add depth and allow the supporting structure to soften slightly. In sum, this is a restrained and graceful effort and I quite like the delivery.
Drink 2020+. 90
Cellartracker for 2014 Franny Beck Willamette Valley


Review of the 2014 Johan Vineyard Pinot Noir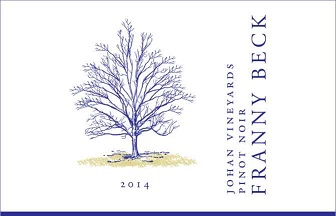 John Gilman
A View From the Cellar - October 2016
-The 2014 Johan Vineyard bottling of pinot from Franny Beck is a bit lighter in color than their Willamette Valley version, but equally pure and classy. The bouquet is vibrant and impressively transparent, offering up a lovely blend of cherries, strawberries, allspice, nutmeg, complex soil tones, woodsmoke, a dollop of fresh herbs and cedary wood. On the palate the wine is pure, medium-full and very soil-driven, with fine focus and grip, outstanding intensity very well for its long-term evolution. This is a very cool vineyard and the wine exudes all of the inherent complexity found in pinot grapes that take their time reaching full ripeness. High class juice.
Drink 2018-2040+. 92+
Cellartracker for 2014 Franny Beck Johan Vineyard