Here comes a tasty summer dish…easy to make, refined and you will impress your guests.
https://www.wineberserkers.com/content/?p=1329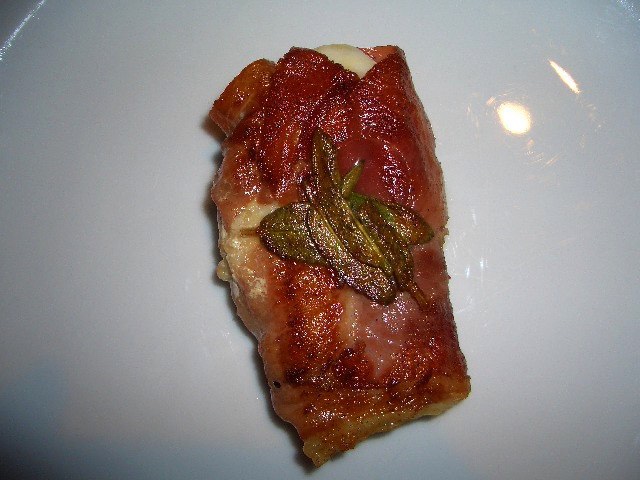 Stay healthy,
Martin
Martin,
I find with saltimbocca it is better to cut the sage into small ribbons, otherwise you end up with a mouthful that is dominated by the sage. Love the idea of doing it with fish.
Mark,
first, I love sage. Fair to say you have to use young sage leaves, as they have a mild flavor. Old sage leaves can taste moldy. Therefore I always use the fresh grown leaves
I have never done a sage tasting, but you have inspired me to do one. One of the great dishes I have had, was a ravioli with egg yolk and a sage butter sauce.
me too, Gnocchi with sage butter in Montepulciano.
Sounds yummy. A nice update to the familiar bacon wrapped scallops.
On the to-do list!
Thanks Martin,
Funny, I just this morning was thinking about wrapping some warm water lobster tails in Prosciutto. Then i open the board and see your thread. Kind of like the watermelon feta the other day.
I'm planning on wrapping then vacuum bagging with a bit of olive oil infused with sage and basil. Let that "cure" for several hours then finish in a pan. Slice into medallions with more olive oil and herb. Maybe some preserved lemon.
You're welcome, Milton. Sounds tasty.
[quote=", post:8, topic:162466"]
You're welcome, Milton. Sounds tasty.


Here is the finished product. Sprinkled tails with pepper and basil. Wrapped the tails and skewered. Then wrapped in kitchen film and then vacuum bagged. Sous vide at 134 for an hour then on the grill for about 7 minutes to sear the tails. Sauce was olive oil, butter sage leaves and preserved lemon cooked until the sage and lemon were crispy. Sliced the lobster sauce over and fresh basil and sage for garnish.