We recently attended the Falltacular charity/ wine event in Orange County which featured a Friday night dinner and an afternoon Saturday tasting and silent auction extending into a food, wine and beer evening. The Friday night dinner was held at a classy Italian restaurant, Luciana's Ristorante, located in Dana Point.
The dinner was limited to 70 folks and had a waiting list. The restaurant`s first of 4 different dining rooms located inside the front door was designated as the space for our jam packed group and there were numerous tables of varying sizes set up in a tightly arranged room.

The high energy buzz was palpable upon entering and throughout the entire evening. I remarked to some the next day it felt like I had just attended a Rolling Stones concert, my ears were ringing and my body was still vibrating.
It was all good and the camaraderie and obvious celebrative re-connections amongst many of the long time attendees was easily apparent. Being newbies, we didn't know anyone, but there were many names and faces to put together from the Wine Berserker board and that happened as well as making new acquaintances.
We serendipitously sat at the perfect table with 5 others, Bruce, Carolyn, Glenn, Sidney and Mary jo. Everyone brought great wines to share and share we did as what was going on throughout the dining room. I even took my own stemware, being the geek I am. The wines just perform better is my rationale.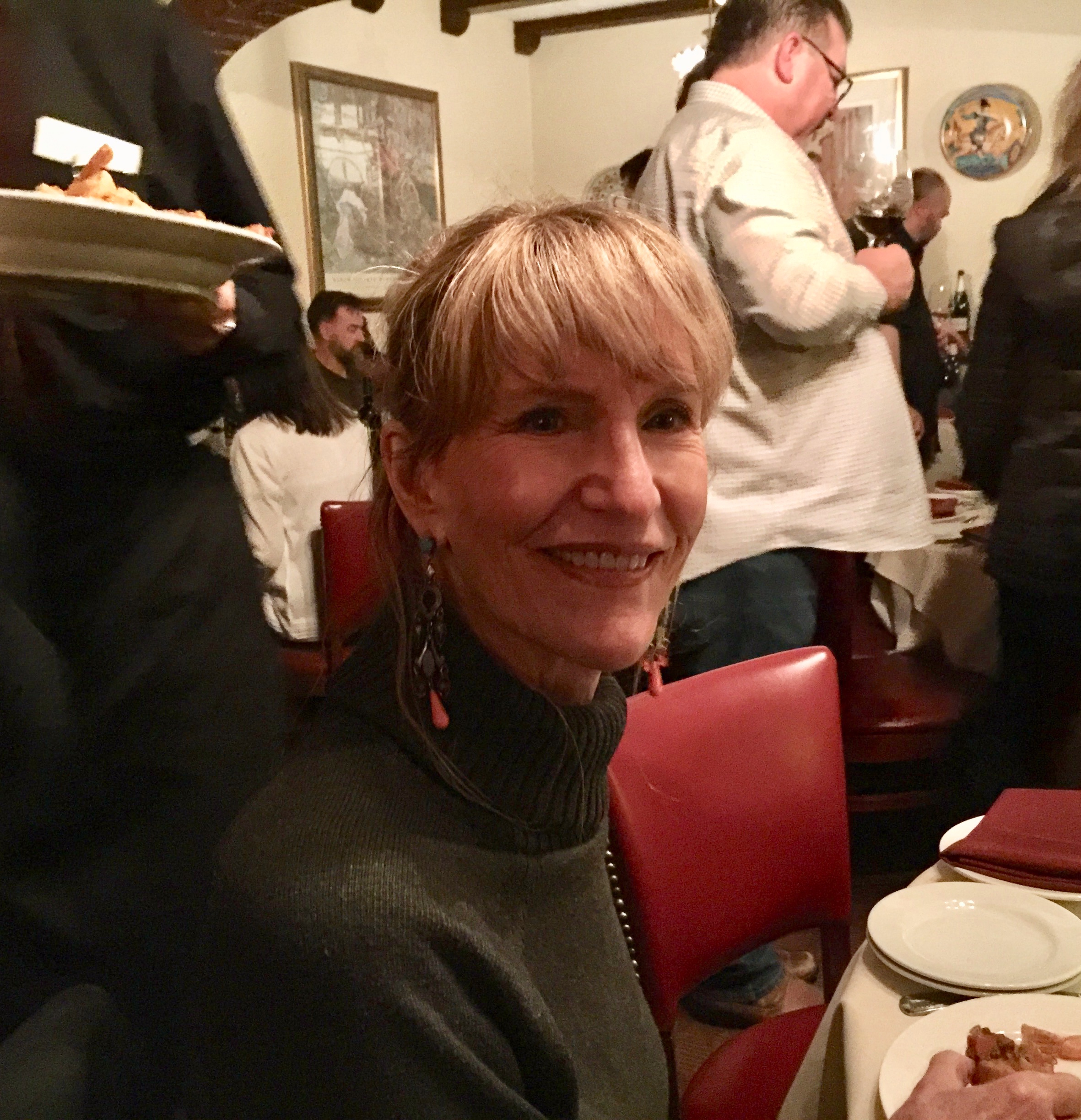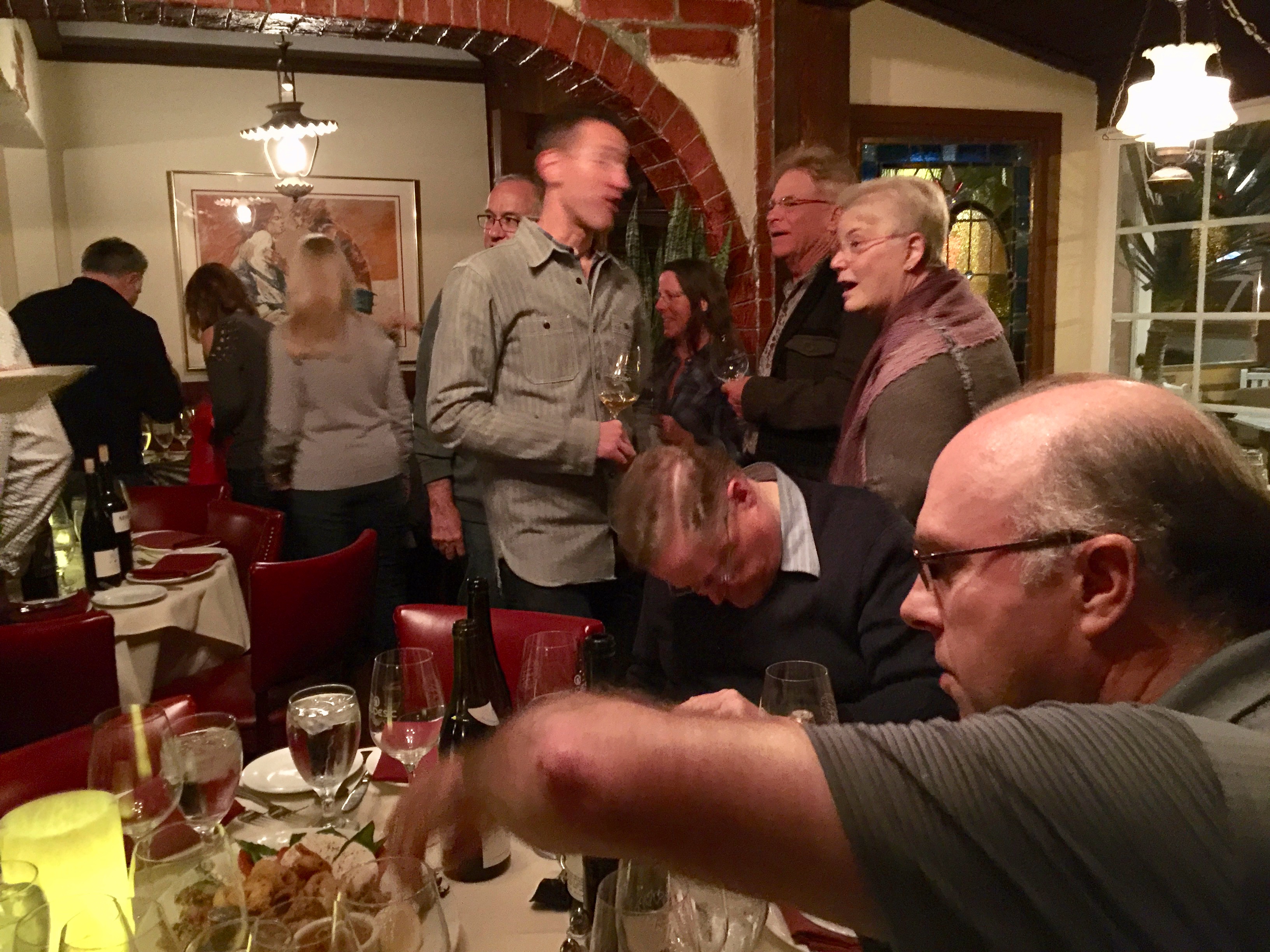 Some wines tasted on the night included:
2012 LOUIS ROEDERER BRUT- 70% Pinot Noir, 30% Chardonnay; after having already fallen in love with the 12 Rose, I just had to get some of this and now Ive had a couple of bottles of this wondrous bubbly and found it to have consistent notes each time;; it`s very generous, giving nice spicy and toasty, mineral infused citrus fruit, especially lemon zest; its round and seamless and has bright acidity, its in perfect balance and exudes class and elegance as it glides across the palate all the way to the back end with pleasing effervescence.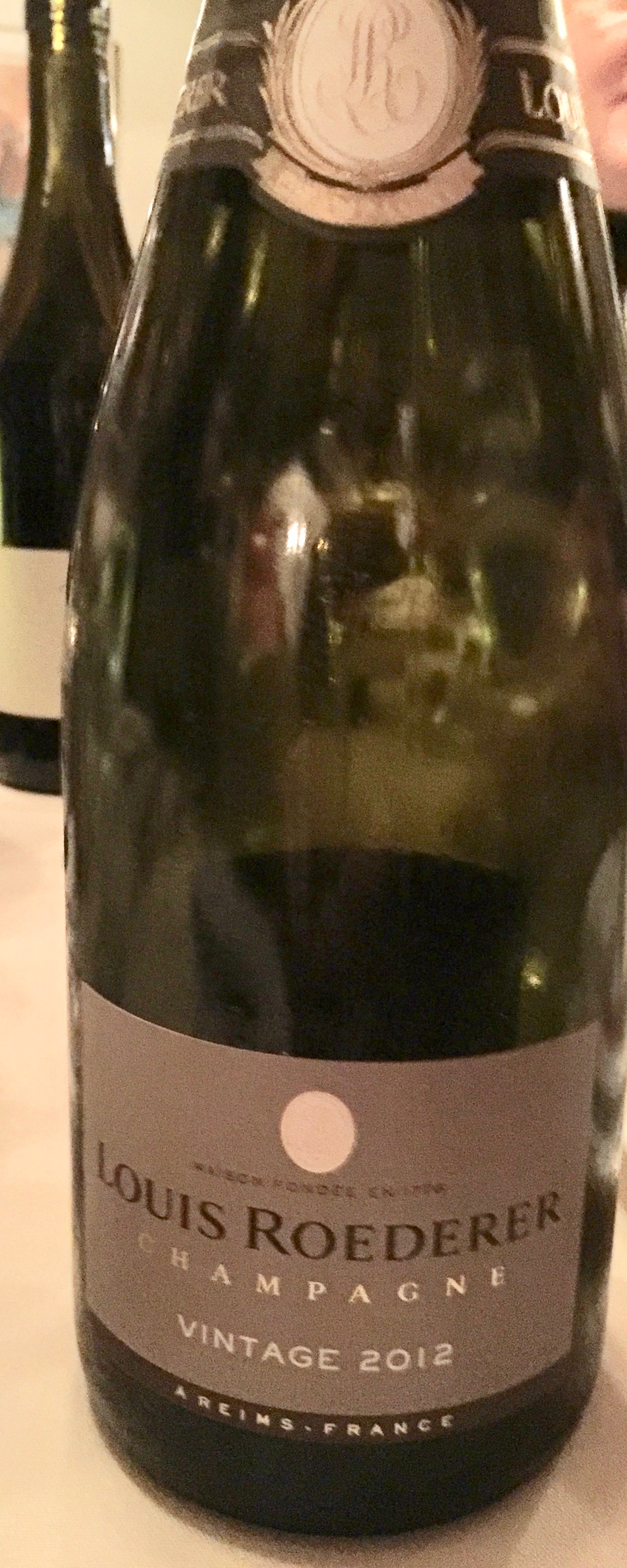 2014 CVNE MONOPOLE CLASSICO BLANCO SECO RIOJA- 90% Viura, 10% Manzanilla; this blend is a trip down memory lane to the winery's old-style monopole, thus the "Classico" reference; some wood spice and a hint of nuttiness graces the oxidative style represented by the honeysuckle, almond and stone fruit character throughout; the viscous mouthfeel adds to the sensory pleasure and enhances the long finish.
CVNE= Compañia Vinicola del Norte de España

1996 WILLIAMS SELYEM COASTLANDS VINEYARD SONOMA COAST PINOT NOIR- on a night inundated with a lot of big boy wines, this had to qualify for running for the best WWOTN [wimpy wine of the night]; the wine was stupendous; the color was a rich medium dark ruby with no signs of ageing; the nose had a bounty of red and dark fruit with spicy accents, all of which continued on and expended with more specific savory blueberry, black raspberry and blackberry fruit; it was medium to full bodied, beautifully balanced and held on for a long, welcomed finish.
As an aside, see the photo for the fill. As I've mentioned in many previous TNs of Burt Williams made wines, his MO was to fill the wine up to and touching the cork; so I`ve used that parameter to determine how much, if any, reduction in the ullage has occurred and for this 23 year old wine, very little.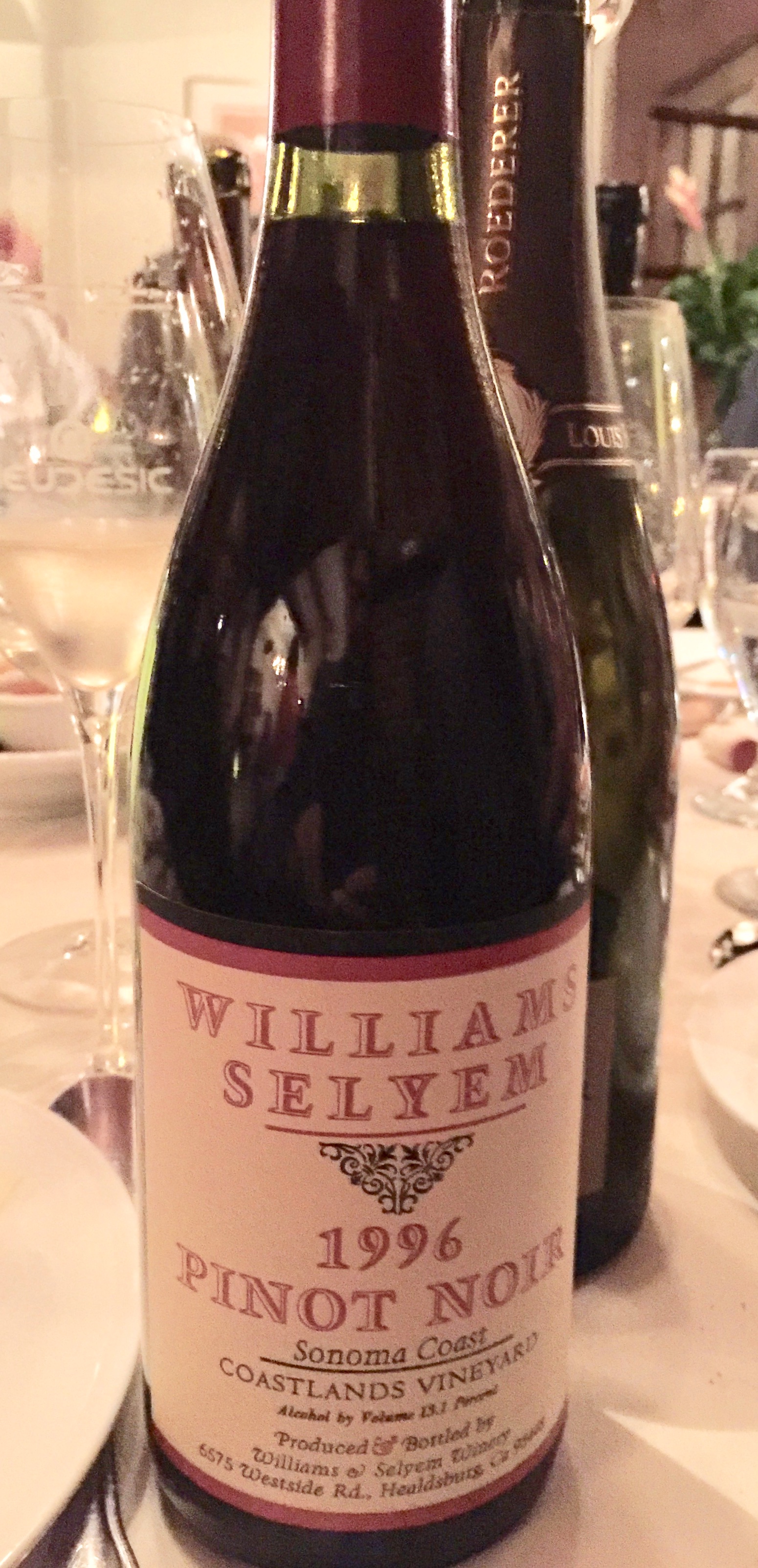 2010 RAMONET CLOS de la BOUDRIOTTE ROUGE CHASSAGNE-MONTRACHET 1er Cru- this was a good bottle nicely balanced with an inviting fresh red fruity nose more identifiable as red cherry and raspberry on the palate, it had a pleasing texture, medium to full body and weight and a crescendoing build up for a grand conclusion.

1999 DOMAINE BOUCHARD CLOS de CHENES VOLNAY 1er Cru- this bottle was striking with a youthful, still quite viable color, lots of aromatics to entice and delivered on the palate with loads of spicy and cedar laced dark fruit with mild earthy undertones; it had a medium to full body along with layered depth; marvellous.


2013 BENARD DUGAT-PY CUVEE COEUR de la ROY TRES VIELLES-VIGNES GEVREY-CHAMBERTIN- sourced from 50-104 year-old vines, 70% whole cluster, two-thirds new oak; this was very hearty with lots of youthful exuberance and energy; it had not yet integrated oak and wood spice along with forward fruit notes of blackberry and black currant; it just needs time to evolve and come together as it certainly has the structure including the tannins to hold up and grow up into a beauty.

2009 RHYS HORSESHOE VINEYARD SANTA CRUZ MOUNTAINS PINOT NOIR- peppery, spicy red cherry/ berry prevail from the nose through the tail with hints of local redwood forest in the background; it was medium bodied and weight, had a silky smooth texture and finished on a strong upbeat.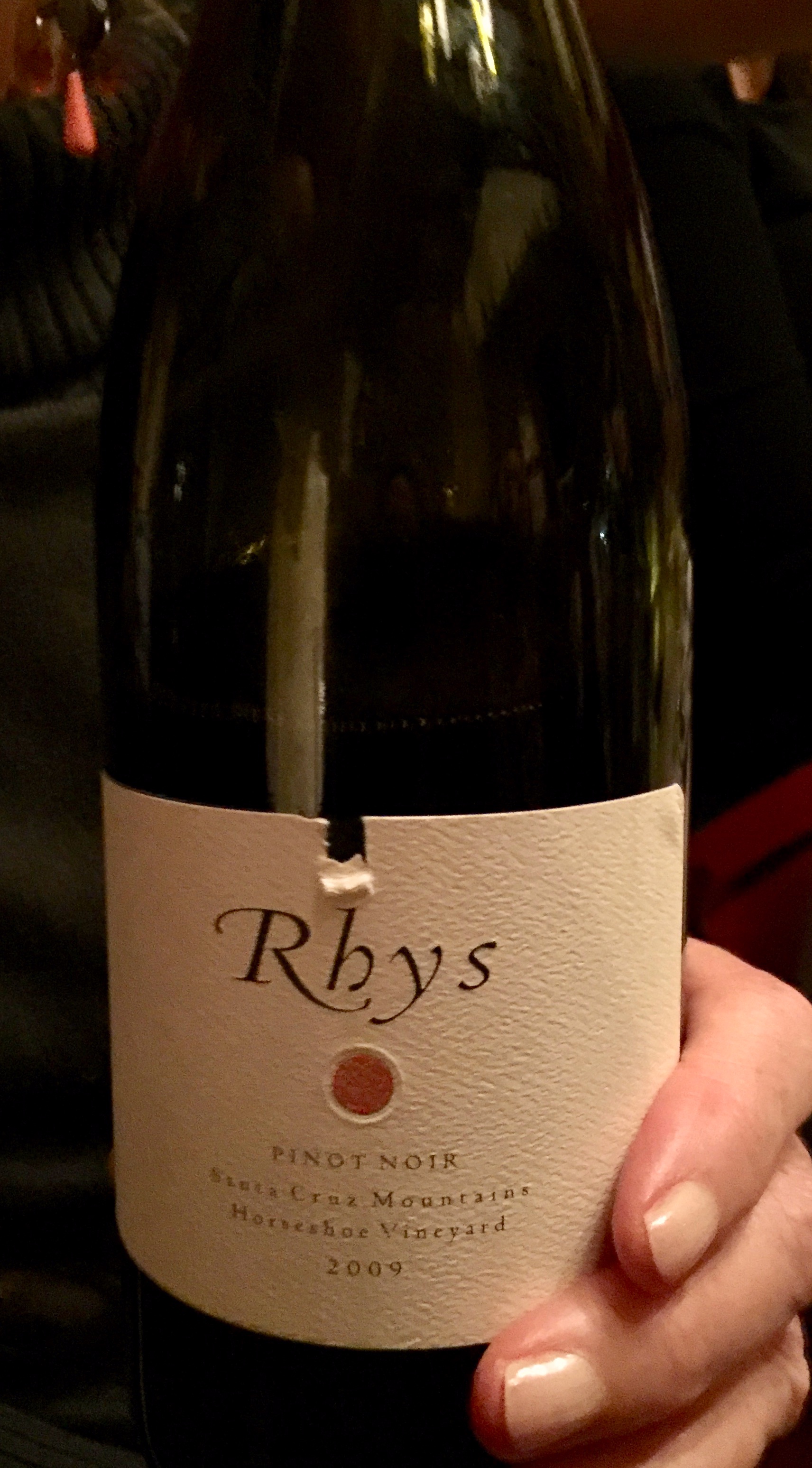 2001 FOX CREEK RESERVE McLAREN VALE SHIRAZ- magnum; we moved into an entirely different profile with this wine which came from a nearby table; it was bigger and heavier than the bottle itself and there was some serious glass here providing an unexpected upper body workout to navigate a small pour; the color was a dark, inky black purple; the nose was laced with oaky notes encompassing the sweet blackberry, blueberry, plum and black raspberry fruit; there's a bit of licorice, tar and dark chocolate coming in late past mid palate; being so super concentrated, a little sip was all that was required to get the essence of this wine and set the bottle back down before injuring myself.

2016 LEVIATHAN RED WINE OAKVILLE NAPA- a suspect 14.8% abv shown on the label; a blend of Cabernet Sauvignon, Syrah, Cabernet Franc and Merlot aged in 25% new French oak; the only thing that keeps this from being bigger than the Shiraz was it was in a 750 ml bottle instead of a mag; the inky black purple color was suggestive of a hugely extracted wine and it held up to that suggestion with intense aromatics as well as a taste profile that just never kept on building up preceding the mid palate explosion; sweet black cherry, blackberry, black currant and blueberry all show up in equal parts as was the oak component; it was nowhere near balanced and at this way pre-pubescent age, time and air is essential even for this precocious baby.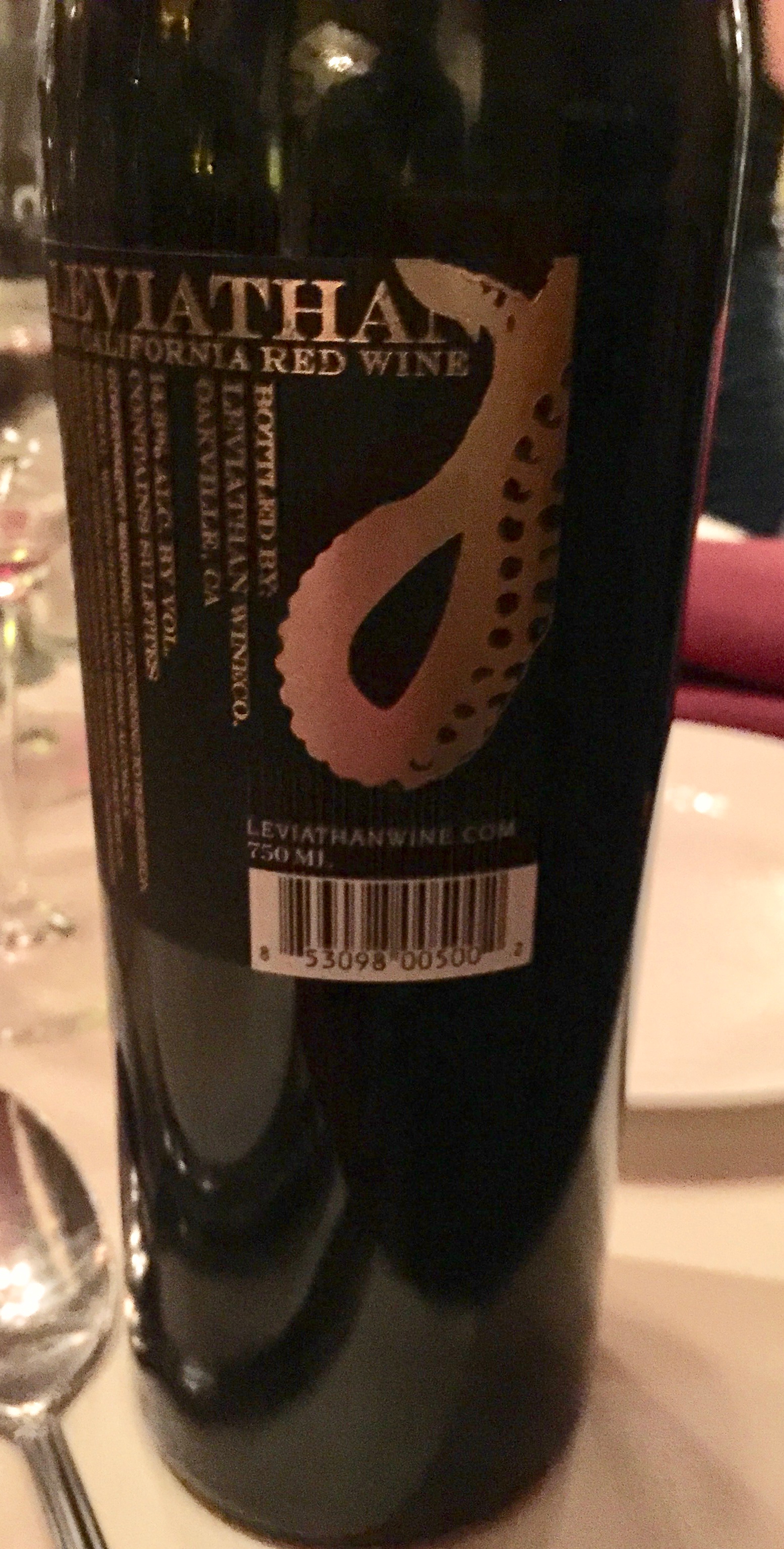 It was a grand evening. The restaurant delivered big time with plate after plate of table shared comestibles. Everyone brought great wines and lots of love and passion for something bigger than themselves. Many stood more than they sat and the room was constantly in motion with people moving from one table to another. Did I say "high energy?"
Cheers,
Blake