Smoking Goose | slow cured and smoked meats, salumi, and sausages
"The meat expert rethinking one of the world's most ancient food traditions."
~ New York Magazine's Grub Street on what sets Smoking Goose apart.
Smoking Goose is excited to participate in NewbiePalooza! We love the concept of WineBerserkers and are so happy that Charlie and Rich agreed to write tasting notes. Special thanks to Patrick who nominated us and helped guide us through the process!
Our Offer
Enjoy an additional 10% off orders of $100 or more, plus Free Shipping
Go to: https://shop.smokinggoose.com/
Enter BERSERKERS in the discount code box at checkout.
almost our entire line up of 40+ salumi, sausages, smoked meats, and larder meats are already on sale at shop.smokinggoose.com – stock up for the holidays with an additional 10% off your order of $100 or more.

applies to over 300 paired products, too: seafood, cheeses, pickles, preserves, condiments, spice rubs, marinades, and more

does not apply to Sampler Packs https://shop.smokinggoose.com/collections/sampler-packs-1 (which are already discounted!), gift cards, or meat school classes ***$100 minimum must be of eligible items…in other words, sampler packs, gift cards, classes can't count toward the $100 minimum for code to work

expires at midnight on Nov. 30, 2021, and only valid once per customer
Shipping info: free shipping offer valid in lower 48 states. Orders are shipped in food-appropriate insulated boxes with ice packs as needed, etc. More info and answers to FAQ at https://shop.smokinggoose.com/pages/contact-us
Note: Stay tuned! We'll be a part of BerserkerDay in 2022 and hope to have some new offerings then, too.


Our Story
Indianapolis natives and high school sweethearts (awww) Chris and Mollie Eley opened "Goose the Market," a neighborhood butcher shop and specialty food market in 2007. Based on the relationships with farmers and the recipes that Chris developed behind the butcher counter, this family business grew into Smoking Goose in 2011.
Using old world craft and new world flavors, Smoking Goose makes over 40 varieties of slow cured and smoked meats, salumi, and sausages in small batches. All Smoking Goose recipes begin on the farm. Working with farmers in Indiana and neighboring states who raise their animals as nature intended, Chris and the Smoking Goose gang still seam butcher by hand and cure without compound nitrates.
Producing this way takes more time, more effort, and more patience, but Chris' and Mollie's unwavering commitment to quality, flavor, and humane, sustainable farm partners has earned Smoking Goose nods features from Food & Wine, Bon Appetit, New York Times, Wall Street Journal, James Beard Foundation, Good Food Awards, and more.


Need help deciding? Here are a few of our fans' favorite things: Again, many thanks to Patrick, Charlie, and Rich!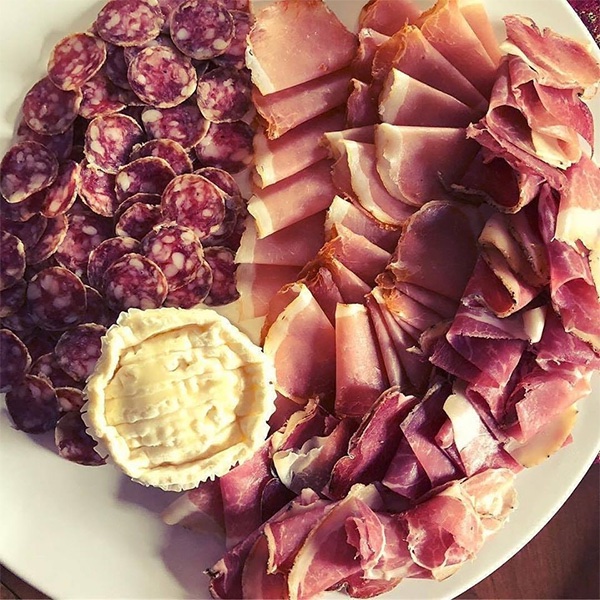 And with that, we raise the curtain on NewbiePalooza. Happy shopping, and thank you for your support!

Smoking Goose
curing Indiana one pig at a time, since 2011
For more on Smoking Goose, check out https://www.smokinggoose.com/resources