Let's do this! Our second BerserkerDay…We are offering discounts on everything still available on our websites. Nabor Wines LLC is comprised of three brands made in by Karin Langer and Dusty Nabor at their winery in Camarillo Ca.
Dusty Nabor Wines is our premier brand. Wines usually sell out to our mailing list on release. Bolt To Wines is Karin's project that focuses on Santa Barbara County AVA's and mostly Rhone Varieties
NSO by Dusty Nabor quite simply is our value brand. The prices and pedigrees of these wines are unmatched.
Dusty Nabor Wines Dusty Nabor Wines We have the following available still:
2017 Cabernet Sauvignon Paso Robles $65.00/bottleWE 91 Points - Subtle aromas of smashed berries and light violet make for a mellow, measured entry into the nose of this bottling from an appellation on the east side of Paso Robles. The palate is cohesive with açaí, Concord grape and dark-berry-sorbet flavors, enhanced by wood spice, light pepper and purple flowers, with lingering acidity into the finish.
PDWR 91 Points - The nose is chocolate, plum and camphor with an enticing spice box of peppercorn and nutmeg. The palate entry is tight with a ripe core of plum, licorice, soaked cherry and menthol finishing with supple, rich and juicy blue plum. Drink 2020 – 2026.
JD 91 Points - Like the 2015, the 2017 Cabernet Sauvignon is also 100% Cabernet and spent 18 months in new barrels. Its dense purple/plum color gives way to a full-bodied, ripe, spicy wine offering lots of cassis, leafy herbs, cedarwood, and flowery incense aromas and flavors. Nicely textured and balanced, with ripe tannins, it's another impressive wine from Nabor.
Stephen McConnell Review - Shocking mint and toasted briar pour out of the glass, smoky charred fruit, crisp and carmelized, thick cherry reduced and liqueured, kept out of the pruney depths with copious cut green grass and perfect layers of bell pepper and eucalyptus. It is a heady, conspicuous nose, tarry fruit packed in densely–and well-coated with that Paso Robles sunny glow.

Lucky to have been privy to these wines since Day 1, sourced from Paul Frankel's awesome estate in the Geneseo District. A cooler-climate section of the east-side region, it is nestled in the rolling foothills of the Linne Valley between El Pomar's confluence with the Templeton Gap and the sprawling flatlands of Estrella. If you're curious, I reviewed the debut wine (2015) HERE and the sophomore effort (2016) HERE. One of these is still available. The one in my hand is not released yet.

Supple and rich in the mouth, with far more spicy and acidic oomph and fruit thinness and vibrancy than honestly I was expecting from the nose. All that roasted fruit kinda scared me, and I feared it was going to be another Paso jam-bomb on the palate. I still think it is riper than the two above–I'm guessing 14-6. Bright, tangy fruit, sparkling dots on a sun-lit morning eddy, colorful springtime flowers lending sunny reflection and aroma to an otherwise chilly environment. I know you're supposed to use big masculine grumpy words to describe expensive cab, but I do what I want. This wine has delicate verve, perfume and attitude all the way through it. It's not a wimpy wine–don't get me wrong. It exudes power from all directions, but it does it so elegantly, with such manners. Legs crossed. Gloves folded. Pick-up truck in the driveway.

Before y'all freak out on me: this is not on the website. It's not released. YET. Because there is so little of it made, I don't need to detail HOW to get some. I'm just going to let Darwin control who gets the wine.
2018 Syrah Ballard Canyon Kimsey Vineyard $40.00/bottle__Stephen McConnell - The amount of edge this wine shows in the nose is astounding. The cherry is pure, extravagantly simple yet so focused on the typicity prize it wanders neither here nor there on the path. Green stemmy briar eviscerates the fruit, calmed only by sweet spice and a touch of gorgeous oak. Barley malt and black walnut, butter and bitters, berry and soil–all work toward the goal of making this a serious contender in California's new wine movement away from limp, over-concentrated, over-macerated, forgotten-in-barrel, hi-octane versions dotting influencer's & wine-guy's feeds in their characteristic feeding of America's sweet tooth and bigger-is-better mentality.

In the mouth, there's a raw, almost clunky ball-drop of rash fruit almost smacking of home-wine or green-wine–a characteristic formerly frowned upon, but as the aforementioned new-Rhone movement takes grip, has nearly enveloped the rank of offerings from Sonoma and Central Coast. The delicacy on the tongue defies your semi-truck expectations, and instead of punching you in the face with fruit density and teeth-flossing concentration, makes the hair on your neck stand up with pure life, delicious acid, and rife, cooling rose-hips, the darkest berry you can cram into a transparent package, and raspy polished vegetal unable to pause its attack on your mouth. How bright can a wine be? How absolutely delicious can it be while maintaining religious levels of acid and tannin?

Well, if you're the 99, you call it "harsh" and "bitter". "Un-smooth". If you're the 1%, you call it "magnificent". A "tour-de-force". "Stunning". Provocative and able to stand tall with true Northern-Rhone examples from California. And the effect age will have on a wine like this can NOT be under-estimated. Buy a case and drink one a year. Buy TWO cases and drink one a year. You'll thank me.
2019 Rose of Grenache Sta Rita Hills AVA $25.00/bottleWE 92 Points - This is a very tightly wound rosé, beginning with aromas of Asian pear, grapefruit spritz and pale rose petals. There is focused acidity on the zippy sip, where Meyer lemon peel, crisp, lime-splashed jicama and wet stone flavors align.
PDWR 92 Points - The color is a shimmering pink-hued amber. The nose is sweet blueberry, becoming more raspberry when chilled, white blossom and vanilla crème. The palate is juicy, vibrant pink grapefruit, hard nectarine and crisp, penetrating acidity. A beautifully singular style.
Bolt To Wines Bolt To Wines
2014 Grenache Ballard Canyon $35.00/bottle PDWR 95 Points - Spent 48 months in barrel. The nose is pepper and black raspberry with
abundant ripeness and vibrant saturation. The palate entry shows denser black fruit with concentration of crisp cranberry and velvetlike raspberry in the core finishing with a savory meatiness. Drink 2019 – 2027
2016 Grenache Ballard Canyon $40.00/bottleWE 92 Points - Cola and Dr. Pepper aromas meet with dark plum and black cherry on the dynamic nose of this bottling. The intense Dr. Pepper flavors also show on the palate, where tense tannins also deliver floral flavors of lilac and rosewater. It's quite an intriguing and full sipPDWR 95 Points - A nose of pulverized blueberry, strawberry and peppercorn. The palate is a poised black raspberry with textured, smoky carbon feel.
Very approachable. Drink 2019 – 2025.
2017 Pinot Noir Sta Rita Hills $35.00/bottle PDWR 94 Points - The nose is initially a saturated
black fruit with underlying sense of purity in the cherry and spice. The palate is dominated by an expression of clean, fresh and wellstructured black cherry and mineral. Drink 2019 – 2026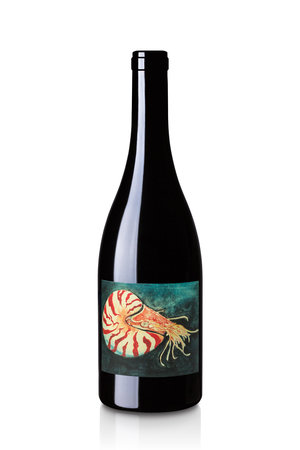 2017 Syrah Ballard Canyon $40.00/bottle
WE 92 Points - "Cellar Selection" Dense and powerful aromas of boysenberry pie are leveled by lavender, white pepper and crunchy plum skins on the nose of this bottling, which features a nautilus on the label. The palate begins with roasted game and continues with elderberry, violet and cracked pepper flavors. It is still quite young so drink 2021–2031.PDWR 94 Points - A nose of peppercorn, blackberry, blueberry and underlying
notes of crushed plum and spice. The palate is a dense yet lively black fruit with nice length, and cocoa texture. Drink 2020 – 2030.
2018 Chardonnay Sta Rita Hills $28.00/bottle WE 90 Points - Asian pear, grapefruit pith and lively Key lime aromas are wrapped in a cloud of chalk on the nose of this bottling. There is good tension to the sip thanks to both bright acidity and a chalky texture, allowing flavors of Meyer lemon, ripe pear and yellow grapefruit to show.
2018 Roussanne Ballard Canyon $28.00/bottle PDWR 93 Points - The nose is a robust, rich yellow apple, pear, effusive, sticky tropical fruit and blossoms. The palate entry is dry, crisp and possessing a slightly oily waxiness, in the core backed by bright grapefruit, and mineral-like acidity finishing with notes of juicy citrus, nuts and chamomile. Drink 2020 – 2025.WE 91 Points - Roussanne can be a challenge, but it's deftly handled here, starting with aromas of dried yellow flowers, a touch of peach and a bit of marzipan on the nose. There is a waxy heft to the sip, as there should be, yet also a tension to rein in the dried peach, pear, sea-salt and walnut flavors.NSO by Dusty Nabor NSO by Dusty Nabor
2018 Cabernet Sauvignon Napa Valley $25.00/bottle NOTE: This wine is NOT available through our Vinoshipper CartThis single varietal Cabernet Sauvignon is our first from the famed Napa Valley AVA. It was brought up in French Oak barrels for 24 months. On the nose you'll enjoy pencil shavings, tobacco, graphite and all the blue and black fruits Napa is known for. The palate consists of lush, mouth coating tannins with fresh acidity for a long, deep finish. This Cab hits way above its weight class. You can drink this the day you get it or cellar it for years to come.
2018 Grenache Paso Robles $15.00/bottle Warning! Purchase at your own risk! This wine is not for everyone. Upon opening the bottle, you will notice lees that have settled on the cork from being unfiltered. Simply wipe that gunk away—it won't hurt anything.It has blistering acidity that will strip the paint off a '70 Chevelle. Just be forewarned, it's only for the seasoned wine drinking professional.
2019 Pinot Noir Sta Rita Hills AVA $18.00/bottle 50% whole cluster Sta Rita Hills Pinot Noir from a blend of 667 and Pommard clone. Brought up in 50% new François Frères French Oak. Classic SRH cherry Jolly Rancher aromas give way to a rustic perfume and a wet forest floor. The palette is acid driven with a light, nimble body and long acid finish.__WE 90 Points - This is a tart and lively take on Pinot Noir, done at an amazing price point. Underripe aromas of tangy red plum, pine needle and eucalyptus lead into a sagebrush-loaded palate of menthol, cranberry and tart plum.
2019 Chardonnay Sta Rita Hills AVA $18.00/bottle Pale straw color with racing Sta Rita Hills Acidity. Very distinctive salty minerality. Lemon peels and a small note of honeysuckle. Barrel fermented but then transferred to stainless. Very little to no oak notes but a richness you only get from barrel.
WE 89 Points - It's quite stunning that this brand can make wines from all-star appellations at this price point. In this bottling, aromas of plumeria, ripe pear and wet stone lead into a palate of more ripe pome fruit and tropical-flower flavors that are cut by lime zest.
__Stephen McConnell Review -I don't know how Dusty makes these wines and sells them for what he does. Gotta be a total loss-leader… which is not a bad marketing plan for a brand new winery, I have to say! They are so inexpensive, and crammed full of all you want in a wine easily double the price.
This NO SPECIAL OCCASION WINE is no exception… Brilliant and bright in all the right places… opulent and rich in the spots you DEMAND chardonnay to be. Beautiful melon and peach fruit, a biting glance of gritty edge, perfect glimmer of oak. Unlike most cheap chards ya gotta drink at 30-below to stomach, this thing plies a straight and polished path at my normal 60°+ window for whites. Good job. WAIT FOR YOUR STICKER!
2019 Rose $12.00/bottle __A beautiful salmon / blood orange hue that is admittedly darker than we had hoped for. Circumstances at the winery led to the juice seeing about 6 hours of skin contact after Dusty Nabor fell from a ladder and shattered his elbow. He returned to the winery at about midnight with his arm in a sling to remove this saignée of Cabernet Sauvignon from the tank to create this Rosé. Hazards of being a one man show. The rest of this wines élevage was routine in comparison. What resulted is one of the best Rosés of Cabernet Sauv we've made to date. Aged 6 months in French oak, this Rosé has notes of strawberries, cranberries and wet stone. A round, firm, acidic mouthfeel with no bitterness on the back end. Smooth and refreshing. A perfect summer wine…or any time of year for that matter. PDWR 93 Points - The nose is candied orange and strawberry with a taffy-like vanilla. The palate entry is a ripe, savory, dried orange peel with toasted panko. Sleek and polished in the core with orange and piquant red berry fruit on the finish. Drink 2020 – 2022.
2019 Grenache Paso Robles $18.00/bottle A classic Grenache from Paso Robles boasting a penetrable ruby red color and all the floral notes associated with a Spanish Garnacha. This wine is smooth as silk with light tannins and a vanilla overtone from the French barrels. A wonderful food wine that will go with almost any meal.
WE 91 Points -Tart red-plum aromas play against richer strawberry and purple-flower tones on the nose of this very fairly priced bottling. The palate packs fresh fruit-punch and strawberry flavors with pleasantly sour acidity, making for a lively sip.
2019 Syrah Sta Rita Hills AVA $18.00/bottle Our first Syrah from the cool climate of the Sta Rita Hills AVA. 30% whole cluster fermentation and aged in large format foudre for 2 years. A perfect representation of the appelation being on the lighter, brighter side of Syrah. Peppery notes with both red and blue fruits on the nose. Lively acidity from the coastal influence keeps this wine light of its feet. A crowd pleaser for any occasion.
Stephen McConnell Review - This is a little wet & wild mid-tier cote-rotie beauty. Missing, of course, is the overt funky tapenade and barnyard these wines often exude at these ages and prices. Not completely missing–that would be boring–but there's no argument a Santa Barbara Syrah at this level is going to have a cherubic zangy ripeness overshadowing some of the earth and vegetal, salinity and dark briar taking its place, and supported by a full complement of acid. At least in THIS version it is. Often–as most of you are aware–it is NOT, making a full flabby lush-fest for the TELL ME YOUR THRIVE STORY-crowd for to-the-rim bowl-grippers.

Vibrant and fruity in the nose, awash in firm cherry, green tea, and a steely sort of focus on rust and grease. Not too weedy or stemmy, this is not a super-complex wine, it's not supposed to be. Mint and licorice waft in and out, along with perfect notes of oiled leather and smoky velvet. Firm and clean across the palate, this is a Wednesday-Thursday pounder–NOT that I or anyone in the wine 1 percent endorse or relish in week-day wines, but I'm preachin to a huge group of people here–many who shop for low-price, easy-drinking bottles for NO SPECIAL OCCASION, and THAT is the beauty of Dusty's NSO line. Fruit on 11 and structure a solid set of pylons to be negotiated around, this wine makes you smile: start-to-finish.

Is there a better endorsement? There's a million ways you can spend 20 bucks on a bottle of wine. It's a tough category, the VAST majority simply-appellated and reeking of heavy-handed production and obese fruit. How you gonna beat a Santa Rita Hills beauty clean and direct?


Discount Code for ALL websites at check out is BD12DNW for 40% off entire order…No matter if it's one bottle or a case.We are not doing free shipping but rather just offering our deepest possible discount. Our wines are already priced WELL below market in most circumstances.Shipping Notes:
We ship directly through our websites to: CA, CT, MD, MN, NC, ID, OR, IL, NY, WA, VA, NH, CO, WI, FL, TX and DC.
We also ship to the following states using our Vinoshipper cart located on the websites. If you live in these states, use that cart and it will be seamless. AK, AZ, GA, HI, IA, IN, KS, LA, MA, ME, MO, ND, NE, NM, NV, OH, OK, PA, SC, TN, VT, WV, and WYHow to combine shipping if ordering from multiple websites…simply choose the shipping option on the largest order (by quantity of bottles) and pay for shipping on that website. Then when you buy from either or both of the other two websites, choose "local pickup" so you are not charged shipping again. Your order will automatically be combined if the same address is entered.