The Doc celebrated his birthday in advance this year at Je Suis Gourmand. Unfortunately, the Stockbroker and Mrs. Stockbroker were both sick and the Vigneron is exploring Napa so Doc will likely be celebrating with them later on. That left only 6 of us last night, so it was a nicely intimate dinner.
Aside from the spouses Doc, Eric and Cinthy were there, as were my wife and I. Doc told me not to bring any wine, so I was sure that he'd bring special stuff (he always does anyway). That in mind, I made sure to taste only a few select wines at the Spanish Wine Exhibit organized by the Spanish Chamber of Commerce at the Shangri-La Makati earlier in the day.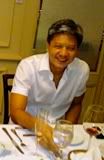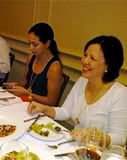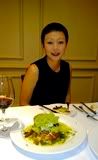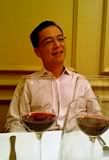 We started of with many appetizers: tarte flambée, pork rillettes with cornichons and pearl onions, smoked salmon salad, portobello mushroom with oeuf cocotte, escargots Miguel and, of course, I had to have the escargots bourguignonne. With all these we enjoyed some…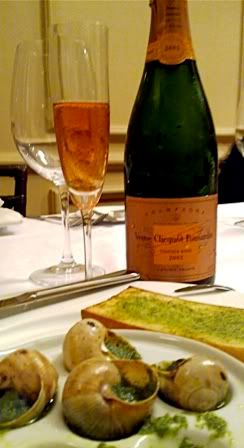 2002 Veuve Clicquot Ponsardin Champagne Rosé - Nicely structured, openly displaying dominant flavors of wild strawberry with a bit of citrus and raspberry, floral topnotes and underlying brioche, coffee nuance (past mid-mouth and towards the back) and just a whisper of yeastiness in the finish. Lively yet with good depth. I'm no champagne expert, far from it, but I imagine this will gain added complexity and depth with, say, 3 more years.
I do enjoy pairing rosés with Marc's escargots bourguignonne, and, though I didn't have any of the escargots Miguel, I'd say this bubbly rosé would also have paired well with it.
Halfway through our appetizers, Doc started pouring his already opened (but not decanted) pair of reds, and what reds they were.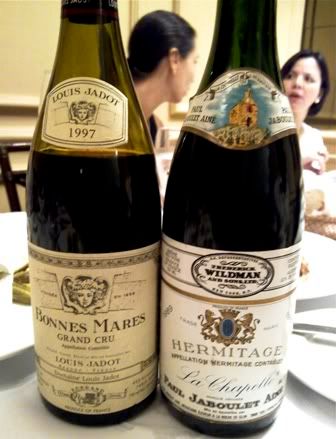 Definitely, a Beef Onglet was called for for my main course. The spouses Doc, Cinthy and my wife had the Lamb Trio with a side of Couscous, while Eric opted for the Stuffed Pig's Trotter (I recall his cousin, an old and very good friend of mine, also favored this dish last I had lunch with him and the Vigneron here). With Eric's bottle, the duo of reds became a trio, all of which I had in succession with my beef Onglet (please excuse the poor quality of the photos as I forgot my camera and all shots were taken with my cellphone's camera).
1997 Louis Jadot Bonnes Mares Grand Cru - The Doc's bottle. Bonnes Mares is a 15.06 hectare grand cru located in Chambolle-Musigny (Côte d'Or, Burgundy), the vineyard's northern limits bordering Morey-St-Denis - actually, 1.53 hectares of Bonnes Mares encroaches on the Morey border). Jadot's holding here is 1.11 hectares. I've stated before that Chambolle-Musigny's wines are generally known for their relatively light, feminine grace - but those from Bonnes Mares is a recognized exception. The fact that Bonnes Mares borders Morey-St-Denis is a strong argument for the advocates of terroir as the wines from the latter commune are generally known for their masculine character and power.
This wine displayed deeply veined, well-concentrated, earthy dark fruit, ripe black cherry, hint of kirsch, raspberry, violets, mushroom, with discreet dark minerality and hints of clove and dark baking spice. Velvety tannins, full-bodied, muscular, darkly masculine with a serious mien. Long and confident. My favorite wine of the evening, just edging out the next, likely due alone to my personal preference for Burgundy.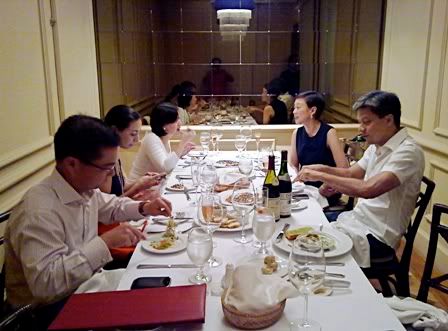 1989 Paul Jaboulet Aîné Hermitage La Chapelle - Doc's bottle. The last mature vintage of this wine I enjoyed was the 1985 during Alex Lichaytoo's Jaboulet dinner at RED with Cristophe Brunet, 5th May 2009. The 1985 was exceptional, clearly my favorite of the 7 good vintages of the La Chapelles served that night. This 1989 was the best from Jaboulet I've ever had (I've never had the '90, though, which is reputedly one of the best vintages they've ever produced).
Smolderingly warm, deep, dark character. Good muscle, well-structured, definitely powerful, but exceptionally harmonious and well-balanced. Another serious wine, showing off deeply-veined dark fruit, molten blackberry, cassis, raspberry, underlying black coffee, the fruit delicately laced with mere whispers of pepper and dark spice, added notes of leather, roast meat, truffle, violets. Very complex, well-layered and long. Excellent.
2002 J-L Chave Hermitage - Eric's bottle, one I picked over a 1990 Cos d'Estournel from the Doc since I've not had this vintage of the former (besides, in hindsight, my beef Onglet would have been too gamey and robust anyway for a fine, aged Bordeaux).
Clean, admirable purity, well-focused, a very precise and neat, medium-bodied rendition of Hermitage - a style I greatly appreciate which was shown by my easy preference of Chave's wine during the Stockbroker's relatively recent 1996 Blind Northern Rhône Dinner at Sala. Eric advised that it needed time to open up, so I let this air in my glass and drank it last among the 3 reds.
A light underbrush nuance and mere whispers of pepper and leather ran consistently through the moderate blackberry, cherry, raspberry, discreet violets and licorice. Very refined and proper character to this. I really like this style a lot and was glad I waited until after I finished my robust main course (the Onglet would surely have over-powered it) so I could properly appreciate this comparatively leaner, precise, polished wine.
We didn't have to order dessert since Marc sent over 2 platters of assorted ones for the occasion.
We enjoyed all these with a half bottle (just right for the 6 of us)…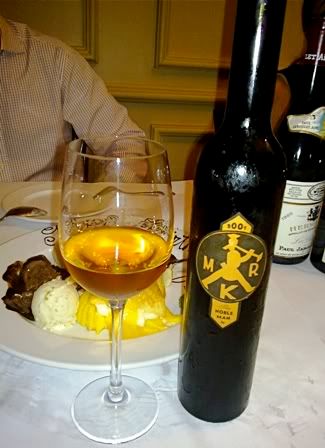 2001 Sine Qua Non "Mr. K The Noble Man" - Yet another of these from the Doc. This is the 4th time I've had this to the best of my knowledge, 3 of which were from the Doc. It really is a consistent wine over the years, it hasn't seemed to change a bit since first I tried it. My last notes, from a California Cult Dinner over a year ago, are consistent:
2001 Sine Qua Non Mr K "The Nobleman" - Had this twice before from the Doc. It's Mrs. Doc's favorite dessert wine, so the Doc wisely keeps a bottle or two handy at home. I happen to think it tastes like a Tokaji Aszu (6 putts) because of its spicy, wild honey and candied apricot dominant flavors.

From the handouts, Parker says it looks like a TBA (i.e., Trockenbeerenauslese) - which is a very safe statement to make as the winery's consultant for its line of dessert wine was the late, great, virtually undisputed master of Austrian TBA, Alois Kracher (pronounced: Ah-loys Krah-kuh).
Excellent dinner all around. Thanks to all, and, of course, advanced happy birthday again, Doc! Many more to come!