A good friend and I shared a fine evening at his club, Birnam Golf Club, while pouring a champagne and red wine blind during dinner.
Here's some notes:
2005 DOM PERIGNON BRUT- the color was a youthful light yellow, but the nose had caramel and stone fruit notes that suggested an older wine or at least one that was advanced; this dance continued on over the course of the evening and I struggled to get the vintage, assuming it was; subtle aromas of pepper and licorice that I find in Piper Heidsieck Rare swayed me in that direction, but then other notes of spicy citrus and honeysuckle that came in later said otherwise; there was enough acid to actually cause a bit of a sting on the tip of my tongue; bottom line after an hour or so, this was delicious, refreshing and absolutely fabulous; it just took a while for it to get it together. My list of possible suspects also included Charles Heidsieck, Laurent Perrier, Launois or even Duval Leroy, but I never considered DP and wondered if the initial citrus dominate profile had given way to peach, tangerine and apricot via oxidation.
1989 CHATEAU OLIVIER PESSAC-LEOGNAN- poured blind to my friend; a few decades ago, one of my good friends owned a wine shop in the early 1990s and he and I would guess at the which of the Bordeaux futures would be the best QPRs; he picked this one and we bought a case each and i've been rewarded with that choice ever since; decanted 4 hours by mistake as I had intended to go for 1-2 hours and forgot about it until I remembered; the color was a dark purple with a slight red rim; the nose offered leather, earth, rose petals, red cherry and black currant; on the palate, additional notes of tobacco, red plum and red currant with noticeable sweetness showed up while being delivered in a super soft and smooth textured medium; it initially finished a bit dry, but then the red cherry fruit lingered on and was the last impression. My friend called it Bordeaux at the outset from a younger vintage.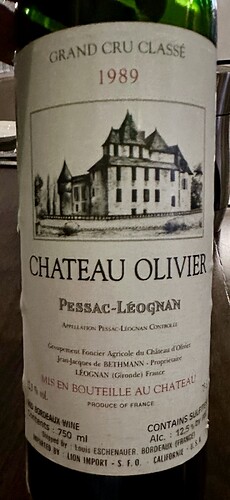 Another great night for which I am grateful.
Cheers,
Blake